Like moths to a flame: Holiday lights bring visitors, boost business
December 28, 2016 - 2:41 pm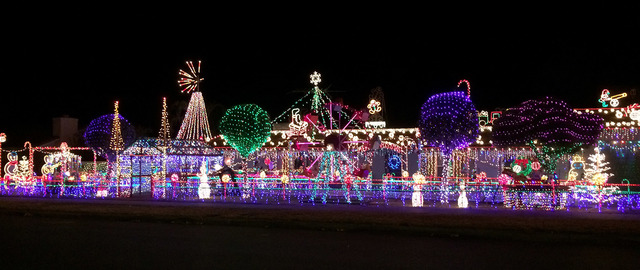 Dale Ryan and Dyanah Musgrave have seen a big bump in visitors to their home since being announced as winners in ABC's "The Great Christmas Light Fight" and some local businesses have noticed the uptick in local traffic.
"It has been incredible; we used to get 300 people visiting but ever since the show we have had nights with over 2,000 people," Musgrave said.
According to Musgrave and Ryan, people from all over the world have come to see the intricate and bright Christmas house at 1525 Fifth St.
"We have had visitors from all over — families from Japan, China, Germany and Italy," Ryan said. "We have met so many wonderful families from all over the world."
Musgrave said she loves the fact that so many people have come to visit the house because she wants to see more people at Boulder City businesses.
"We love Boulder City and we want to see a lot of visitors come to our house so the shops and restaurants here in town see a spike in business.
Some have definitely noticed the increase.
Cindy Ford, owner of Southwest Diner that sits on the corner of Nevada Way and Fifth Street, said that business is booming since the house was on TV.
"I would say we have probably been three times more busy every since people started coming to see the lights," Ford said. "I just see the line of cars outside every night and I feel blessed to have my restaurant so close to them."
Other businesses also have seen an increase in visitors, but that doesn't always translate into more customers for them.
Bill Smith, who works at the downtown antique shop Back in Thyme, said that the shop has not seen an increase in traffic because of the Christmas house, but that he has seen more people in town.
"I don't feel like we have been busier, but I have seen a lot more people around town who aren't from here," Smith said. "I look at it as every little bit helps. If more people are in town seeing Boulder City, then everyone wins."
Robert Christo, who works at Milo's Cellar, said they have had the same amount of business as usual, which has always been pretty good.
"We have been busy, but I can't say if it was because of the house because we usually keep pretty busy here," Christo said. "I live right near the house so I have seen how much traffic they get. I am sure some other restaurants in town have seen a ton of new business."
Boulder City Chamber of Commerce CEO Jill Rowland-Lagan wrote in a text that having Musgrave and Ryan's house on national television was an amazing spotlight for the rest of Boulder City.
"Boulder City residents and businesses have always had an amazing holiday spirit. It is wonderful to have a perfect example such as the Ryan-Musgrave home highlighted in such glory and glamour," Rowland-Lagan wrote. "Boulder City has truly had a special spotlight shone on it this holiday season, thanks to all of the hard work of our Boulder City ambassadors."
Ryan and Musgrave said they are incredibly grateful for the support the community has shown them and that is why they consider their win on the "The Great Christmas Light Fight" to be a win for the entire city.
"This is a community win," Ryan said. "We won because the community invested in us and I have seen an outpouring of love from the people in this town every since I started decorating."
"The Great Christmas Light Fight," house will be up and running till 9 p.m. on New Year's night.
Contact reporter Max Lancaster at mlancaster @bouldercityreview.com or at 702-586-9401. Follow him on Twitter @MLancasterBCR.