Like a phoenix, pieces of old high school reborn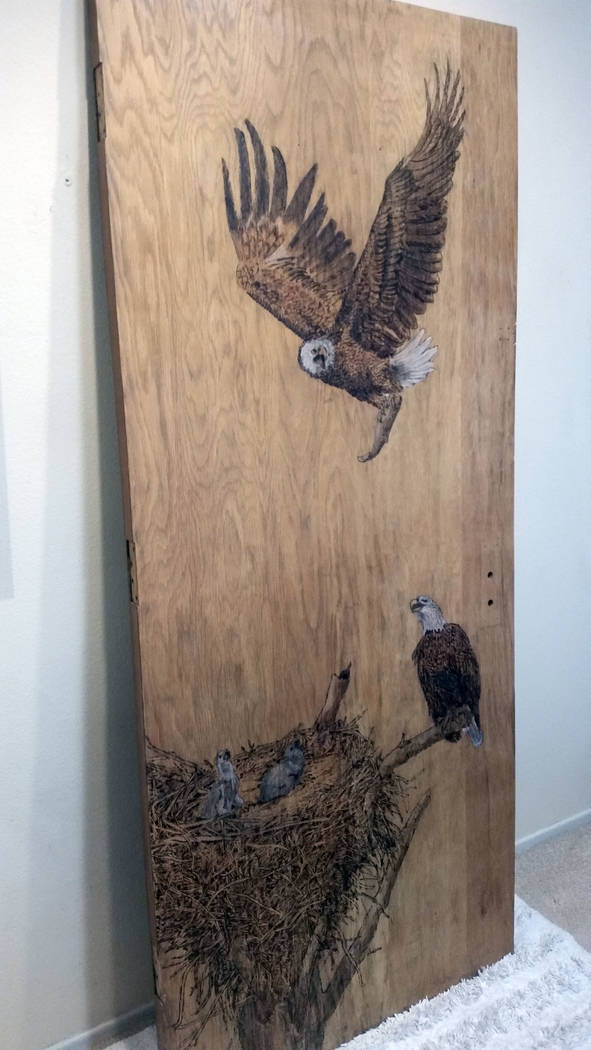 Several pieces of Boulder City High School's old building have been given a new life.
When it was being torn down about 2½ years ago, then-yearbook teacher Canaan Petersen noticed some items, including windows, doors and theater seats, that were going to be thrown out.
"My heart was broken when the old school was torn down," he said. "I felt compelled to save something for alumni, future alumni and those who consider it home."
To help repurpose the saved items, Petersen enlisted some of his students and their parents, who, along with several others, formed a historic preservation committee at the school.
"It's been important to us to take historic things from the old school," said Maggie Clary, a student involved in the committee.
"Mr. Petersen went around and came up with these things and asked us to come up with ideas for them," said Hannah Estes, another involved student.
She said that she went to her dad, Kirk Estes, who had the idea to take one of the doors to local artist Lynne Jordan to see if she could make something out of it.
"I knew three of her boys graduated from Boulder City High School and thought she'd be interested in it," he said.
Jordan creates pyrographic sculptures by burning images into driftwood with a wood burning iron. She also uses charcoal.
For this piece, she took the door and sculpted "From Eaglets to Eagles," which honored the legacy of the high school.
"It was pretty much down to just plywood after they sanded off the veneer," she said about the door.
Jordan said the sculpture took six weeks to complete from the time she started sketching. With the exception of some white paint for the eagles' heads and tails, the picture was created completely with the burning process.
"The deeper you go, the darker it is," she said.
Now that it is finished, the sculpture will be hung in the entryway of the high school's new main building.
The high school is not the only place benefiting from the preservation committee's efforts. One of the repurposed items was given to Mitchell Elementary School.
A stage curtain from the old theater now graces the elementary school's stage, according to Principal Benjamin Day.
"We had a need for a new curtain, so he (Petersen) brought that over to us," he said.
Day said it needed to be tailored to fit the smaller stage, and a local family paid to have that done in time for kindergarten graduation.
"Having a piece of the old school really was a nice bonus," he said. "Boulder City is proud of its schools, and thus tradition and history are important to us.
Having a piece of the old high school at Mitchell is a wonderful way to preserve the high school's history, so putting that curtain up really was a win for us in so many ways, especially since we really wanted a better curtain than what we had anyway."
Clary said they are planning to place more of the salvaged items throughout the campus during the next school year.
Unfortunately, Petersen will not be there, as he is moving with his family to Iowa.
The work, however, will continue for a time, as Kirk Estes has some of the salvaged wood items and will take over repurposing them.
"I could not have done this without people surrounding me," Petersen said. "I had a group of students around me that did an amazing job as well as a group of adults."
Contact reporter Celia Shortt Goodyear at cgoodyear@bouldercityreview.com or at 702-586-9401. Follow her on Twitter @csgoodyear.