Lend A Hand receives Point of Light Award
September 24, 2014 - 1:16 pm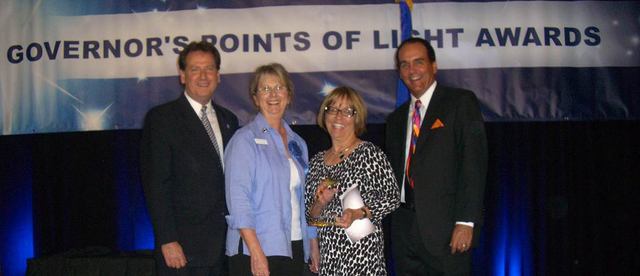 Lend A Hand of Boulder City was given the 2014 Governor's Point of Light Award in the nonprofit and community volunteer category during the Nevada Volunteers luncheon last week.
The honor recognizes the hours of devotion and service to others by volunteers and staff, said Phyllis Bachhuber, president of Lend A Hand's board of directors.
"Our volunteers and staff could see the results of their efforts," she said.
"Honestly, we felt honored (to be a finalist)," added Christina Lodge, program director.
Not expecting to win the honor, Lodge she said she told herself to be gracious to the winner but when Lend A Hand was announced, "I couldn't help it. My arms went up and I let out a whoop. I wanted to skip to the podium."
The awards program was designed to honor the state's volunteers and their accomplishments. It is the highest honor bestowed upon individuals, nonprofit organizations and businesses for their dedication to helping others and strengthening communities.
Lend A Hand was also presented with certificates of recognition by numerous national and state legislators, including Sens. Harry Reid and Dean Heller, Reps. Joe Heck, Steven Horsford and Dina Titus.
Lodge said the honor also will help the nonprofit organization when it applies for grants to help fund its operation.
"It gives us more credibility," she said.
Founded 25 years ago, Lend A Hand provides transportation to doctors appointments and for running errands, and in-home care services to Boulder City residents who are 60 and older or disabled. Services can include respite for caregivers, visits and minor household chores, Bachhuber said. Additionally, it operates a medical equipment lending service.
Last year, Lend A Hand saw a 30 percent increase in the services it provided, making 1,910 trips and traveling 4,927.5 miles as well as 853 in-home visits for 1,219.25 hours. It had 65 new clients and 256 returning clients, according to Lodge.
This year's statistics are showing similar numbers, although Bachhuber said they seem to be making fewer trips but driving longer distances to get clients to medical appointments.
Additionally, Lend A Hand has made an effort to expand its community outreach programs, offering classes on a variety of subjects such as estate planning, diabetes, ethics, veterans benefits and chronic disease self-management.
Currently, there are 77 volunteers, but more are needed, Bachhuber and Lodge said.
All of Lend A Hand's services are provided at no cost, although donations are accepted and appreciated.
The organization is funded through an assortment of grants from the state, city, county and Regional Transportation Commission and donations from the community and those who receive services.
Hali Bernstein Saylor is editor of the Boulder City Review. She can be reached at hsaylor@bouldercityreview.com or at 702-586-9523. Follow @HalisComment on Twitter.