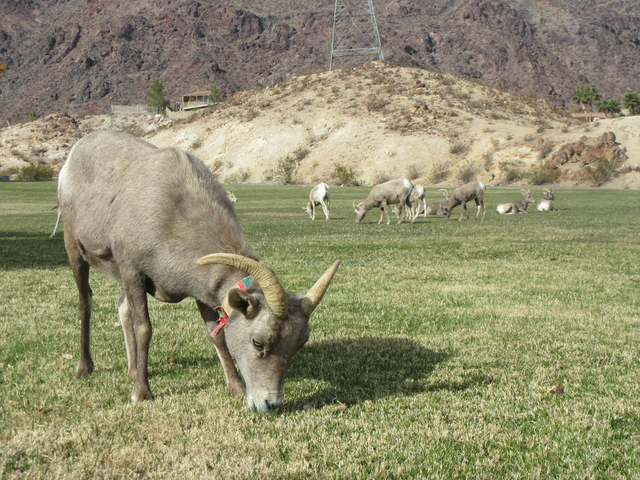 Area residents are invited to learn more about the desert bighorn sheep that are often seen in the area around Lake Mead.
The Nevada Department of Wildlife has scheduled sessions at Hemenway Valley Park to teach visitors about the animals that often frequent the park.
According to the department, the sheep visit the park for pretty much the same reasons locals do: to picnic and enjoy the cool shade.
Informational sessions began Tuesday and will be offered this month on Monday, June 21 and June 27.
In July, department representatives will be at the park on July 6, 10, 19, 28 and 31. August dates are Aug. 8, 14, 22 and 30.
Each session is scheduled from 1-3:30 p.m. They are informal and will allow visitors to ask experts questions about the mammals.
The department cautions that although the sheep regularly visit the park, there is no guarantee they will be there during the outreach sessions.
Sessions also will be held in September, but dates have not been announced yet.
Additionally, park visitors can learn about the sheep via six informative panels that were installed at the park in 2014 by the Nevada Department of Wildlife and Boulder City.
The park is at 401 Ville Drive.
Hali Bernstein Saylor is editor of the Boulder City Review. She can be reached at hsaylor@bouldercityreview.com or at 702-586-9523. Follow @HalisComment on Twitter.