Honor reflects dedication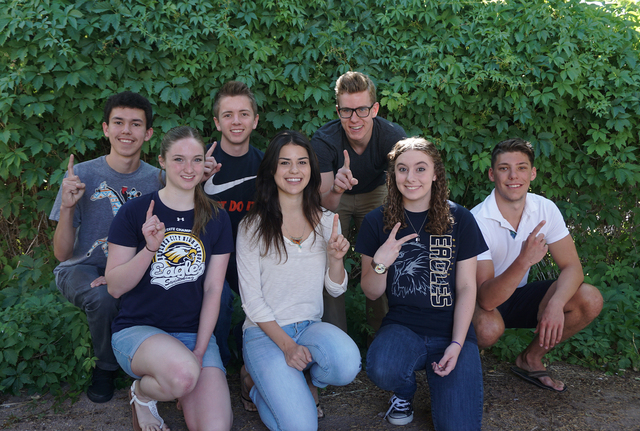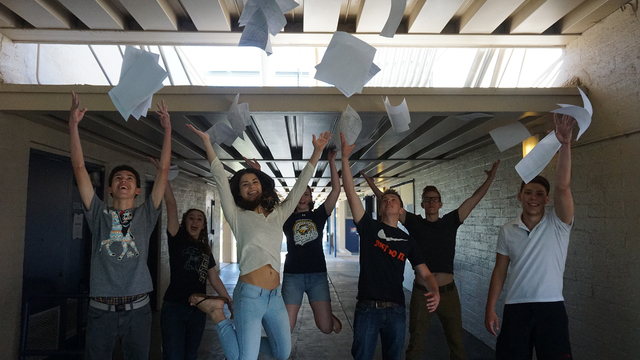 After graduation, members of the class of 2015 will have completed four of the most formative years of their lives. As the seniors walk across the stage and receive their diplomas, they step into the next chapter, which looms large with responsibilities and challenges. Their experiences at Boulder City High School have molded their entrance into this new chapter.
One major experience that dramatically prepared seven students for adulthood was becoming a valedictorian.
BCHS's class of 2015 valedictorians are Steven Davis, Dustin Edlund, Aubrey Klouse, Kayden McKenzie, Justin Miller, Carolyn Osborne and Jacson Tenney.
Becoming a valedictorian requires discipline and motivation. Edlund, along with his peers, said he knew that he had to make sacrifices early in high school to achieve this goal at the end of his senior year.
"For me it's all about priorities," Edlund said. "It is easier for me to set goals when it's more clear-cut. I have a certain amount of things to do and I know what things I need to get done first. If I want to go to a party or hang out with friends, first I have to finish my homework."
This becomes especially challenging when a student decides to participate in extracurricular activities. This was the case for Klouse, who will attend University of Nevada, Reno in the fall. She maintained her GPA while balancing a busy academic schedule and participation on the cross-country and swim teams.
"It was a motivating factor because you really have to prioritize when you are going to get things done," Klouse said. "You have to figure out how to get your homework done while also participating in sport competitions."
Although balancing homework and extracurricular activities was challenging, the valedictorians' dedication will pay off, Osborne said. She was awarded a $9,500 valedictorian scholarship at University of Nevada, Las Vegas, where she will study chemistry.
"Becoming a valedictorian really chose where I am going to school because UNLV has the valedictorian scholarship," Osborne said. "If I wasn't a 'val,' I would have to go somewhere else."
Not only will scholarship opportunities jump-start their collegiate careers, their acquired work ethic will benefit them as they pursue careers. Edlund, who plans to attend Menlo College in Atherton, Calif., to study finance, said being the first in his class is a status he wants to maintain.
"It converts over to ambition," he said. "If I can't be at the top, it gives me a higher potential for pushing myself to succeed. In an education environment, we know that we can be at the top. When we are in a work environment, it will definitely push us to want to be at the top again."
Six of the seven valedictorians attended kindergarten together in Boulder City, creating a sense of camaraderie and friendship. Also, by attending a smaller high school, they benefited by being familiar with their teachers.
For McKenzie, the high school experience was much different.
McKenzie and her family moved to Boulder City in August. The high school she attended in Oklahoma City did not provide a valedictorian program; yet she said she was still driven to get the best grades she could.
"I have always tried to get straight A's so that I could get into a good college," said McKenzie, who will attend Tulane University in New Orleans to study political science with a concentration in international relations. When McKenzie transferred to BCHS, the counselors informed her that she was in line to become valedictorian.
Although McKenzie doesn't share the same small-town school experience, the other BCHS valedictorians made her feel right at home.
"Even though I wasn't able to participate in other school activities like Link Crew or student council as a new senior, I am still a part of something," she said.
Through dedication, motivation and discipline, these seven students achieved the honor as first in their class with a 4.8 weighted GPA. These students will walk off the stage not only with a high school diploma, but also with a head start to adulthood.