Homestead dedicates memory care unit for men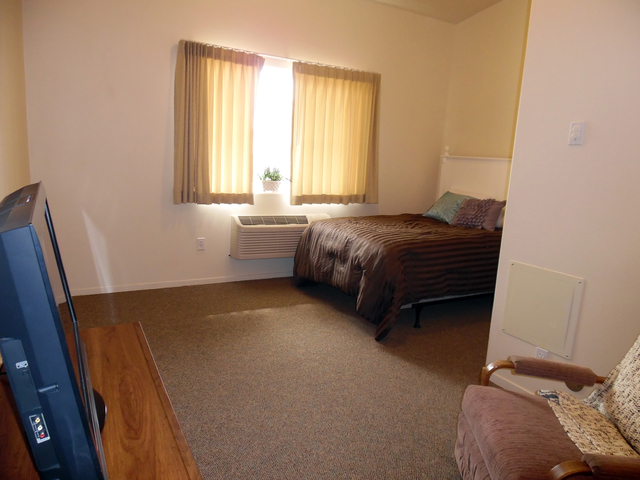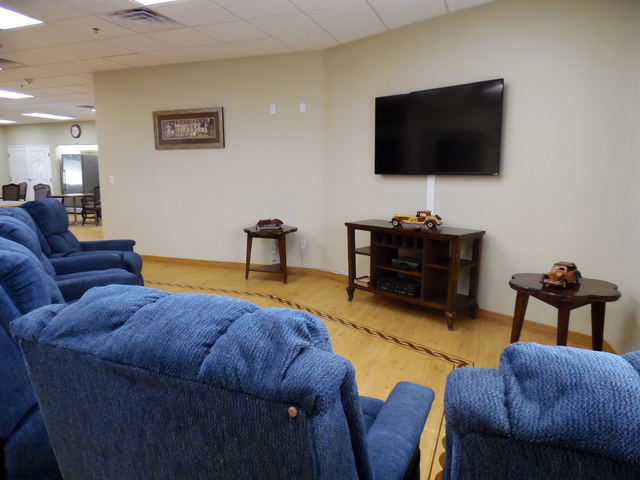 The Homestead at Boulder City opened a new memory care unit designed specifically for men Tuesday afternoon.
Joshua's Way will serve as a home for as many as 13 men with memory issues such as those associated with Alzheimer's disease, said Curt Jeffrey, admissions director and head of marketing for The Homestead.
He said the unit, which previously house some residents with memory issues and others with disabilities requiring extra assistance, was recently revamped and redecorated to have a very masculine theme.
The decor also has been scaled down from the rest of the senior living facility, which helps create a calming presence, Jeffrey said.
It offers private rooms as well as two-bedroom units.
All of the living quarters allow for residents to bring their own furnishings.
"It gives them a greater sense of home being surrounded by things they know," Jeffrey said.
The self-contained wing has its own dining room and common living area with recliners and and area to play games or puzzles, Jeffrey said. Additionally, it has an enclosed patio so that residents may enjoy the outdoors without fear of wandering off the property.
Residents of Joshua's Way will have access to the facility's IN2L (It's Never 2 Late) computer system, which provides news as well as a music and memory-building games.
Ruby Camacho, director of dietary for The Homestead, said residents of the memory care unit will have the same meals and food choices offered to the facility's 43 current residents.
She said they strive to cook homemade meals as much as possible and prepare dishes that the residents will enjoy.
In addition to delivering menus listing each day's meals, Camacho said she adds pictures to help give residents a better idea of what is being served.
She also meets with residents once a month to discuss the menus and residents' likes and dislikes. For example, last month she was asked to include turkey bacon and sausage on the menu.
The Homestead is at 1401 Medical Park Drive.
For more information or to schedule a tour, call 702-294-8720.
The Homestead of Boulder City is operated by the nonprofit Volunteers of America.
Hali Bernstein Saylor is editor of the Boulder City Review. She can be reached at hsaylor@bouldercityreview.com or at 702-586-9523. Follow @HalisComment on Twitter.