Homeowners open doors to guests for AAUW tour
December 3, 2014 - 2:45 pm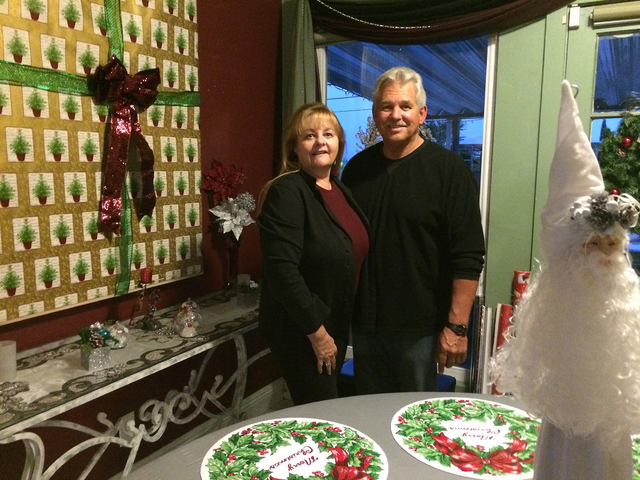 Several historical Boulder City homes, many of them dressed for the holidays, will open their doors to visitors Dec. 13 as the American Association of University Women hosts its annual Home Tour.
The 39th annual event is scheduled from 1-4 p.m.
"As a community event, this is just fun. We drive by these homes on a daily basis and this is a chance to go inside and get to know the owners on an intimate basis," said Laura Pyzer, president of the local branch.
The self-guided tour begins at the Boulder Dam Hotel, 1305 Arizona St., where maps will be provided to participants. Bottled water will be provided.
The hotel is the first and last stop on the tour, while the remaining five sites can be visited in any order. Addresses of the individual residences are given only to those who purchase tickets to the tour to protect homeowners' privacy.
Among the homes on this year's tour is Dale Ryan and Dyanah Musgrave's 1950 concrete block home on Fifth Street. Many people are already familiar with the house because Ryan creates a winter wonderland for Christmas each year.
"So many people were curious about what the inside looked like because we do so much on the outside," Musgrave said about one of the reasons for volunteering to participate in this year's home tour.
She said she hopes people are not disappointed. While the home will be decorated for the season, she said she doesn't do nearly as much as Ryan does on the outside.
They will, however, be able to see the many modifications they have done to the interior, including knocking down a wall between two bedrooms to make a larger master suite with a walk-in closet and updated bathroom.
The two also have added a garage and landscaped the backyard, which features a pool.
Ryan said he spends about six weeks, working an average of 12 hours a day, putting up all the Christmas decorations outside their home. Each year he adds something new, changes things around a bit and alters the colors. He jests about having a contest to see if spectators can spot the additions and differences.
They say the joy the decorations bring to others inspires them to install the lights each year. According to Musgrave, some ladies in town are so appreciative they bring Ryan lunch or a slice of pie while he is working on the decor.
Also included on tour this year is Grace Community Church, 1150 Wyoming St.
"The church kept popping up when we were looking at historical properties," said Lue Ann Amburn, AAUW member.
According to Amburn, owners of some of the homes featured on this year's tour volunteered to open their doors after going on previous tours.
"They get so excited about AAUW and its mission," she said.
Proceeds for the home tour benefit AAUW scholarships.
According to Pyzer, this year the group has decided to provide $2,000 scholarships to women returning to school to find better jobs. In the past, the AAUW has offered $1,000 scholarships to Boulder City High graduates
"One of the reasons for the change is that there are so many scholarships available to high school students and $1,000 doesn't do much for them. But for these women, $2,000 is a full-ride, full-time scholarship," Pyzer said.
The Boulder City branch of AAUW is one of the first to start in Nevada. It has been around since the 1950s, Pyzer said.
Tickets for the tour are $10, and can be purchased in the lobby of the Boulder Dam Hotel. They also are available from 3-5:30 p.m. Friday outside Boulder Dam Credit Union, 530 Avenue G, and from 11 a.m. to 2 p.m. Saturday at Albertsons, 1008 Nevada Highway.
Hali Bernstein Saylor is editor of the Boulder City Review. She can be reached at hsaylor@bouldercityreview.com or at 702-586-9523. Follow @HalisComment on Twitter.