Good-natured 'ribbing' highlights festival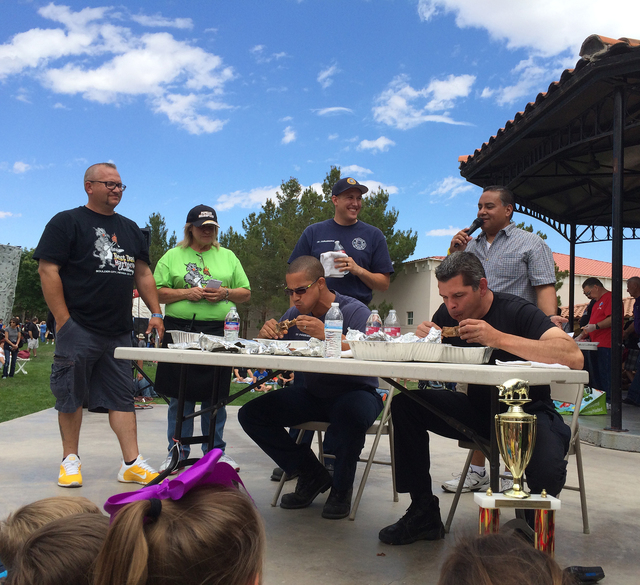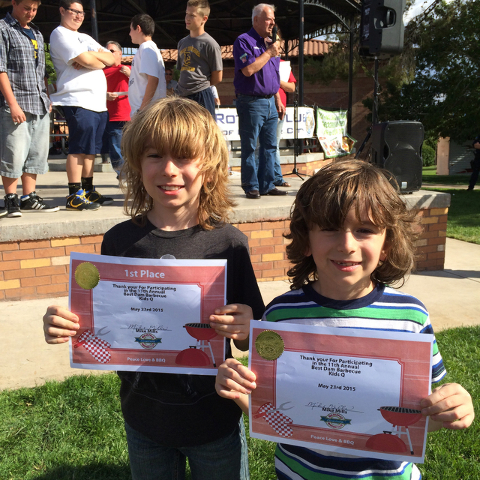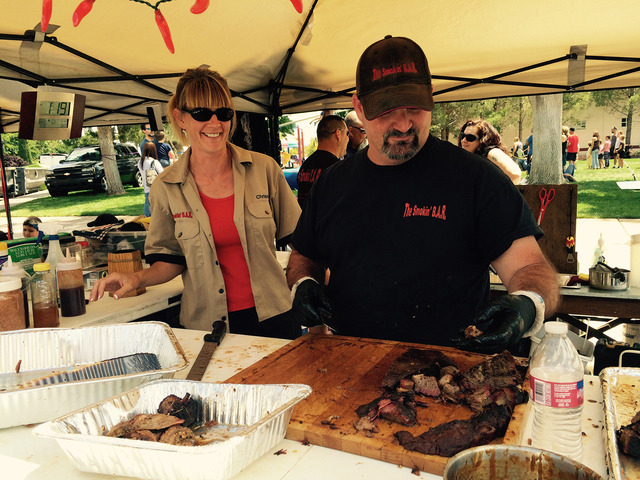 Memorial Day weekend means a lot of different things to everyone.
To some it is a time of reflection and to others the unofficial beginning of summer.
In Boulder City the weekend begins with the Best Dam Barbecue Challenge and this year 38 teams from across the Southwest accepted the challenge.
Teams from California, Arizona, Utah, Montana, and, of course, Nevada came to Boulder City to decide who made the best dam barbecue.
In the main challenge, $12,000 in prize money was divided among the top 12 finishers in each of the four competitive categories as well as to the reserve champion and grand champion. Each team received its portion determined by its scores from the Kansas City Barbecue Society judges.
But the true winners were the visitors who filled Bicentennial Park with what appeared to be one of the largest crowds in the event's 11 year history.
Christy Springgate-Hill, president of Rotary Club of Boulder City, which hosts the event each year, said, "The weather held and the event was a success, thanks to all of the many volunteers. We were able to use local companies such as the(Boulder City) Water Store and Albertsons for almost all of our needs. The Kids Que has grown and we had 19 participants, more than ever.
"We had an interesting mix of old and new vendors. The car show had 150 cars. Overall it was very successful and we will be able to give back to the community even more next year."
The Kids Que Challenge pitted the cooking skills of 19 youngsters. It was hosted by Mike Mills from Memphis Championship Barbecue Co., who declared these chefs as "America's future." The award-winning chef and his crew of helpers from the local restaurants never fail to provide a great time for the kids involved.
This year, competition was divided into two age categories, one of 7 to 12-year-olds and another 13 to 17-year-olds. The younger group's champions were The Grillmasters, Kyle and Evan Halfhill, and the older group, consisting of the Boulder City High School wrestling team, was lead by Zane Dennington.
The main showcase of the event was attended by many Southern Nevada teams such as Boulder City's own Fox Smokehouse Barbecue. Many Las Vegas teams, including Rollin Smoke Barbeque and Smoke It BBQ and Catering promote their local restaurants and catering services to pay for their barbecue habit.
"This is a young man's game," said Barry Greer of Smoke It BBQ and Catering, adding competing in each contest costs anywhere from $700 to $1,200.
Other teams were just groups of friends or family who get together to compete for the fun and camaraderie of the competitions. Teams such as Squat and Gobble, which has been here for many years, knew its way around the event. Others like Voodoo ZomBQue were competing after long layoffs or were just beginning their careers.
Fun was the order of the day and everyone brought their best cooking skills to the competition. There was no negative vibe and everyone was supportive of each other.
Of course, there was the good-natured "ribbing" of the other teams but no malice was present and the support by everyone was truly legitimate, even as then gave each other ingredients when someone ran out of something.
"We would have not met these people were it not for this crazy habit," Greer said.
Local police and firefighters got in on the action again this year with the Boulder City Fire Department outdoing the Police Department in the rib-eating contest for the fifth year in a row.
Several times during the day pleas for various fundraisers were announced and the crowd and competitors gave generously.
Rotary Club member Lawrence Smith of Lake Mountain Chiropractic served as director of competition and awarded the prizes to the competitors at the end of the day Saturday.
The overall grand champion, Lamar Ware of Mar-B-Ques of Banning, Calif., scored a perfect 700, which according to Smith "is like a bowler rolling a 300 game."
Ware has been part of a competitive barbecue team for five years, but this is his first year solo.
"I feel amazed. I accomplished the goal I have been trying to do for a long time. I joined the 700 club," he said.
Before striking out on his own, he was part of Who's Smokin' Now, which won the grand championship in 2013.
Reserve grand champion was Big Poppa Smokers, a title it also won in 2014 and 2013, by a difference of only 1.2 points.
Rounding out the field were: Loot N' Booty BBQ with perfect 180 score, first place chicken; Sin City Smokers, first place ribs; Say Hello to My Little Smoker, first place pulled pork; and Bad Boyz BBQ, first place brisket.
"The competition was great the cookers were all happy although most (all except one) would like to have done better and placed higher," Smith said. "All in all it was a success and we are planning next year's 12th annual competition."
The only other disappointment was voiced by Darby Grady from Voodoo ZomBQue who jokingly said, "We were really disappointed that the Kids Que wasn't serving real kids."
Contact Andy Saylor at andyhali@msn.com.