Goggin celebrates 94th birthday
February 10, 2016 - 3:48 pm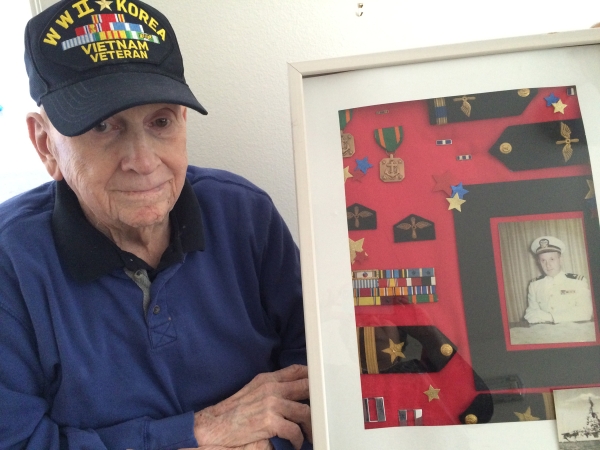 In his 94 years, James Goggin has seen plenty. He has fought in three wars, traveled around the world and become an expert in martial arts.
The Boulder City resident reflected on his life after celebrating his 94th birthday on Feb. 4.
Born and raised in Brooklyn, N.Y., Goggin was just 17 when World War II started. As soon as he was able, he joined the Navy, where he served as an aerial gunner and airplane mechanic.
Among his memories of the war are sitting in the back seat of a plane and manning a machine gun as the U.S. battled the Japanese.
He spent more than 30 years in the Navy, also serving during the Korean and Vietnam wars. He served in numerous roles during his career.
He was recognized for his innovations to improve aircraft equipment, and was in charge of the boathouse in Norfolk, Va., as well as serving as an adviser to the Royal Thai Navy. Another role was as a qualified hard-hat diver, responsible for accident investigations and picking up wreckage from crashes.
He said one of the highlights of his Naval career was serving aboard the USS Kearsarge when it rescued astronaut Gordon Cooper after his record-breaking 22 orbits around the Earth in May 1963.
Goggin retired from the Navy in 1969 as a lieutenant commander and then went on to work for Grumman Aircraft Engineering Corp.
While in Japan, Goggin said he took an interest in the martial arts and began studying aikido. He became a master and sixth-level black belt.
Goggin taught most of the current aikido instructors for the city's parks and recreation department, as well as several police officers in Boulder City and Las Vegas, and was inducted into the U.S. Martial Arts Hall of Fame in 2011.
He also used his skills to save a woman's life. According to his son, Chris Goggin, James Goggin saw a woman being assaulted and put a "few aikido moves on her assailant and fended him off until police arrived."
Goggin and his wife, Aida, were married for 60 years before her death in 2011. The two met on a train while they were traveling between Boston and New York, and married four months later.
They had one son, Chris, and two grandchildren, Kayla and C.J.
Goggin moved his family to Boulder City in 1983 after his wife's sister and her family moved to Las Vegas. According to his son, she wanted to live close to her sister.
When asked if he had any secrets to his longevity, the soft-spoken man said he has never been one to overindulge in anything, while his son says he is "too stubborn to get sick."
He celebrated his birthday with a dinner at the steakhouse at Railroad Pass.
Hali Bernstein Saylor is editor of the Boulder City Review. She can be reached at hsaylor@bouldercityreview.com or at 702-586-9523. Follow @HalisComment on Twitter.