Gaal gives back; longtime resident, sports bar owner volunteers as cook for National Night Out
August 10, 2016 - 1:58 pm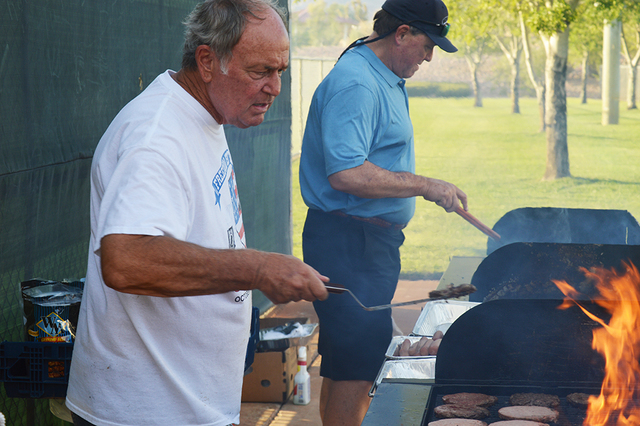 Editor's Note: Business at Home is an occasional series that offers a glimpse into the personal lives of local business owners.
Jack Gaal is sweating profusely as he toils over the hot grill, cooking hundreds of burgers and hot dogs for citizens and law enforcement officers attending National Night Out on Aug. 2 in Veterans' Memorial Park.
For three years in a row, Gaal has cooked burgers and hot dogs under the hot evening sunset for National Night Out, and every year no one needs to ask him to man the barbecue.
"I read the paper every week and every year I see something about National Night Out," Gaal said. "When I see it in the paper I know I am cooking for a lot of people next week."
Residents who have lived in Boulder City or are close to Gaal know him as the owner of the downtown sports bar and restaurant, Jack's Place. But if you don't know him that well you, would never be able to tell that he was anything other than one of the many volunteers who make the event happen.
You may know that Albertsons supplied all the meat, but at National Night Out there are no signs advertising his restaurant, no indications of sponsorship stating that every burger and hot dog is being cooked courtesy of Jack's Place. It's just Gaal in a T-shirt and jeans attentively checking on the meat and Gaal likes it that way.
"I don't do this for my business," the 25-year resident of Boulder City said. "I do it because I want to give back and it is a good cause for the police and the community."
Gaal does not cook alone and for the past three years he has had his friends help him make sure that everyone attending National Night Out is well fed. Former Boulder City Chamber of Commerce President Julie Boyster and her husband, Zane, have spent the past three years sweating over the grill with Gaal.
"I help Jack out whenever he needs it and he does the same for me," Julie Boyster said. "The community is my heart. Just look around you, everyone is here and the community is everything to us."
For 23 years Julie and Zane Boyster have helped Gaal with any professional or charitable work he undertakes and Gaal is quick to repay the favor.
When he needs to, Gaal uses his good standing in the community to help the Boysters give back.
"Every year during our Boys and Girls Club Golf Tournament, Jack is bringing in his clients to help out the kids," Julie Boyster said. "We know that the local economy is important for business, but the people here are most important."
Gaal talks about his volunteer work at National Night Out with comedic modesty.
"I cook every year cause no one else ever volunteers," Gaal said with a tiny smirk across his face. "I enjoy doing it though. I wouldn't volunteer my time if I didn't enjoy it."
Zane Boyster said Gaal and his wife, Katie, are able to mobilize people in the community for charity work because everyone in Boulder City trusts them and trust is the most important trait to get people to help out.
"It is really simple," he said. "People put their trust in individuals and this community trust them."
Contact reporter Max Lancaster at mlancaster @bouldercityreview.com or at 702-586-9401. Follow him on Twitter @MLancaster BCR.