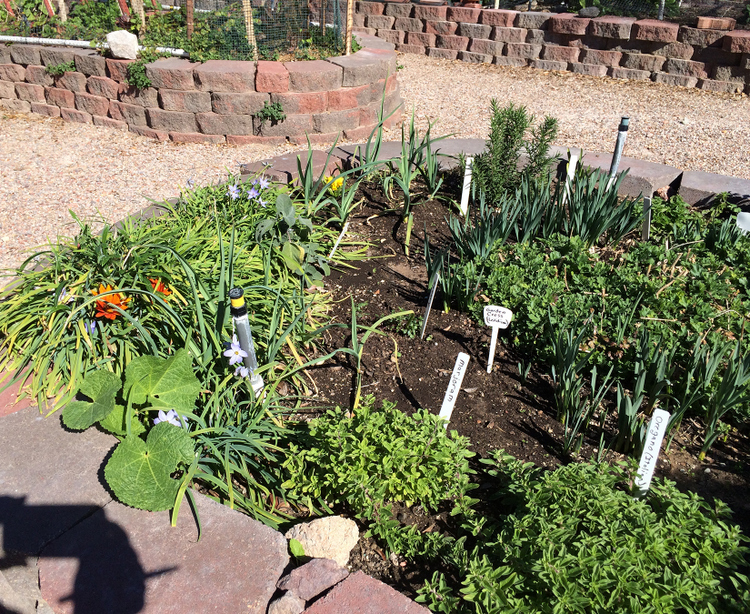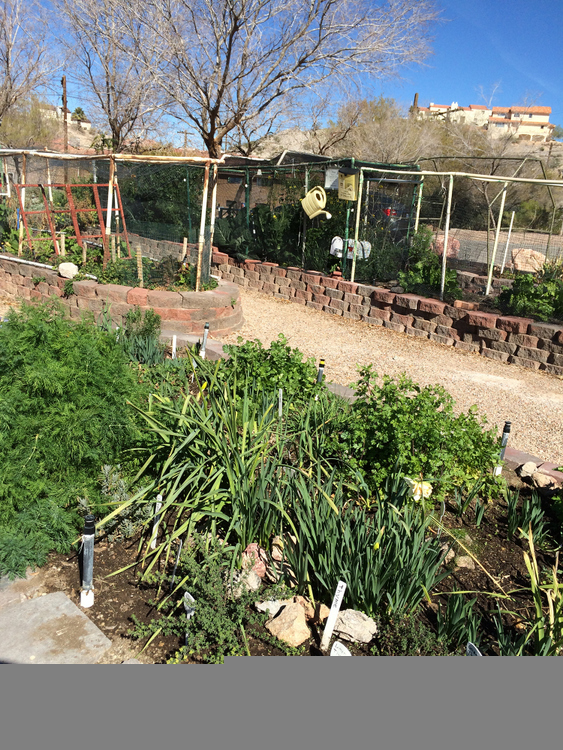 Up on Colorado Street, overlooking most of Boulder City, friendships bloom and grow along with the flowers, vegetables and herbs.
Welcome to the Boulder City Community Gardens.
Located on the grounds of the old water treatment plant, the gardens offer Boulder City residents a plot to plant and a place to socialize with others who enjoy tilling the land.
"Everybody loves the gardens,"€ said gardener Libby Powell. "People come just to look and see what'€™s growing."
A small plot in the center of the garden is being shared by all of those renting plots. At the moment, it features a variety of herbs that gardeners are welcome to take snippets from and use at home, Powell said.
She said she likes spending time up there and has studied the soil to best augment it with organic fertilizers. Earlier this year, her plot sported some of the largest and healthiest looking vegetables in the gardens.
"€œI couldn't grow anything at home," she said, noting the soil was bad.
Gabi Tolman, who has had a plot in the gardens for years, said she enjoys the sense of community the facility creates. She said she has been able to learn from others, who are happy to share stories of their gardening successes and failures, as well as "€œtrade starts."
Powell, who has a Ph.D. in botany and is a master gardener, agreed, saying she is happy to share her knowledge about plants, soils and amendments with anyone who asks.
She said she realizes gardening in the desert can be a challenge. The heat and soil are the biggest challenges. They also have to contend with tree roots from trees surrounding the raised beds and a few stray trees that were planted in individual plots without permission.
Grow what you want
Currently managed by the city's Parks and Recreation Department, the gardens have 25 raised, 4-feet-by-20-feet plots. There is a $25 annual fee to lease a plot in the gardens, which includes space and water from the sprinkler system.
Some of the plots have been leased by the same people year after year. Others are tended to by relative newcomers.
The rules for having a plot in the gardens are relatively simple and take the fact the one plot abuts another into consideration. This means no invasive or dangerous plants are allow, and nonorganic fertilizers and pest control methods are prohibited.
Additionally, gardeners are asked to maintain their plots and keep them weed-free.
"The Community Gardens is an area to go to and have fun and grow what you want," said Roger Hall, director of the city's Parks and Recreation Department.
A new garden club was started late last year, providing another avenue for gardeners to learn and share their experiences.
Thorny issues
But not all is rosy in the garden. Like the thorns found on rose bushes, there are some disagreements about how the gardens are operated and what gardeners should have access to.
One of the biggest areas of contention is water.
"If gardeners have issues, they are supposed to coordinate them through the Parks and Recreation Department," Hall said.
From there, staff members can contact the proper department, such as public works, to repair or correct problems with issues such as broken water or sprinkler lines or trash collection.
Trying to go around the system just exacerbates the problem.
Although he appreciates the passion behind their actions, Hall said it can be quite problematic when the gardeners try to solve issues themselves.
Tolman said one of her biggest concerns is that the gardeners have very little input in how the gardens operate. She said she would like to see a board comprised of community gardeners established that could offer guidance and insight into any issues that may arise.
Powell and Tolman also said they don't believe the existing rules governing leasing a plot in the garden are being enforced fairly.
"If we can write our own rules, we can enforce them with kindness and love," Powell said. "But if we have no say and they put rules upon us, it makes it harder and harder to garden when it is already so hard."
Years ago, the gardens were supervised by members of the Hoe and Grow Garden Club, a group of people who had plots, under the direction of the city manager. The club disbanded in 2003 or 2004 and various gardeners assumed a leadership role, supervising leasing and assigning the plots.
City managed
But, according to Powell, not all of the "managers" were fair and one, in particular, was a bully who gave plots to friends and left others empty. Eventually, disagreements and complaints brought to the city manager's office resulted in transferring guardianship of the facility to the city's Parks and Recreation Department, Powell and Tolman said.
"Since then, the people have not gotten it back," Tolman said, adding that because department staff members are not at the facility regularly, they may not have an accurate picture of conditions at the garden.
The city, however, is trying to gauge its policies on the gardeners' interests and concerns, said Hall.
Shortly after taking over management of the facility, a survey was conducted seeking input from the gardeners about how to make it a better place to be. Hall said there are plans to conduct another survey in the "next year or so."
He said he knows there are a few issues that need to be addressed, among them irrigation, user fees and invasive tree roots. He does, however, say the watering schedule at the gardens follows rules issued by the Southern Nevada Water Authority and an extra spigot was installed so the gardeners can hand water their plots when necessary.
The city also trenched the land surrounding the garden plots to remove many of the tree roots that caused problems for the gardeners.
"All in all, I think the majority of the gardeners are happy," Hall said. "Many want to be left alone to tend their gardens, dig in the dirt and grow their carrots."
Those who are interested in leasing a plot, should contact the Parks and Recreation Department at 702-293-9256. For more information about the garden club, contact Powell at 702-293-9064.
Hali Bernstein Saylor is editor of the Boulder City Review. She can be reached at hsaylor@bouldercityreview.com or at 702-586-9523. Follow @HalisComment on Twitter.