Father, son barbers all business at work, but enjoy sharing fish tales away from shop
September 21, 2016 - 1:45 pm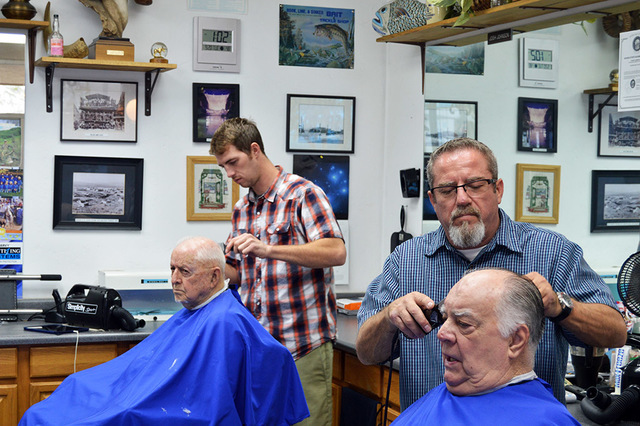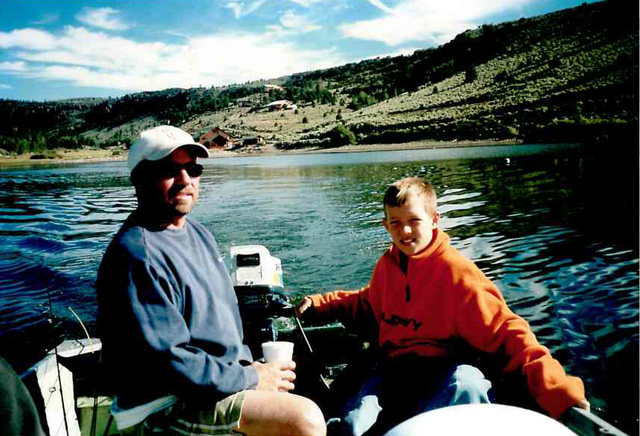 When residents of Boulder City need a haircut they go to Frank's Barber Shop at 416 Nevada Way, where customers will be greeted by the father and son hair cutting duo of Frank Freer and Josh Johnson.
Johnson, has been cutting hair with his father for the past four years. The two work every Tuesday through Saturday together, serving as the only two barbers at the popular barber shop.
Despite the two men spending every waking work day together they still try to spend time together as father and son, and nothing brings them together like a fishing trip on Lake Mead.
"We really enjoy fishing together," Freer said. "I own the fishing gear, but he owns the boat so we like to throw out a line together when we can."
Johnson owns a 13-foot Marlin boat that he and his father can take out whenever there is some extra time off from work.
When the two men fish, they talk about sports, family and fishing, but avoid any discussion about the business.
"We never talk about business when we are out. The majority of the time we see each other is spent working at the shop," Johnson said. "We like to talk about other things. We talk about football, and how my little girl is doing."
The father and son tandem have spent the majority of their time together since Freer adopted his stepson Johnson at a young age.
Freer said one of his favorite memories is camping with his son when he was a little boy.
"We used to go on long camping trips together," Freer said while Johnson listened as reminiscent smile formed on his face. "We would hike all over Nevada and fish wherever we could do it."
Freer said that working with his son has only made their relationship stronger in a professional and personal sense.
"We haven't always been perfect, but I love working with Josh," Freer said. "It is always more rewarding to work with your family. I worked with my father and now I am working with my son. It just means more time together."
Johnson concurred with his father's sentiment.
"Working with my dad has made us a lot closer," Johnson said. "I respect him more as a father and as a professional. I used to think working with my dad was just a job, but now I consider cutting hair with him more a form of art that he helps me get better at."
The birth of Johnson's baby girl has made fishing more of a luxury these days, but that does not mean the two men don't find some time to be together after work.
"It is harder to make time for each other because we both have families to take care of now, so most of the time we are heading straight to our homes after work," Freer said. "But we still make time to see each other. We haven't fished in a while, but I go see his little girl and we barbecue with the family. Sometimes we just watch a game and go in together on a bet. We always try to make time to be together away from work."
Those looking for a haircut or some small talk from either father or son can head into their barbershop from 8 a.m. to 5:30 p.m. Tuesday through Friday and 8 a.m. to 4 p.m. Saturday.
Editor's note: Business at Home is an occasional series that offers a glimpse into the personal lives of local business owners.
Contact reporter Max Lancaster at mlancaster@bouldercityreview.com or at 702-586-9401. Follow him on Twitter @MLancasterBCR.