Family's health transforms cooking style
February 20, 2014 - 5:17 am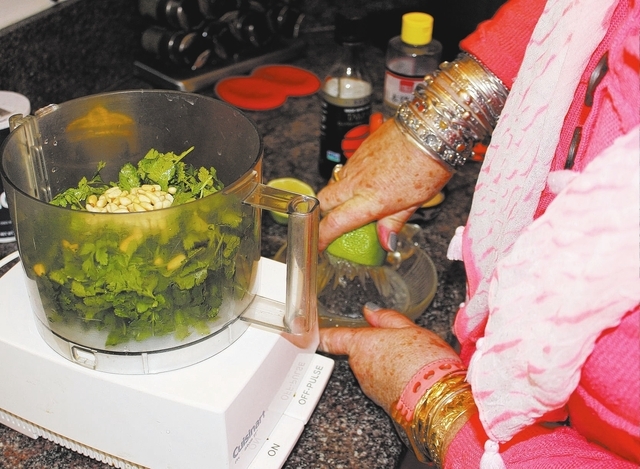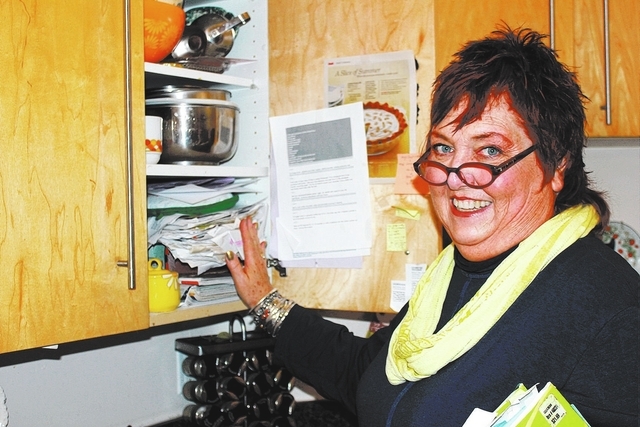 Amy Garcia has been a vegan for more than 20 years. Her husband, Dave Nelson, is not. She simply explains: "Dave is from Iowa. In other words, no way!"
"I don't really enjoy touching meat, though I cook it often," she said.
Amy said she usually savors the vegetarian side dish as her main course, while her husband and youngest daughter go for the more traditional proteins.
"I started following Dr. (John) McDougall's diet 'reversing heart disease' to lose weight and get healthy. Along the way, I lost my gall bladder and a vegan diet was what served me best.
"We have a 31-year-old daughter, Calida, who is also vegan (dairy allergies) but also gluten and sugar free, as she got hit by the double whammy of being infected with H. pylori and a horrid parasite while living in Bangkok … so she feels her best while eating cleanly."
When asked about cooking healthy, Amy looks back on the journey of her now-healthy 13-year-old. "Nothing commits you to providing healthy food quicker than seeing your daughter undernourished," she said.
In 2001, Amy and Dave traveled more than 6,000 miles to find their little girl. They lived in Petaluma (Sonoma County, Calif.) and the adoption of their second child took them to Ukraine.
"We asked for a little girl as young as possible; 15 months was the youngest, as they had to be on the registry for one year to give Ukrainians the opportunity (to adopt) first for 12 months," Amy said.
They were provided books of children to look though and then visits were set up. After seeing three little girls, the fourth was unmistakably the baby girl they came to bring home.
"I saw around the door frame a little white bonnet with big brown eyes and pacifier."
Maida was the fourth baby. She was being held by a nurse as she had been in the infirmary for pneumonia. Amy announced to Dave, "I think I just saw someone I know.
"Maida was 15 months old and only 16 pounds. She fit in clothes for a six-month old."
While in Ukraine, she ate soup made from potato skins; fish bones were added to it once a week.
Amy and Dave visited daily with Maida for about two weeks.
"She sat on Dave's lap and looked him right in the eye; that's when he heard a rattle in her chest," she said.
They knew they needed to get their little brown-eyed girl home.
The road home led them to the nearest U.S. embassy in Warsaw, Poland. Because of the tragic events of Sept. 11, 2001, they were delayed in Poland.
Once their new baby girl was cleared by a doctor to travel home, the newly introduced family headed back to California, where they stayed until 2003.
For the past 10½ years, Dave, Amy and Maida have made Boulder City home. The only drawback: They left an area that catered to foodies.
"I like to cook, as it gives you a structure to focus, gives you time to think and is creative," she said.
Amy said she learned to cook with her mother. "Just doing it teaches you the most. At 12 it became my job in the family to be the baker. That included at least a loaf of bread a week.
"My mom was a fan of Adele Davis, so we were a very whole foods family. I always found comfort in knowing which dish was Mom's at the church potluck."
Now, her mother's tattered and worn cookbook is hers.
Some of the recipes Amy is sharing come from her mother's old "Betty Crocker Cookbook." Others have found their way into her own worn-out book of tried and loved collected recipes. This is the book that Maida has her eye set on.
Pictures of Maida, strong and healthy, competing in gymnastic competitions are placed like trophies around their home and provide another reason for Amy to cook healthy.
Greek Salad Pitas
1 cup peeled, seeded and diced cucumber
1 cup diced red bell pepper
1 cup diced zucchini
1/3 cup crumbled feta cheese
¼ cup diced red onion
¼ cup peperoncini, optional
¼ cup chopped black olives, preferably kalamata
2 tablespoons extra virgin olive oil
1 tablespoon fresh lemon juice
1 teaspoon red wine vinegar
1 teaspoon dried oregano
Salt and freshly ground black pepper
3 6-inch whole wheat pita breads cut in half
6 curly leaf lettuce leaves
Combine all but last two ingredients in bowl and toss. Season with salt and pepper.
Line each pita half with a lettuce leaf; fill with ½ cup of salad mixture.
Broiled Tofu with Cilantro Pesto
2 14-16 ounce blocks of firm tofu, rinsed and drained
¼ cup mild olive or vegetable oil, plus additional for brushing broiler pan rack and tofu
2 cups packed fresh cilantro leaves
2 tablespoons pine nuts
1 tablespoon fresh lime juice
2 teaspoons soy sauce (If you're not a vegetarian, using fish sauce instead of soy adds a deeper flavor.)
1 teaspoon Asian sesame oil
1 teaspoon sugar
½ teaspoon salt
1/8 teaspoon freshly ground black pepper
Garnish: pine nuts, fresh cilantro leaves
Accompaniments: lime wedges, white rice
Preheat broiler and generously oil broiler pan rack with some olive oil. Cut each block of tofu crosswise into six slices and pat dry between layers of paper towels. Arrange in one layer on broiler pan rack and lightly brush tops of slices with some oil.
Broil 4-6 inches from the heat, without turning, until golden brown, about 15 minutes.
Meanwhile, combine cilantro, pine nuts, lime juice, soy sauce, sesame oil, sugar, ¼ cup olive oil, salt and pepper in a food processor and blend until bright green and smooth. About one minute.
Spread cilantro pesto on a platter. Using a slotted spatula, arrange tofu on pesto. Scatter pine nuts and cilantro leaves over tofu. Serve with lime wedges and rice.
Oven-Baked Chicken and Biscuits
Heat oven to 425.
Whole chicken, cut in pieces
½ cup shortening (can use ¼ cup shortening and ¼ cup butter)
Cling peach halves, large can
Cloves
1½ cups milk
Mix in a paper bag for dredging chicken:
1 cup flour
2 teaspoons salt
¼ teaspoon pepper
2 teaspoons paprika
Biscuit dough: Sift together 2 cups flour, 3 teaspoons baking powder, 1 teaspoon salt, ¼ cup shortening, ¾ cup milk.
Place ½ cup shortening (half butter) in 13-by-9-inch oblong pan and set in oven to melt. Shake three or four pieces of chicken at a time in bag to coat thoroughly. Place chicken, skin side down, in single layer in hot shortening. Bake 45 minutes then turn.
Meanwhile, make dough for the biscuits.
Roll dough ¼-inch thick and cut into biscuits. To save time, you can make drop biscuits.
Drain a large can of cling peach halves and place a whole clove in each. Push chicken to one end of pan; place biscuits in a single layer on other end. Place peach halves on top of chicken. Bake another 15 minutes, or until biscuits are lightly browned and chicken is tender.
To make gravy: Remove chicken, peaches and biscuits to serving planner. Add 2 tablespoons flour, (saved from dredging) to droppings in pan. Bring to boil. Add about 1½ cups hot milk. Boil 1 minute.