Exhibit examines cost of war; honors those who died fighting in Iraq, Afghanistan
February 10, 2016 - 3:47 pm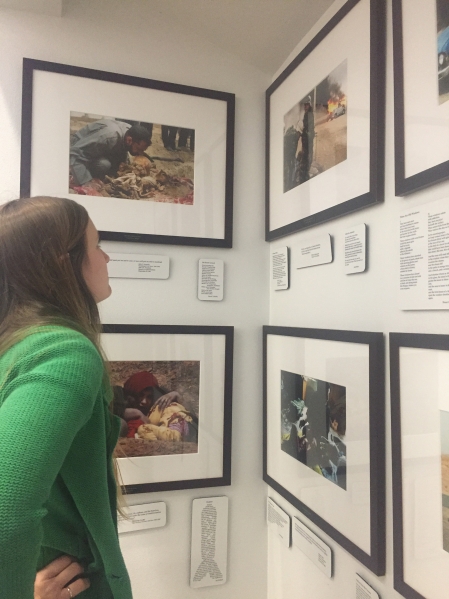 A touching tribute to our nation's warriors, "Always Lost: A Meditation on War," meant to commemorate those who died in the Iraq and Afghanistan wars since the terrorist attacks on Sept. 11, 2001, is now on display at the Boulder City Library. The nationally touring arts and humanities exhibition will remain on display through March 11.
"This is an amazing exhibit that represents what our country has been through," said Boulder City resident Jill Donahue. "Not a lot of people know it's here so I hope veterans come see (it) and see what it's about."
Exhibit manager Amy Roby said she contacted Lynn Schofield-Dahl, library director, and told her she had the ability to take the exhibit to one more city in Nevada and wanted to make Boulder City the 13th and last place the exhibit visited before the tour concluded.
According to Roby, Boulder City was "the perfect place" to bring an exhibit like this because of its distinguished history with its veterans.
"She called and she was looking for a place to bring it before March ended, because that's when the grant for the exhibit runs out," Schofield-Dahl said. "Considering Boulder City's connection with its veterans, it just seemed like a perfect match."
The main draw for this exhibit is a compilation of soldier's individual pictures called the Wall of the Dead. This collection of photos documents every soldier who has died since the Iraq War started.
Don Carlson, a sociology professor at Western Nevada College in Carson City, along with English professor Marilee Swirczek came up with the idea of creating an exhibit to depict the cost of war in exhibition form.
Originally, the exhibition started out as a class project for Carlson. After viewing the New York Times' Roster of the Dead in 2008, Carlson called the Iraq War "the most impersonal war the United States has ever fought," and decided to turn his class project into what it is today.
"Not only do we have the (Nevada State) Veterans Home and the cemetery here, but so many of Boulder City's residents are veterans, or relatives of veterans," Schofield-Dahl said. "It is just so special to our culture here."
For Schofield-Dahl, ties to the military run deep in her bloodline. Every single male member in her family has served in some branch of the military, tracing all the way back to the Civil War.
"This is just my way of trying to help," she said proudly.
According to Schofield-Dahl, the war exhibit is going to serve as a test to see if the library is capable of holding more events like this. If successful, she plans to bring similar events for Boulder City residents to enjoy.
The exhibit is open to the public and available for viewing during regular operating hours. The Boulder City Library is at 701 Adams Blvd.
Contact reporter Juan Diego Pergentili at jpergentili@bouldercityreview.com or at 702-586-9401. Follow him on Twitter @jdpbcreview.