Emergency Aid seeks Earth angels to help needy children, seniors
November 22, 2017 - 3:14 pm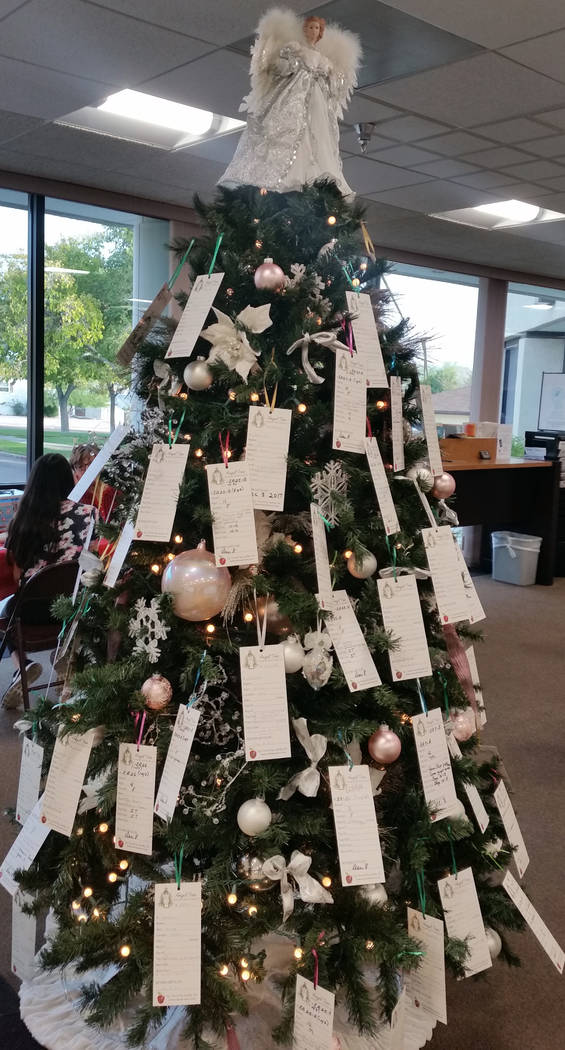 This holiday season residents of Boulder City can help families, children and senior citizens in need through the annual Angel Tree event put on by Emergency Aid of Boulder City.
"People have always been very generous," said Co-Chairman Kathleen Wood of the donation drive.
The yearly event has provided Christmas gifts to kids and seniors in need through the years, but according to Wood, more seniors are in need now.
"There's been kind of a flip with the numbers," she said.
For the past two years children have accounted for less than half of all the people reached through Emergency Aid's Angel Tree. In the years prior they accounted for approximately two-thirds.
"These seniors have been angels most of their lives," said Co-Chairman Helen Breeden. "It's time for us to give back to them now."
For those who want to donate, the process is simple.
"You pick up a tag," Wood said. "You fill out a form at the desk, and then you take the tag and do your shopping."
The tags are available on the Christmas tree at the Boulder Dam Credit Union, 530 Avenue G.
Those who pick up a tag and buy a gift should bring the unwrapped gift back by Friday, Dec. 8.
"The various senior centers will take care of wrapping them and giving them out," Wood said.
The senior centers receiving gifts are Quail Ridge Manor, Mountain View Care Center, Lend A Hand of Boulder City and long-term care at Boulder City Hospital.
The drive also accepts cash donations and Visa gift cards that are used to fill the requests on the gift tags.
Contact reporter Celia Shortt Goodyear at cgoodyear@bouldercityreview.com or at 702-586-9401. Follow her on Twitter @csgoodyear.
By the numbers
Those helped through Angel Tree:
■ 2013: 362 total, including 216 children
■ 2014: 430 total, including 251 children
■ 2015: 382 total, including 176 children
■ 2016: 308 total, including 126 children