Donations needed for Angel Tree event
November 21, 2018 - 4:04 pm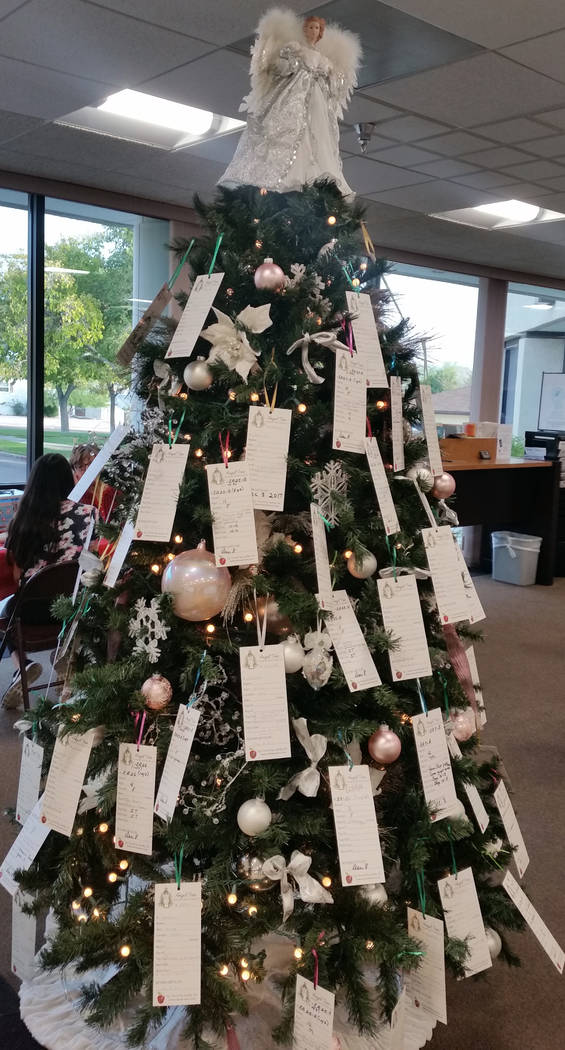 Emergency Aid of Boulder City is holding its annual Angel Tree project and needs residents to help out by donating Christmas presents to kids and seniors in need.
"Our seniors have been angels most of their lives," said Helen Breeden, co-chairman of the drive. "Many of them live alone, and they need our help. We want to help bring them some joy during the holiday season."
Each need is written on a tag that is placed on a Christmas tree at the Boulder Dam Credit Union, 530 Avenue G. Those who want to donate should stop by and pick up a tag or two, said Breeden.
"Check in at our desk next to the tree, fill out a short form, then take your tag and go shopping," she said.
People can also donate cash and Visa gift cards to fulfill the requests. Those items can also be donated for those who want to help but don't like to go shopping.
The gifts need to be returned to the desk at the credit union by Friday, Dec. 7. They should be unwrapped when dropped off.
"Boulder City is a very generous community," said Kathleen Wood, co-chairman of the drive. "As a native of the city, I am very proud of the continued support we get for this great event."
The Angel Tree started as an effort to give gifts to children but grew to include senior citizens, and now more seniors need help than children, according to the committee. The seniors involved in it are at Quail Ridge Manor, Mountain View Care Center, Lend A Hand of Boulder City and the long-term care unit at Boulder City Hospital.
Contact reporter Celia Shortt Goodyear at cgoodyear@bouldercityreview.com or at 702-586-9401. Follow her on Twitter @csgoodyear.