Dogged determination: Snoopy finds new home after ordeal in desert, losing leg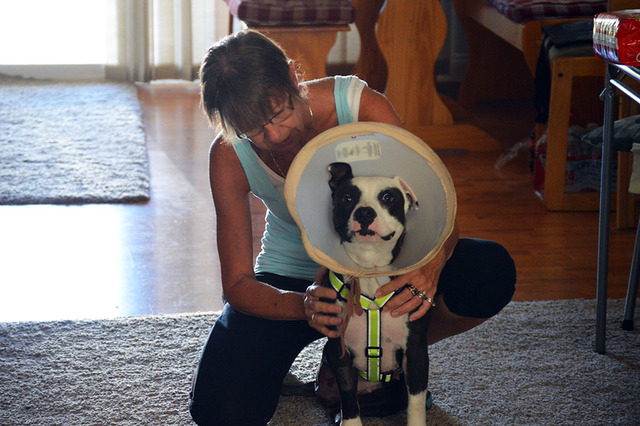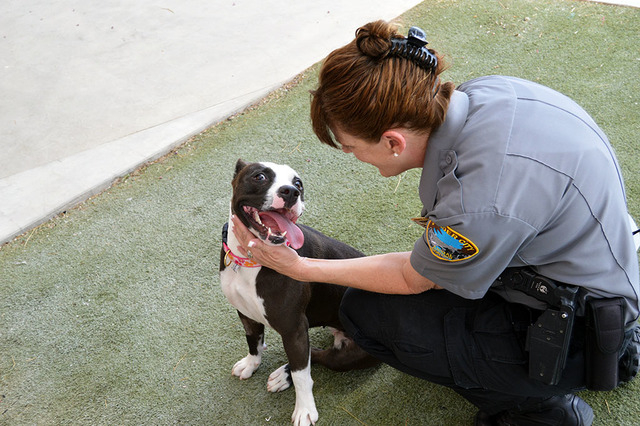 Snoopy, an 18-month-old pit bull, was going on a cross-country trip from Las Vegas to Texas when tragedy struck. Snoopy's owners put the dog in the back of a trailer and drove to their destination, but along the way the trailer came unhitched. The trailer tipped over and the owners were unaware they had lost it.
By the time the owners called Boulder City Animal Control Snoopy was gone. What happened next was a 10-day search for the dog by animal control and the police department.
"By the end of the week we were not hopeful," Boulder City Animal Shelter Supervisor Ann Inabnitt said. "This dog was out in the desert for 10 days without any food or water and her chances for survival were slim."
Despite the bleak outlook, they continued to look for the dog.
Ten days later Snoopy was found and near death. She had not eaten in days and her back right leg was barely hanging by the bone. Finding Snoopy only seemed to worsen the dog's prognosis. Her leg would have to be amputated and even then it seemed likely the dog would not make it.
Inabnitt made a call to Boulder City Interim Police Chief John Glenn.
"I told John that Snoopy was going to need expensive surgery or she was not going to make it," Inabnitt said. "John didn't hesitate; he said we are not in the business of killing dogs we can save."
Snoopy was taken in for surgery at the Boulder City Animal Hospital. She would lose her leg and have to go through extensive rehab.
"We were ready to spend months rehabbing this dog," Inabnitt said. "She was on death's door when we found her and it seemed like she was going to have a long road to recovery."
The animal shelter was ready for a long-haul rehab, but the rehab was never needed. Two weeks later Snoopy was good as new, running, jumping and playing as if she had never lost a leg.
"It is amazing to see this dog now," Inabnitt said. "We were committed to rehabbing this dog and she didn't need it. She is so happy and full of energy."
Snoopy caught the eye of Wayne Curtis, a Vietnam veteran who had recently lost his dog.
"I heard from Jenny Silva at the animal shelter that they had a pit bull up for adoption, but she only had three legs," Curtis said. "When I heard what she had been through it just made want her even more."
Curtis did not hesitate, he adopted Snoopy and took her home to his wife, Barb.
Snoopy has acclimated well to her new home and is full of love for her new owners.
"She is just so full of lovies," Barb Curtis said. "It is surprising how comfortable she is here after everything she has been through."
Wayne and Barb Curtis said they are thrilled to have the new addition to their home and are excited to introduce Snoopy to their grandkids.
"She has been great with us so far," Wayne Curtis said. "We need to see how she does around the grandkids, but I am sure she will give them all the love and kisses she gives us."
Despite everything she has been through Snoopy is happy and well. When asked how he thought Snoopy survived such an ordeal, Wayne Curtis answered simply with a smile.
"The dog's got heart."
Contact reporter Max Lancaster at mlancaster @bouldercityreview.com or at 702-586-9401. Follow him on Twitter @MLancasterBCR.