Damboree salutes volunteers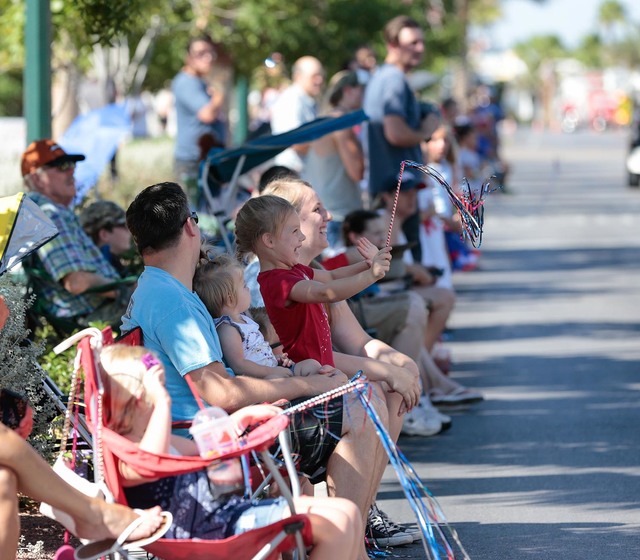 The Fourth of July in Boulder City is set to be a fun day, as the 69th annual Damboree, hosted by the city's Parks and Recreation Department has many activities for people to enjoy from morning until night.
"Volunteers: the Foundation of Community" is the theme of this year's festivities.
The celebration takes places throughout three city parks and starts with the annual Rotary pancake breakfast at 7 a.m. in Bicentennial Park, 999 Colorado St.
At 9 a.m., a flyover by the Boulder City Veteran's Flying Group will signal the start of the parade. This year, the parade will feature decorated pallets and go from Colorado Street, down Nevada Highway to Fifth Street, to Broadbent Memorial Park at Avenue B and Sixth Street.
"We hope to see some homemade decorated pallets in the parade this year similar to the ones you are seeing around town," said Patty Sullivan, Boulder City recreation program coordinator. "The pallet decorations are a nod to our history and ties to Hoover Dam. During the Depression when the dam was built, supplies were scarce and materials that arrived in packing crates and such were repurposed by Boulder City pioneers. The pallets are a fun way to keep our history represented in the Damboree in a unique way. Pallets being incorporated into the parade entries was done via word of mouth so we'll see if folks picked up on this. We're seeing more pallets on individual and business properties and we hope to see more pallets in this year's parade and future parades as well. To cool off big time, look for the Anytime Fitness entry with a water truck."
In addition to the patriotic pallet decorations, the Parks and Recreation Department is encouraging residents to create handmade patriotic decorations and put them in front of their homes and/or businesses. They can also bring them to the park to display them.
Water play for the parade route starts at Avenue A and continues on Avenue B to the end of the parade at Sixth Street. No water play is allowed at any other location on the parade route, and no water balloons are allowed.
Following the parade, more Damboree festivities will take place at Broadbent Park from 10 a.m. to 4 p.m. Those activities include midway booths, food, drinks and games. The Damboree ceremonies start at 11 a.m., including presentation of parade awards, followed by entertainment.
At noon, there will be the coin toss at the Boulder City Pool. Participants must pay the pool admission fee of $2 for youths 0-17.
There also will be games sponsored by the Boulder City Parks and Recreation Department.
At 4 p.m., the Damboree festivities will move to Veterans' Memorial Park. Admission is $10 per vehicle and those planning to attend are encouraged to arrive early.
The activities include a beer booth, games and a water park. From 6-8:45 p.m., there will be music with DJ Mike Pacini. Fireworks are at 9 p.m., followed by more music.
New this year is participation and help to organize the event by several local churches.
The Christian Center is managing the historical games in Broadbent Park.
"They will be setting up the space and putting out decorations, manning the historical game booths and taking down everything in that area," Sullivan said
Boulder City Assembly of God organized a pallet decorating workspace, as well as helping put up signs, picking up trash, and manning the Buchanan entrance at Veterans' Memorial Park. Hope Baptist Church is helping with set up and take down at Broadbent Park.
"Having these three churches help with the event will allow our Damboree Committee members to train these groups and others of what is needed to make this a successful event year after year," Sullivan added.
For all those who attend any or all parts of the Damboree, Sullivan said she and fellow Damboree Committee members hope that everyone has a positive experience with a nostalgic feeling of local history mixed with American pride.
Contact reporter Celia Shortt Goodyear at cgoodyear@bouldercityreview.com or at 702-586-9401. Follow her on Twitter @csgoodyear.
Damboree Celebration
7 a.m. — Rotary pancake breakfast at Bicentennial Park, 999 Colorado St.
9 a.m. — Flyover by Boulder City Veteran's Flying Group.
9 a.m. — Parade begins.
Festivities at Broadbent Memorial Park, 1301 Fifth St.
10 a.m. – 4 p.m. — Midway booths, food, drinks and games
11 a.m. — Damboree ceremonies
11:30 a.m. — Entertainment
Noon — Coin toss at the pool
Noon — Games and contests
1 p.m. — Games and contests
Festivities at Veteran's Memorial Park, 1650 Buchanan Blvd.
4-11 p.m. — Food, drinks, games, water park
6-8:45 p.m. — Music with DJ Mike Pacini
9 p.m. — Fireworks
9:30-10:30 p.m. — Music with DJ Mike Pacini