December 17, 2014 - 2:10 pm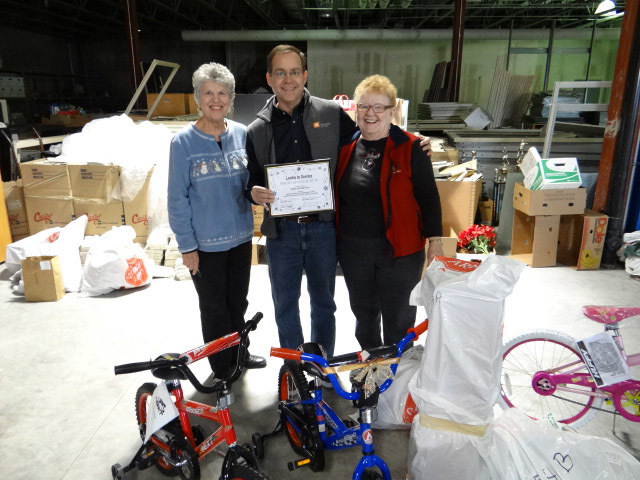 Eric Estes is a modest person and prefers to shun the accolades, but this honor was close to his heart.
The Boulder Dam Credit Union was selected as the 2014 Angel of the Year, and Estes, as president, received the award Saturday from the Angel Tree, one of the programs operated by Emergency Aid of Boulder City.
"Of all the charity work and social responsibility we do at Boulder Dam Credit Union, this is by far the closest to my heart," said Estes, who is in his 21st year at the credit union and his fourth as president. "It helps so many people that I can't begin to quantify the honor. This is such a great charity with so many great volunteers. At times we forget that our community has its needs just like other communities.
"The credit union will be celebrating its 75th anniversary on Jan. 3, and it has always been an important part of this community. I am proud to receive this honor and can assure you that the credit union, its staff and customers will continue to help everyone in the community to be a better community."
More than 420 individuals, mostly children and elderly in the community, will be able to celebrate Christmas this year in Boulder City because of volunteers and those who make donations.
Each year Estes makes room in the lobby of the credit union for the Angel Tree, a Christmas tree covered with angels as ornaments. Each angel has the name of a child or person in need and what he or she hopes to receive this season.
Staff and customers at the credit union and others from the community pick an angel from the tree and make donations for that person or child to receive. Those donations are then wrapped, tagged and delivered by volunteers from Emergency Aid. Sue McCullough just completed her ninth year of leading the volunteers who organize the donations in the basement of the Boulder City Library.
The Angel Tree for children of families enrolled in Emergency Aid and St. Jude's Ranch for Children receive toys, bicycles, clothing and food. Other individuals at Mountain View Care Center and Lend A Hand, Boulder City Hospital's long-term care program, receive other necessities.
"The Boulder Dam Credit Union makes a world of difference to our organizations and the people we try to assist," said Barbara Dempsey, who is ending her five-year stint as co-chair of the Angel Tree program. "Providing a central location for the tree at the credit union is such a great help. The credit union makes sure we can always meet or exceed our goals. We thank Mr. Estes and the credit union and all the others who make this a success."