Cooking gets Runion's creative juices flowing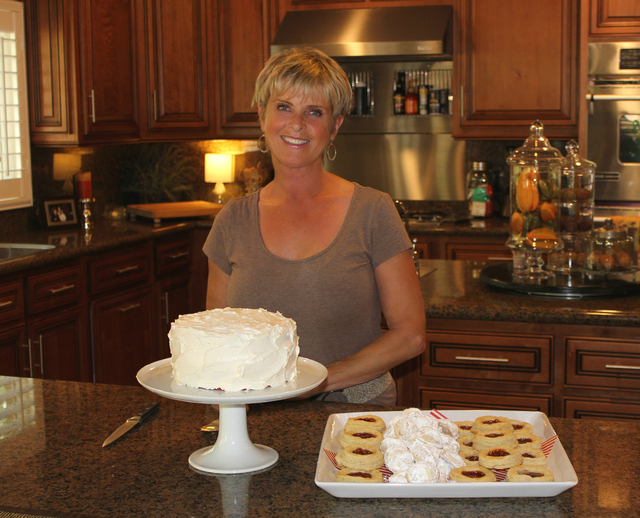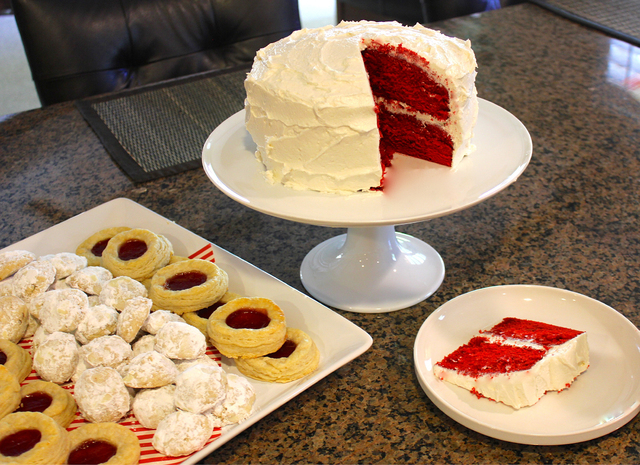 One might assume that living in a small town such as Boulder City that everyone knows everyone. We run into each other at festivals in the park, senior center activities, the golf course, the corrals, fundraisers, community classes, church, the lake, the tracks, the trails and the grocery stores.
We recognize names and see familiar faces, but the truth is we don't always have the pleasure to meet some of the gems in our neighborhoods.
Priscilla Runion is one such gem. Since moving to Boulder City in 1988 from Grand Coulee Dam, Wash., with her family, she has called this city home.
"I was so tired of the cold winters, and the desert has always appealed to me. And after all these years, I still love it," Runion said.
As a "PK" (preacher's kid), Runion moved around growing up. She was born in Abilene, Texas, and owns the term, "Texas Proud!" She lived in Louisiana, Georgia, South Carolina and Washington before settling in Boulder City.
Her children from her first marriage, John and Lauren Calvert, both reside and work in Boulder City. John and his wife, Brigid, have two sons, Noah 13 and Aaron 9, who attend Boulder City schools.
"As I became an 'empty nester' God blessed me with a second family when I married Bret Runion in 2006," she said
When Runion met Bret's children in 2001, Grant was 7 and Summer was 6.
She looks back and says, "You shake your head a couple times, and now Grant is 18 and headed to UNLV to work on an engineering degree this fall. Summer is 16 and will be a junior here at BCHS. It's difficult to remember when they weren't a big part of my life. I truly believe God brought us together for all our growth."
Runion considered herself fortunate to have been a stay-at-home mom when her children were young. When they started school, she worked part-time jobs including some substitute teaching positions.
She said exercise was always a fundamental part of her life, and when she moved to Boulder City, she found Miss Amy's Lady Exercise Class at Dance Etc.
"I was there every morning. One day she approached me, 'Priscilla, since you're always here would you like to work and answer phones?' Which I did from 1990 to 2001," Runion said.
While at Dance Etc., she got her group exercise certificate and personal trainer license, allowing her to teach morning step classes and do personal training.
These days, Priscilla is finding her creative outlet in the kitchen. She and Bret enjoy entertaining friends, hosting church functions and office parties in their home.
"On two occasions I host/catered a wedding rehearsal dinner and a 50th wedding anniversary in our home, both for over 40 people," she said. "It seems daunting to some, but I truly love the challenge and stepping back, looking at the end result."
While Runion has shared a coupleof heirloom recipes handed down, and usually only made at Christmas, she says she constantly remakes other recipes to be healthier.
"Bret and I are carb-free about 50 percent of the time. One must be creative to keep meals interesting."
CAULIFLOWER FRIED RICE
"One recipe I'm most proud of is fake fried rice made with cauliflower. I promise it's difficult to tell the difference if you are unaware it's cauliflower."
To prepare "rice," shred/grate florets from one head of raw cauliflower with food processor.
The less stem on the flower, the more it will resemble rice.
In hot wok or large skillet stir-fry for 2- 3 minutes:
2 tablespoons cooking oil
1 teaspoon sesame oil
1 cup finely chopped carrot
1 cup chopped white onion
Toss in, and stir-fry for 4 minutes longer:
1 cup diagonally sliced celery
1 head shredded cauliflower florets
3-4 heads garlic, minced
1 small can water chestnuts, diced
1 cup frozen green peas
Beat one egg in a bowl with a fork. Spread veggies back from the center of the skillet and pour in beaten egg, scrambling.
Incorporate it into the veggies.
When done, add:
½-1 teaspoon Seven Spice Sauce (find in Asian grocery store)
1 tablespoon soy sauce
Red pepper flakes or Sriracha sauce, to taste.
Note: Sometimes I toss in whatever is in fridge: sliced bell peppers, shredded cabbage, jalapeno. I also have used a stir-fry seasoning package, and it's pretty good.
CHRISTMAS POPPITS
1 cup butter
½ cup flour
½ cup sour cream
Sugar water (3 teaspoons sugar mixed with 1 teaspoon water)
Cut butter into flour till coarse. With a fork, stir in sour cream. Divide dough into two parts. Wrap and refrigerate a couple of hours.
Roll each pastry, pie crust style on a well-floured board. Cut into rounds approximately the size of a biscuit.
In half of the rounds, use a doughnut center cut.
Place plain rounds on a parchment covered sheet. Brush with sugar water. Place the cut round on top. Brush with sugar water. Fill the holes with about ½ teaspoon of jam. Bake at 350 F for 15-20 min or until pastry is golden.
MEXICAN WEDDING COOKIES
1 cup powdered sugar, divided
1 cup butter
2 cups flour
½ teaspoon vanilla
½ cup pecans, finely chopped
Cream butter and ½ cup powdered sugar. Add remaining ingredients. Chill for several hours.
Roll into small balls, about 1½ inches diameter. Bake at 350 F for 20 minutes till bottoms are slightly brown. When cooled, shake in zippered bag with remaining powdered sugar.
RED VELVET CAKE
(Handed down from LaVerne Calvert)
"I have been doing this for over 20 years! Box cakes taste nothing like this because I'm kind of a purist."
Cream together:
½ cup butter
2 eggs
1½ cups sugar
Make paste:
2 ounces red food coloring
2 heaping tablespoons cocoa
Add paste to butter mixture.
Sift together:
2¼ cups cake flour
½ teaspoon salt
Add flour mixture to butter mixture, alternating with 1 cup buttermilk (or use 1 cup milk plus 1 tablespoon vinegar; let sit for 5 minutes)
Stir in:
1 teaspoon vanilla
Mix together:
1 teaspoon baking powder
1 tablespoon vinegar
Cover bowl as it foams.
Add soda mixture to butter/flour mixture, blending not beating. Divide between two 8-inch greased and floured pans. Bake at 350 F, 25 to 30 minutes.
When cooled, split each layer to make four layers
Frosting:
3 tablespoons flour
1 cup milk
1 cup sugar
1 cup butter (2 cubes)
1 teaspoon vanilla
Cook flour and milk, stirring until thick. Let cool. Cream together sugar, butter and vanilla. Add flour mixture, spoonfuls at a time, with a mixer at high speed. Beat each time until it peaks like whipped cream.