Cooking feeds Sullivan's soul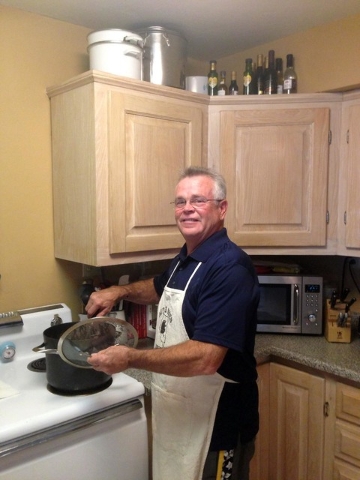 Tom Sullivan has lived in Boulder City for most of his life — ever since he married a local lady whose parents were 31ers — and in that time he and his cooking have left an impression on many around the city.
Sullivan grew up in Pennsylvania, and long before he drove across the country to join his father in Henderson, the inherent connections between family and food were an integral part of his life. Though his heritage may have been Irish, while helping out around the house Sullivan picked up techniques from all kinds of cuisines, especially Italian.
"I picked a lot of things up from my dad; the men in the family loved to grill meats and barbecue for family picnics," Sullivan said. "Also, I always did love to eat and my mother stayed at home, so every day when she was in the kitchen, I helped."
Sullivan helped his mother outside of the home as well when he picked up his first job, as her assistant at the cafeteria on a naval base, and he carried that tradition on to college where he was in charge of the kitchen as steward of the Sigma Chi fraternity.
In 1978, not long after joining his father in Nevada, Sullivan met and married Patty Sullivan, and they settled into family life in Boulder City.
Though his professional career moved away from the stove, cooking remained a constant throughout Sullivan's life, inside the house and out.
"Making good food is satisfying," Sullivan said. "I like bringing everything on time. Coordinating all of the elements is the goal so that everything is ready at the proper moment."
In addition to preparing meals frequently for his wife and children and the occasional cooking demonstration for the National Park Service, eight years ago he tried his hand at something a little grander when he put together a soup-themed neighborhood block party in the alley that has become a Saint Patrick's Day tradition. The first year, friends and neighbors gathered to enjoy 16 homemade soups, and now, nearly a decade later, revelers bring a variety of foods to accompany more than 40 different soups. Sullivan's own St. Patty's soup, a hearty take on the Irish standard corned beef and cabbage, has become a fitting perennial favorite.
From cooking with his family as a child and coming home from school to watch Graham Kerr's "The Galloping Gourmet," to spending time around young ladies in a high school home economics class, cooking is about more than recipes, according to Sullivan, it's about the people.
"Family life, friends, too, it all revolves around meals, around the kitchen and eating," Sullivan said. "That's where we gather and share with the people that are important in life."
Here are few of his favorites:
Pork Tenderloin with Roasted Vegetables and Gorgonzola Cream Gravy
Serves 4 people
1 large pork tenderloin, about 2 pounds, or 2 small ones
4 large red potatoes
2 large red bell peppers
2 sweet onions
1 small bag of peeled and cleaned baby carrots
1 cup white flour
1 pound crumble style Gorgonzola cheese
1 quart heavy whipping cream
Extra virgin olive oil
Dried oregano, basil, parsley, garlic powder, salt and pepper
In a small bowl, mix 1 tablespoon each of oregano, basil, parsley and garlic powder and 1 teaspoon each, of salt and pepper. Reserve to spice the vegetables.
Rinse and dry the tenderloin and place it on a cutting board. With a sharp filet knife, carefully remove all the silver skin, leaving as much of the meat as possible. If it is not removed, the meat will be tough. Trim fat, if present. Set aside.
In a zippered plastic bag mix flour, with 1 tablespoon each of oregano, basil, parsley, garlic powder and 1 teaspoon each of salt and pepper.
Clean all vegetables and let dry. Cut potatoes into wedges, eight per potato. Cut red peppers into ¾-inch slices. Peel and cut onions into six wedges per onion, leaving the root end intact. This will help hold the onion wedges together while roasting. Place a toothpick through the meat of the onion wedges to help hold them together while cooking. Select the amount of carrots you want to cook with your meal.
In a large bowl, place potatoes and drizzle with a small amount of olive oil. Toss until coated then add a pinch of the mixed spices over the potatoes and toss again. Place wedges uniformly on a nonstick cookie sheet.
Repeat procedure for the peppers and onions, placing them on the cookie sheet as well. Coat and spice the baby carrots, but do not put them on the cookie sheet. They will be added halfway through the roasting time.
In the oven, adjust the racks to accommodate the cookie sheet(s) for the vegetables and the pan or skillet for the tenderloin. Preheat the oven to 425 degrees and place sheet of vegetables into the oven.
The vegetables will take 30 to 45 minutes to roast. Halfway through the roasting process, turn all the pieces over and add the carrots.
Once the vegetables are in the oven, get a skillet large enough to pan-fry the tenderloin. Put it on medium to high heat and coat the pan with olive oil. In the plastic bag drop the tenderloin into the flour/spice mix and shake until meat is fully coated. Shake off extra flour and pan-fry the tenderloin until it is golden brown on all sides.
Place the meat into oven to finish cooking. If your skillet is not oven-safe, use a small baking pan to finish cooking the meat. Do not clean skillet if you use the baking pan. It will be used to make the gravy.
The vegetables are done when they are soft or browned nicely. Remove and cover with foil to keep warm. Roast the tenderloin until it reaches 160 degrees. Use a meat thermometer to check if done. If you don't have one, get one before you start. Once the tenderloin reaches 160 degrees, remove it from the oven and lightly cover it with a piece of foil. Let it rest for about 10 minutes. It will finish cooking and will be ready to slice.
While the meat is resting, make the gravy. Add all the cream to the skillet you used for the meat. Bring the cream to a boil, whisking constantly. Do not stop whisking or the cream will burn. Slowly whisk in about half of the crumbled Gorgonzola cheese, a little at a time, until it is melted. Taste with a spoon frequently and add more cheese until the sauce is to your liking. When ready, remove from heat, add salt and pepper to taste, then cover to stay warm.
You can thicken gravy with a cornstarch mixture, if you want. See cornstarch container label for thickening instructions.
Carve the tenderloin, against the grain, into ¼-inch thick slices. Plate with roasted vegetables and cover with gravy.
Tom's St. Patty's Soup
1 point or center cut corned beef brisket
4 medium red potatoes
1 regular size bag of frozen baby Brussels sprouts
1 quart heavy whipping cream
4 tablespoons cornstarch
4 tablespoons of butter
Salt and pepper
Remove corned beef brisket and sprinkle spices on the fatty side of the meat. Place the brisket in a large pot and fill with water until the meat is covered. Bring to a boil, then cover and reduce heat to low. Let simmer for two hours.
Once cooked, remove the meat from the pot and put aside to cool.
Using a fine strainer, strain the liquid from the pot into a bowl, leaving the clear juice.
Clean, peel and dice red potatoes into ¼- to 3/8-inch cubes in a bowl and set aside.
Remove all fat from the cooled brisket. Cut/dice into ¼- to 3/8-inch cubes and set aside in a big bowl.
Cut frozen baby Brussels sprouts into ¼- to 3/8-inch cubes and put them in the bowl with the brisket.
Place potatoes in a sauce pan with water and boil until al dente (almost soft, not fully cooked or mushy).
Strain potatoes and put into an ice cold water bath to stop the cooking process.
Once cooled, strain again and add potatoes to the bowl with the corned beef and Brussels sprouts.
In a large pot, put 6 cups of the strained meat juice and 1 quart of cream; bring the mixture to a boil.
In a small measuring cup, put 2 tablespoons of cornstarch and a ¼ cup of cold water and stir until mixed. Pour cornstarch mixture slowly into the boiling soup pot and whisk to thicken soup.
Repeat cornstarch mixture, if necessary, until thickened and remove soup base from heat.
Add the diced potatoes, corned beef and Brussels sprouts to the thickened soup base.
Add butter and season with salt and pepper to taste. Reheat or place in a slow cooker on low until served.