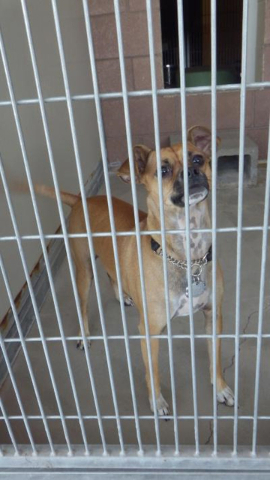 Postal carriers' Stamp Out Hunger drive set for Saturday
Saturday is the annual National Association of Letter Carriers' annual Stamp Out Hunger food drive.
Postal carriers will collect nonperishable food donations and deliver them locally to Emergency Aid of Boulder City. Donations can be left near mailboxes or brought to the post office.
The drive, the largest one-day food drive in the nation, has delivered more than 1 billion pounds of food in the past 22 years.
Cleanup day on tap Saturday at dog park
A cleanup day is planned from 8-11 a.m. Saturday at the See Spot Run dog park at Veterans' Memorial Park, 1650 Buchanan Blvd.
The hours were changed because of the increasing temperatures in summer.
All interested people are welcome to attend.
Republican Women to hear police chief, candidate
Boulder City Republican Women's club will have its monthly luncheon meeting May 21 in the banquet room at the Railroad Pass, 2800 Nevada Highway, Henderson.
Doors will open at 11 a.m. and lunch will be served at 11:45 a.m.
Guest speaker for the day will be Boulder City Police Chief Bill Conger. Additionally, Boulder City Council candidate Linda Graham will speak.
Cost is $21. Reservations are required and must be made by May 14. They can be obtained by calling 702-393-1228 or emailing bcgop@yahoo.com. All interested people are welcome to attend.
Yard sale May 16 to benefit high school's band
Boulder City High School band will hold a fundraising yard sale from 7 a.m. to 3 p.m. May 16 at the school, 1101 Fifth St.
Library schedules variety of activities, events
Boulder City Library, 701 Adams Blvd., has several activities planned for the coming weeks. These include:
n "I Survived" book club, 3:30 p.m. Friday in the board room. Participants are asked to read "I Survived: Hurricane Katrina, 2005" by Lauren Tarshis before attending. The session will include a discussion, activity and craft related to the book.
n Movie, 6 p.m. Friday in the community room. Snacks and beverages are allowed.
n Teen Advisory Group meeting, 3 p.m. Monday in the boardroom. Teens 12-18 are invited to have a say in the programs, materials and projects offered by the Youth Services Department.
n Preschool story time, 10 a.m. Tuesday in the boardroom. For children 3-5 and their caregivers.
n Toddler story time, 10 a.m. Wednesday in the boardroom. For children younger than 36 months and their caregivers.
n Teen time, 2:30 p.m. Wednesday in the community room. For those 12 and older. Teens are invited to play games, work on homework or just socialize with each other.
n Family story time, 6 p.m. Wednesday in the community room. There will be science, crafts, games, Legos and stories.
Call 702-293-1281 for details, reservations or more information.
Democrats set meeting, to hear about state Legislature
Boulder City Democratic Club will have its monthly meeting at 6:30 p.m. May 14 at the Boulder City Library, 701 Adams Blvd.
Plans will be finalized for its Spring Forward to 2016 party May 21 at Chilly Jilly'z, 1680 Nevada Highway. Annette Magnus and Blanca Gamez of Battle Born Progress will be thee to speak about their experiences at the Legislature and future endeavors.
Appetizers and soft drinks will be served, and there will be a cash bar.
Tickets are $10 and can be purchased at the door; however, reservations are requested by May 18.
Writers group meets every Thursday at library
The Boulder City Writers Group meets from 7-8:20 p.m. each Thursday in the community room at Boulder City Library, 701 Adams Blvd.
Writers of all levels are welcome to attend to learn more about writing and receive feedback on their work.
Membership is free.
For more information, email jenballif@gmail.com.
American Legion breakfast served Thursday mornings
All veterans and their families are invited to the American Legion's varied menu breakfast from 6-8:30 a.m. Thursdays at the American Legion Hall, 508 California Way, between Boulder Bowl and Grace Christian Academy. There is no cost to attend, but donations are welcome.
Legionnaires and eligible veterans are invited to the American Legion meeting at 7 p.m. the first Tuesday of the month at the hall.
Call Cmdr. Gregory Hall at 702-293-6374 for more information.
Support group helps family of those with breathing problems
Area residents are invited to attend the Friends and Family of Chronic Obstructive Pulmonary Disease support group. The group meets at 10 a.m. the third Wednesday of each month at the Senior Center, 813 Arizona St.
Bruce Borchard of Vital Care leads the group, which explores ways for better living with COPD, asthma and emphysema. It is sanctioned by the Better Breathers and American Lung Association.