February 22, 2017 - 2:27 pm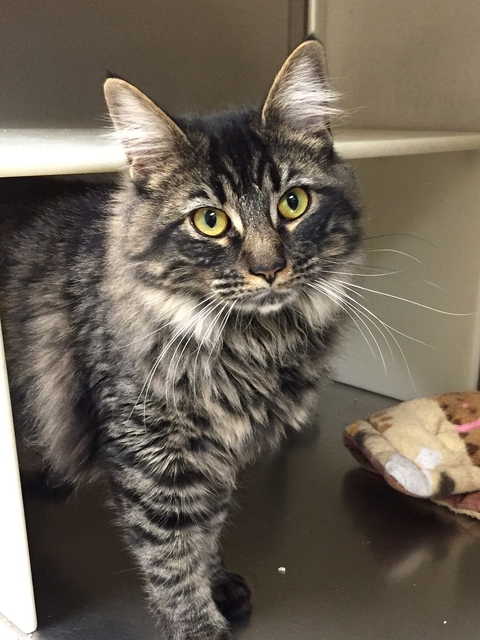 Garden club to hear from wildlife enthusiast at meeting Wednesday
The Boulder City Garden Club will meet at 6:45 p.m. Wednesday in the Boulder City Library, 701 Adams Blvd. Biologist and wildlife enthusiast Paula Garrett will present the lecture "Creating a Backyard Wildlife Habitat" at 7 p.m.
Garrett's yard won the Southern Nevada Water Authority's 2009 Wildlife Habitat Award.
The event is open to the public.
Community Alliance scheduled to meet Tuesday night at library
Members of the Boulder City Community Alliance will meet at 6:30 p.m. Tuesday at the Boulder City Library, 701 Adams Blvd.
Movies, reading week observance schedule at local library
Boulder City Library, 701 Adams Blvd., has several activities planned for the coming week. These include:
■ Family movie, 3:30 p.m. today in the community room. "Storks" will be shown. Bring blankets and snacks.
■ Drop-in story time, 10 a.m. Friday in the board room. For children age 5 and under and their caregivers.
■ Movie, 5:30 p.m. Friday in the community room. "The Girl on the Train" will be shown. For those age 17 and older.
■ Art club, 1 p.m. Saturday in the board room.
■ Recycled crochet bag craft, 1 p.m. Saturday in the community room. Attendees will learn to upcycle plastic bags into a reusable plastic bag. Reservations and a $5 refundable deposit are required.
■ Baby lap-sit story time, 10 a.m. Tuesday in the board room. For those age 2 and younger and their caregivers.
Note: The library will be observing Nevada Reading Week from Monday through Friday.
Call 702-293-1281 for details.
Myriad special events planned at Lake Mead recreation area
Lake Mead National Recreation Area has a variety of special events happening in the coming week. These include:
■ Volunteer event: Mustard Busters, Saturday. Volunteers are need to remove Sahara mustard, an invasive plant, so that native plants can thrive. Volunteers will meet at the Callville Bay Marina dock and travel by boat to Sandy Cove. Participants should bring a lunch or snack. Reservations required and can be made by contacting Courtney Lancaster at 702-293-8717 or Courtney_Lancaster@partner.nps.gov.
■ Ranger chat: "Public Lands: Treasures of Southern Nevada," 11:30 a.m. and 1 p.m. Saturday at the Alan Bible Visitor Center, 10 Lakeshore Road. Participants will learn about the ecological treasures in their own backyard.
For additional information or reservations, call 702-293-8990.
Art guild spotlights two exhibits
Jewelry and art by Linda Shaffer are on display throughout the month in Boulder City Art Guild's gallery inside the Boulder Dam Hotel, 1305 Arizona St.
The exhibit features restive paintings and a variety of jewelry, which are often echoed in her art.
The gallery is open from 10 a.m. to 4 p.m. Monday through Saturday and from 10 a.m. to 3 p.m. Sunday.
Additionally, the guild has recently unveiled its newest exhibit of Western art at the Hoover Dam Lodge. It features 50 pieces of 2-D and 3-D art by 25 members of the group. The exhibit will continue through May.
The lodge is at 18000 U.S. Highway 93.
Lend A Hand program to aid caregivers
Lend A Hand of Boulder City will present a six-week series of free classes focused on providing "Powerful Tools for Caregivers." The classes are scheduled from 1-3 p.m. Wednesdays, starting March 15, at the nonprofit's office, 400 Utah St.
During the program, caregivers will learn a variety of self-care behaviors, how to manage their emotions, increase their efficiency, how to communicate in challenging situations and how to find community resources.
The classes are designed for a diverse group of caregivers including spouses/partners and adult children of aging parents.
Call 702-294-2363 to enroll in the program.