Colorful lesson: Kraft's new book adds history to recreational pastime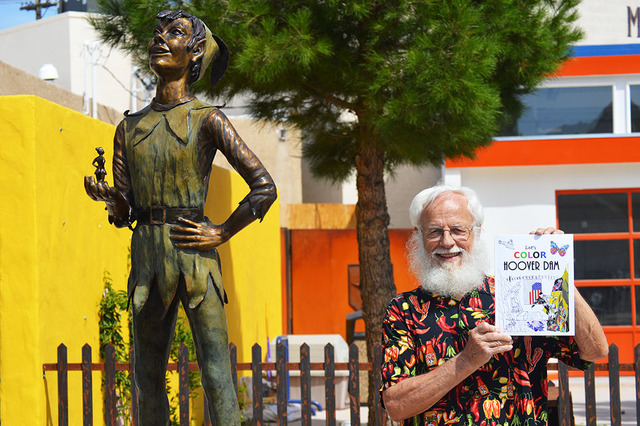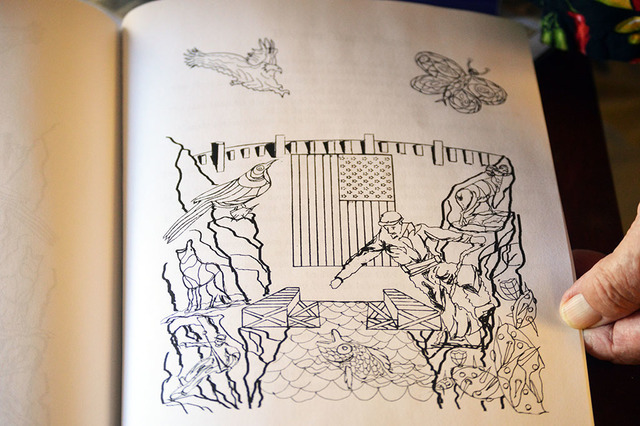 When Boulder City resident Rudy Kraft finished his first book about Nevada in January, he knew he wasn't going to stop there.
The book, "Nevada: A Strange State," sold over 300 copies, but he had more to share about the Silver State.
Kraft's next book is a coloring book titled "Let's Color Hoover Dam," which is full of pictures of the dam with all the plant and animal life that inhabits the area around it.
Kraft said the reason he chose a coloring book as his next project was because he noticed a lack of coloring books that could help you learn the history of a place.
"I was with my wife and we came across some coloring books," Kraft said. "The first thing I noticed is that the coloring books were all abstract, none of them were pictures of history, so I told my wife that I would do a coloring book about the Hoover Dam."
A coloring book created new challenges for Kraft, but he is no novice to illustration. He did the pictures for his first book and he is an avid drawer. In fact, he said he drew many of the pictures for his new book before he even thought about publishing.
"I have always loved to draw. I make sketches all the time," Kraft said. "Some of the ideas I had for 'Let's Color Hoover Dam' came from drawings I had been working on."
Despite being an experienced illustrator, Kraft said he did experience a new challenge creating art that people could color but was still pleasing to the eye.
"Making a picture for a coloring book is very hard," Kraft said. "You have to show people where to color. How do you make something like a cactus that looks nice, but is still really easy for people to fill in?"
The result of this challenge led Kraft to create pictures with strong lines separating different areas to color. For example, a picture of bighorn sheep has a series of finely drawn lines to help the colorer guide him or herself through the illustration.
Kraft said he spent hours drawing and redrawing pictures to find the balance between guiding the colorer through the painting and allowing that person the freedom to make whatever picture he or she wanted.
"The important thing I had to ask myself was how do I make something friendly to the colored pencil?" Kraft said. "I had to throw away a lot of drawings to answer that question, but I think I figured it out."
Kraft dedicated the book to his wife, Mary Venable, who helped him research his last two books.
Kraft is self-publishing his coloring book and you can find it at Bella Marketplace on Wyoming Street or buy it online at lasvegasvisitor.com.
He has additional coloring books in the pipeline, including one for the Grand Canyon and another for Sedona, Arizona.
Contact reporter Max Lancaster at mlancaster
@bouldercityreview.com or at 702-586-9401. Follow him on Twitter @MLancasterBCR.