City breaks ground on replacing historic lawn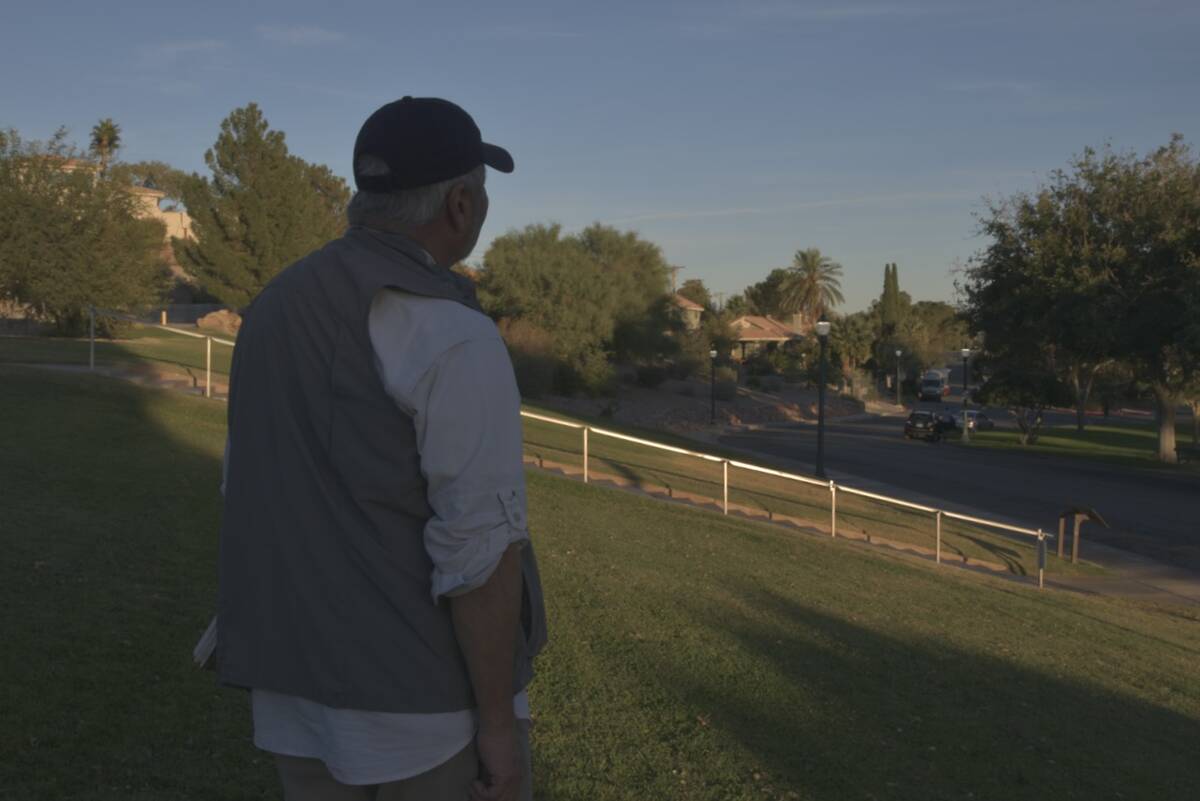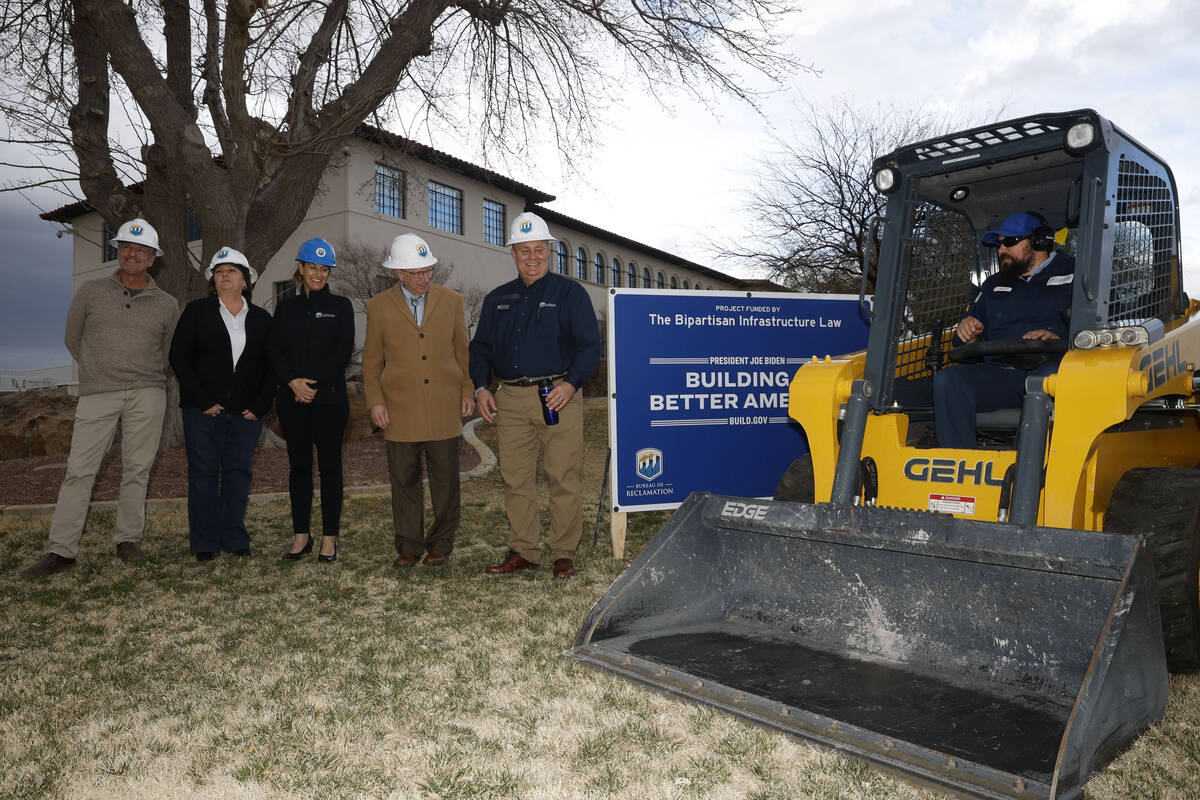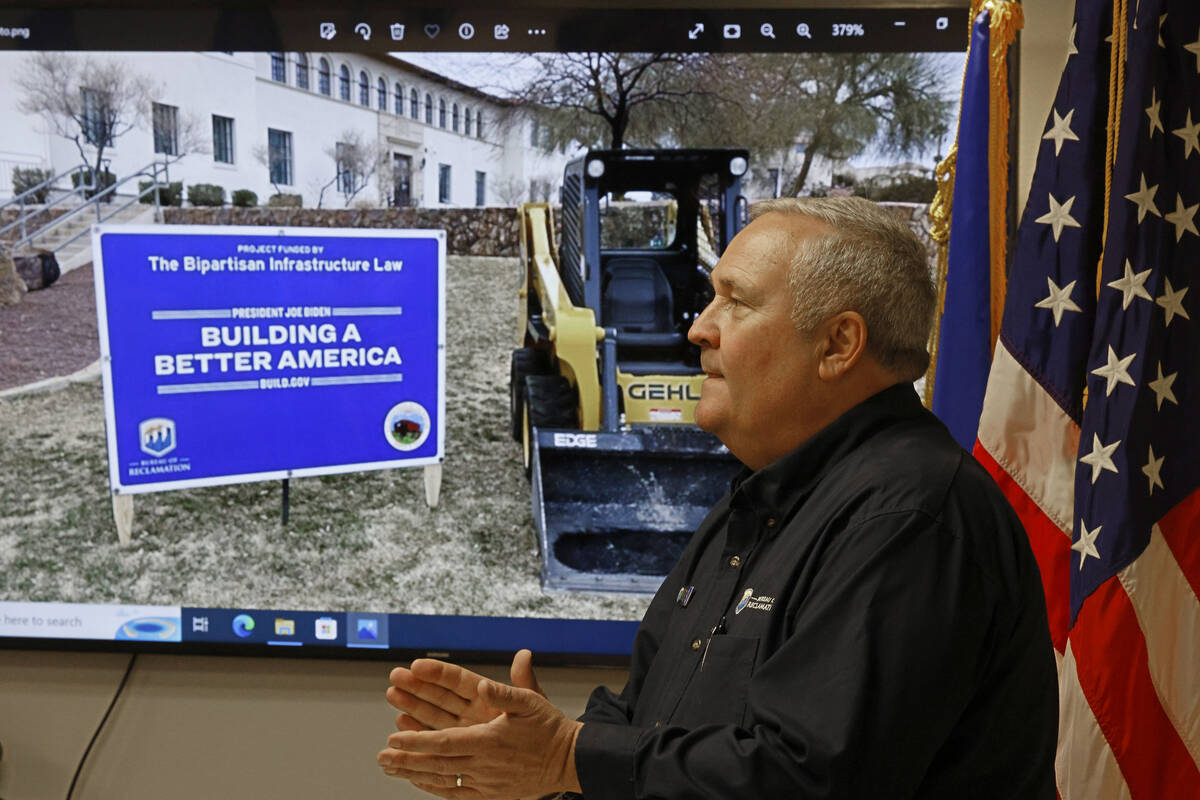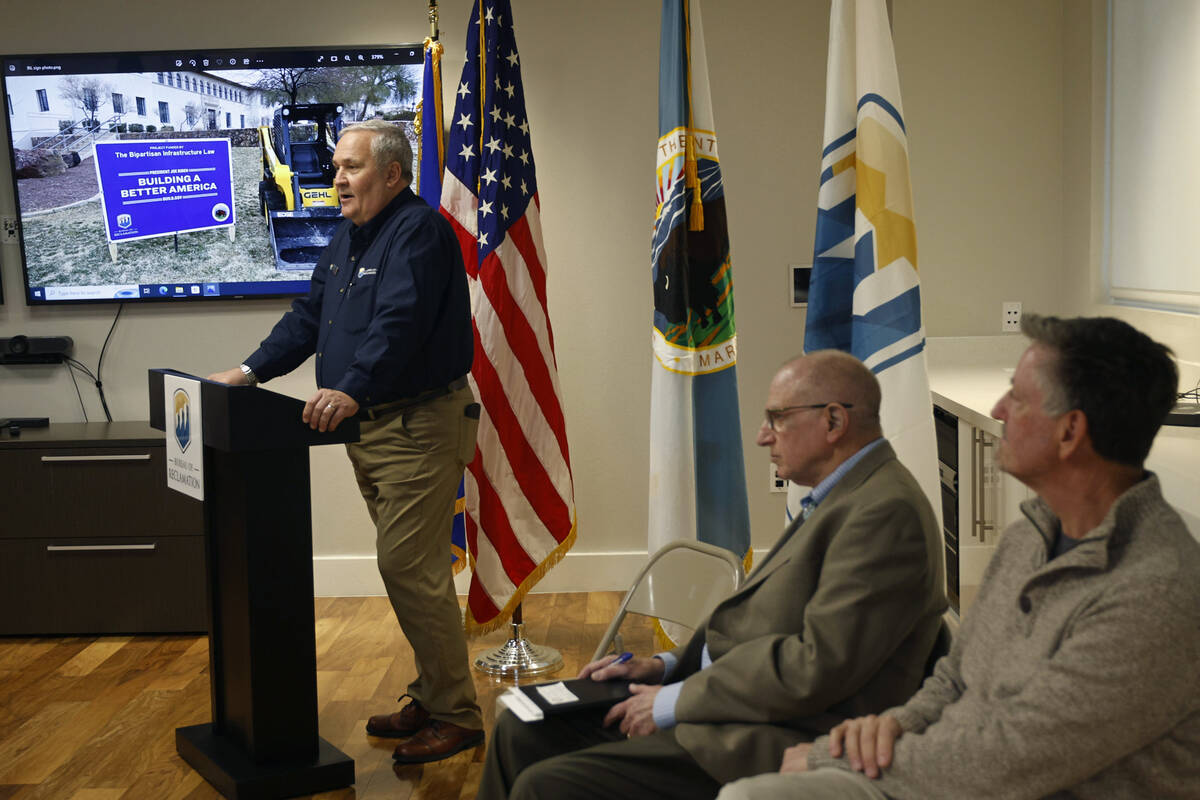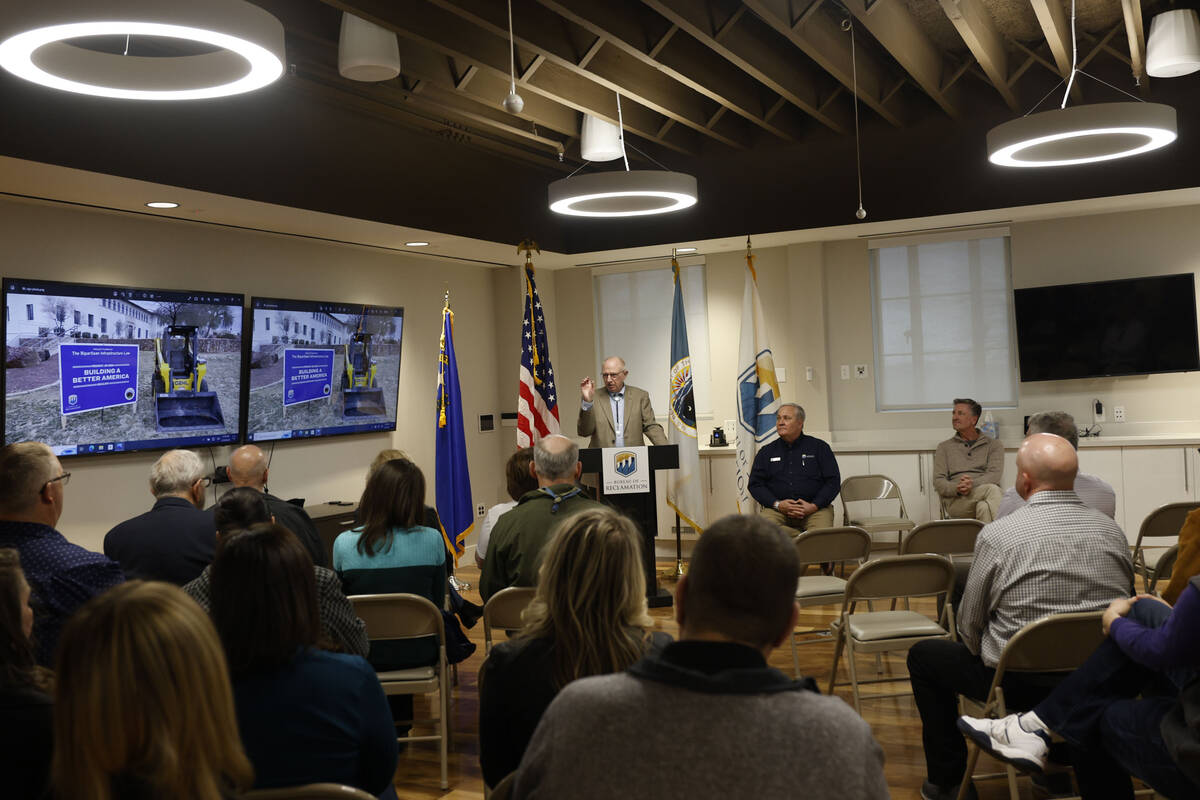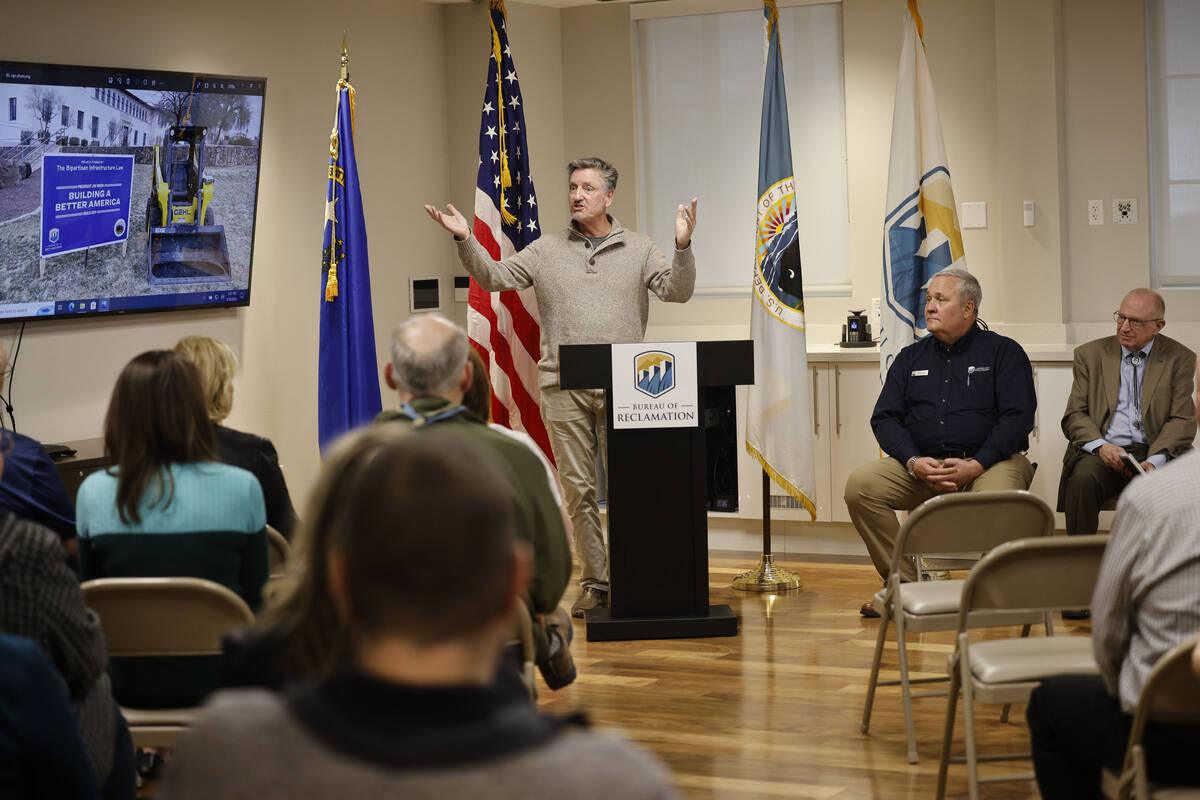 The crowd laughed as a tractor struggled to dig into the lawn in front of the Lower Colorado Basin Bureau of Reclamation's Regional Administration building above Wilbur Square Park.
Despite cold wind gusts and drizzling rain, about 20 members of the community gathered Friday to witness the city break ground on what will be new landscaping in front of the bureau's building. The inclement weather drove the event's ceremonial speeches inside, but the groundbreaking was still held on the historic lawn.
The lawn, which was one of the first in the history of Boulder City, will be replaced by desert landscaping, which will be include desert-friendly trees, shrubs and walkways that can be used by the public, according to David Arend, deputy regional director of the Lower Colorado Basin Bureau of Reclamation.
Arend said the bureau worked with city officials, the Southern Nevada Water Authority and the Boulder City Historic Preservation Committee on the project.
"This is not just a landscaping project, ornamental landscaping is no longer sustainable and removal is an important component in the plans for water savings," Arend said.
The new desert landscaping will save "millions of gallons" of water per year, according to Southern Nevada Water Authority representative JC Davis. Davis said upgrades to the irrigation systems, along with the landscaping change, will also help conserve water.
The Bureau of Reclamation was offered over $100,000 in rebates from the water authority for removing the turf, but turned the money down, according to Arend and Davis.
Boulder City Mayor Joe Hardy praised the water conservation efforts done by the bureau with the change of landscaping, calling the hill the building resides on a "hill of hope" for future conservation.
"It's really a hill of hope because when everybody sees it they'll say not only that it looks good, but 'Why haven't we done it yet?'" said Hardy.
Lower Colorado Basin Bureau of Reclamation Deputy Regional Director Stacey Wade agreed with the mayor that replacing the lawn will set a good example for the rest of the city for desert landscaping. She said the new landscaping will be beautiful, calling it "a showcase for Boulder City."
Arend said the new landscaping is expected to be done in June.
Contact Mark Credico at mcredico@reviewjournal.com. Follow him on Twitter @MarkCredicoII.