Cheers! Beerfest returns March 26, proceeds to aid military in need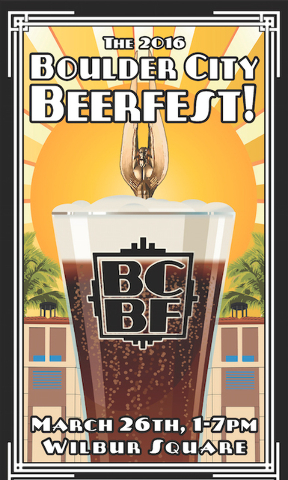 Boulder City residents, call your designated drivers and make sure they're available March 26 — the Boulder City Beer Fest is back.
Rain or shine, the fourth annual fest will bring beers from 30 local, regional and national breweries to Wilbur Square Park on Colorado Street, between Utah Street and Nevada Way, the last Saturday in March.
Festival planners expect more than 2,000 people to show up between 1-7 p.m. for their 5-ounce souvenir Boulder City Beer Fest glass and unlimited beer samples, as well as fare from eight food trucks serving tacos, barbecue, burgers and beef jerky, among other things.
Firstcomers at 1 p.m. will be greeted by live jazz music and a brief opening ceremony before the kegs are tapped and the sampling ensues. The Delta Bombers, a local rock band, will play about 6 p.m. and the event's "final cheer" will be at 7 p.m. and taps will close shortly after.
The majority of this year's ticket proceeds will go to Operation Homefront, which provides food, household items, home repairs, monetary aid and more to military families who struggle financially.
"It is a day to recognize and show respect to the children of our military," the organization wrote about the fest in a call for volunteers.
Tickets bought in advance for the event are $45 for VIP entry at 1 p.m. and $30 for general admission at 3 p.m. Tickets will be available at the event, but will jump to $60 for VIP tickets and $45 for general admission tickets.
Festival organizers are only selling 2,000 tickets this year, "so there's a good chance the festival will sell out," they wrote on the Beer Fest website.
Event coordinator and beer enthusiast Michael Pfohl has lived in the Las Vegas Valley for 10 years and has hosted several beer festivals, but says Boulder City Beer Fest is one of his favorites because it's citywide.
"It's been all about building the beer community," Pfohl said of his four years organizing the event.
After the second wave of eventgoers has had a chance to sample some beer, the festival will host an hour of Brewers games to include a team chug challenge relay race and an individual chug challenge wherein participants will race to finish a large, hour-glass-shaped yard glass.
There also will be a homebrew demonstration set up in the center of the park where instructors will be "making soup" and teaching others how to brew using different-sized home systems all day long, Pfohl said.
"The event is open to the public to visit the vendor tents and food trucks, but you must be at least 21 years old with the official wristband and glass to enjoy the beers," the site said.
Children must be accompanied by a parent or guardian and the park is pet-friendly.
"We encourage everyone to drink responsibly and be responsible for who you bring," Pfohl said.
Pfohl encourages people to visit and like the event's Facebook page to learn beer trivia corresponding with a countdown to the event. Tickets will be $5 off today, nine days from the festival, in celebration of the ninth anniversary of the Boulder Dam Brewing Co., the host brewery of the festival.
Additional information and advance tickets are available on the event's website, www.bouldercitybeerfest.com, or its Facebook page at https://www.facebook.com/BoulderCityBeerfest/?fref=nf.
Contact Kimber Laux at klaux@bouldercityreview.com or 702-586-9401. Find her on Twitter: @lauxkimber