Ceremonies to honor veterans
November 9, 2016 - 1:23 pm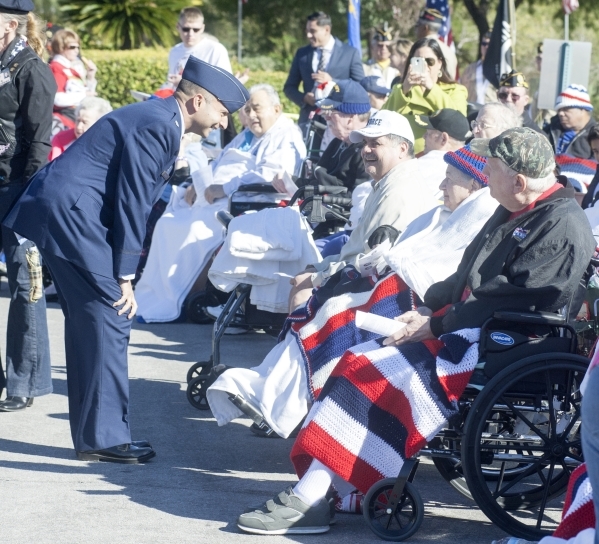 Boulder City is tied closely to Southern Nevada's veterans, with the state's only veterans home and the area's only veterans' cemetery. On Veterans Day there will be several events held to honor those important members of the community.
Nevada State Veterans Home will host the day's largest event, with its annual Veterans Day ceremony recognizing the service of its residents as well as veterans across Southern Nevada. The ceremony starts at 1:30 p.m.
"The event began when we opened in 2004," volunteer coordinator Julie Boyster said. "It started as a small event for our residents, many of whom are housebound and can't make it to the parades down in the valley. Over the years it has grown into a tremendous event that brings in hundreds of people from Southern Nevada and just thrills our vets."
The ceremony has been put together by the local chapter of the Disabled American Veterans and the Nevada Department of Veterans Services with contributions from multiple veterans' organizations.
Highlights of the ceremony will include musical performances by the Grand Opera Society of Las Vegas and local artist Phil Esser and words from guest speakers including Nevada Secretary of State Barbara Cegavske.
The event is open to the public and the home is at 100 Veterans Memorial Drive.
American Legion Post 31 will hold the day's other major ceremony, with guest speakers including keynote speaker Lt. Col. Douglas McHam, a presentation of colors by the post's color guard and performances by local musicians.
The local American Legion post is as old as the city, founded in 1931, and holds to the tradition of Armistice Day. The ceremony will start promptly at 11 a.m., the 11th hour of the 11th day of the 11th month. The hall is at 508 California Ave.
Earlier in the day, the Senior Center of Boulder City, at 813 Arizona St., will host a special lunch from 11:15 a.m. to 1 p.m. to commemorate its veterans. Before lunch they will stand to recite the Pledge of Allegiance and commemorate the service of those in attendance.
"Veterans and their spouses make up about 85 percent of our guests," said Lacey Leyman, the center's assistant executive director. "We try to do something special every year just to show our appreciation."
There also will be a free dessert bar for veterans hosted from 10 a.m. to 3 p.m. at The Homestead at Boulder City, 1401 Medical Park Drive. All veterans are invited to stop by, enjoy some goodies and pick up a free tote bag filled with additional treats.
Contact reporter Hunter Terry at hterry@bouldercityreview.com or call 702-586-6711. Follow him on Twitter @HunterBCReview