Calhouns' hearts dedicated to hospital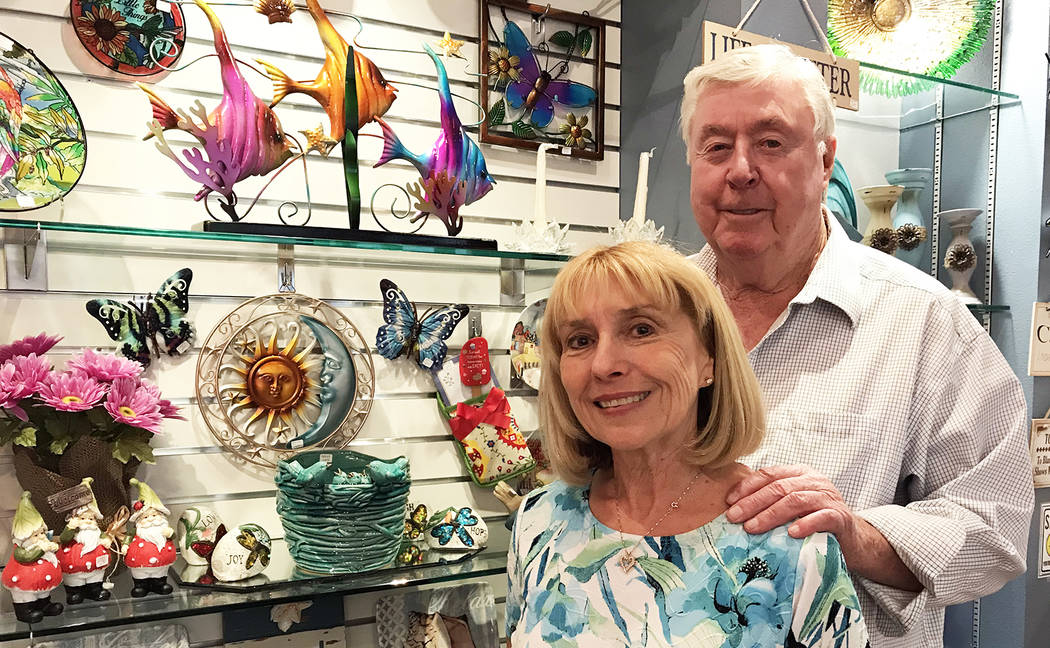 Like many volunteers, Kathy Calhoun had no idea what she was getting into when she asked a neighbor what she could do to help.
Shortly after moving to Boulder City in 2005, she found herself needing something to do so she asked a neighbor, who quickly said there were volunteer opportunities at Boulder City Hospital.
She started by selling tickets for Art in the Park's raffle in front of Boulder Dam Credit Union and soon found herself coordinating the raffle, on the hospital foundation's board and the hospital's board of trustees.
But she has no regrets and even recruited her husband, Jim, and other neighbors to volunteer their time to help the hospital.
"Jim has been of tremendous support to me. I don't know if I would have gotten through without him," she said.
The Calhouns will be honored May 19 with the Heart of the Community award presented by the Boulder City Hospital Foundation during its annual gala fundraiser.
"Anytime something is needed, they give," said Christine Milburn, who received the award along with her husband, John, in 2016. "They truly encompass what Heart of the Community stands for."
"I was the most surprised person in the world when I found out we were being honored," Kathy said. "It's very humbling."
But well-deserved, according to Milburn.
"I first met Kathy about 16 years ago when she joined the (Boulder City Hospital) Foundation. … They always contribute to the hospital," she said. Since moving to Boulder City, both have been avid supporters of the hospital.
Through his contacts, Jim, a retired chief master sergeant for the U.S. Air Force, twice arranged for an explosive ordnance disposal experience for the gala's live auction, which raised $25,000.
Today, Kathy, a former merchandiser for J.C. Penney, is manager and buyer for the auxiliary's gift shop.
"Their heart for the hospital is in physical therapy, which helped Jim, so they will do anything to help physical therapy," Milburn said.
That includes installation of an electronic door to the physical therapy department.
"It makes me happy every time I see that door open," Kathy said.
She and Jim noticed that when the hospital renovated and added to the facility between 2013 and 2015, the physical therapy department didn't get an electronic door that would open at the push of a button. She and Jim knew that people going through therapy, often on crutches, using a walker or in wheelchairs, would benefit from that type of door so they arranged to have one installed.
Jim spent several months in physical therapy before and after replacing his right hip in early 2013, and is currently going to therapy in preparation for having his left hip replaced.
They also know that more people have the opportunity to use physical therapy at some point in their live than some of the hospital's other services, which is why they feel it is important to make sure it has all the equipment necessary to operate.
This year their goal is to raise enough money to purchase an overhead harness system through the gala's straight from the heart donation.
In addition to the presentation of the Heart of the Community award to the Calhouns and a gourmet dinner, the evening's festivities will include silent and live auctions.
Milburn said this year's live auction will include one-week stays in Punta Cana in the Dominican Republic and San Miguel de Allende in Mexico, a behind-the-scenes tour at Lion Habitat Ranch, gourmet dinner for 12, cooking class for 10, rail bike adventure and barbecue for 50, SWAT experience with Metropolitan Police Department and custom piece of jewelry by award-winning Native American artist Erick Begay.
Those who would like to support the hospital but cannot attend can bid on silent auction items. Additionally, those attending who want to an early start can begin bidding at https://heartgala18.auction-bid.org/microsite.
For more information, call the foundation office at 702-293-0214.
Hali Bernstein Saylor is editor of the Boulder City Review. She can be reached at hsaylor@bouldercityreview.com or at 702-586-9523. Follow @HalisComment on Twitter.
If you go:
What: Heart of the Community gala
When: 5 p.m. May 19
Where: Boulder Creek Golf Club Pavilion, 1501 Veterans Memorial Drive
Cost: $200
Info: 702-293-0214