Business at Home: Owner of Alpaca Imports treats workers like family
August 24, 2016 - 1:44 pm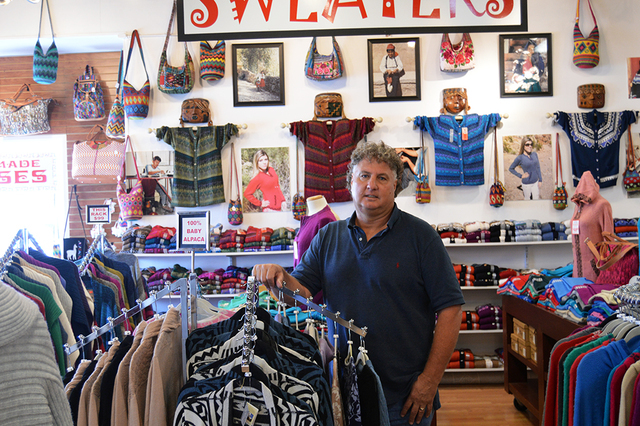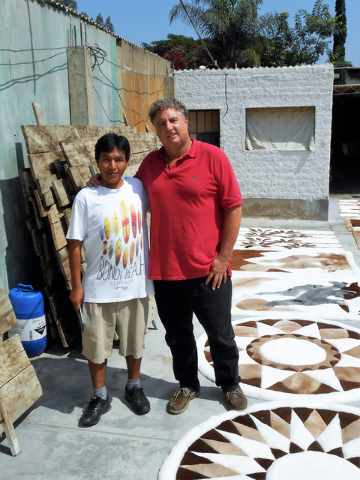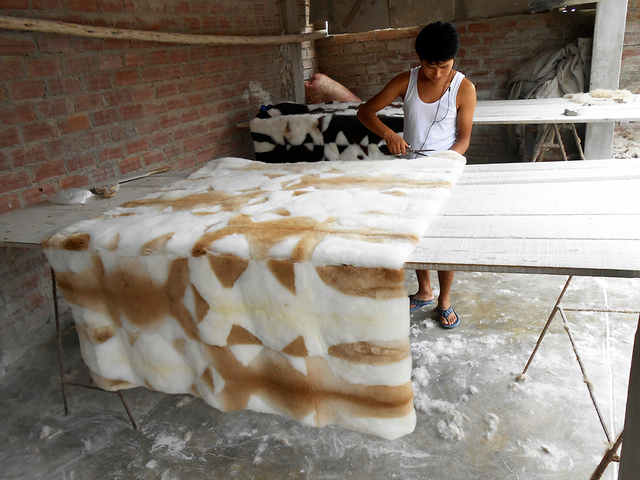 Twice a year, Kevin Devine and his business partner Welden Jeffreys hop on a plane heading to Lima, Peru. Together, the two men drive to a factory they own a few hours outside of Lima to check on their stock of alpaca furs that has made them one of the biggest distributors of alpaca products in the world.
When Devine is not in Peru, you can find him here in Boulder City at his shop, Alpaca Imports, 1603 Nevada Highway.
The store in Boulder City is Devine's stateside headquarters, but the real work happens in Peru, where Devine and Jeffreys oversee 400 Peruvian workers and managers.
"It is a lot of hard work managing so many people, especially in our business," Devine said. "A typical alpaca product like a blanket takes three days to make, so we need our workers to trust us and work hard."
Devine said he and Jeffreys have earned their workers' trust by showing them a level of respect and pay not commonly seen in the developing nation.
"The first thing people need to understand about the alpaca industry is that the people who make the product are not workers, they are artists," Devine said. "I treat them like artists; everything they make is handcrafted, and every product is uniquely made individually by people who are artisans and I pay them that way."
Residential compound
The factory where the men and women work also serves as a residential compound, complete with living quarters and an industrial kitchen below the factory floor.
"Peru is a Third-World country, and I am really proud to be able to house the people who work for me in better living conditions than they are used to," Devine said. "The people who work for me are really proud of their products and I am really proud of them, so I am happy to help fund a compound where they can live comfortably."
Devine and Jeffreys do not technically own the building where their company is kept, but they do fund the entire operation.
According to Devine, comfortable living and a familylike atmosphere are the keys running a good company in Peru and he strives for that when he is visiting the men and women who work for him.
"I like to think of us as a family," Devine said. "Welden and I visit them, eat with their families, and take them with us on trips. I have even brought some of my artisans here to Boulder City to watch people buy the products that they made. It is a life-changing experience for a lot of them to see someone buying their art."
Path to success
Devine and Jeffreys have even paid tuition for three Peruvian women who work for them and Jeffreys is godfather to three of his employees' children.
"We paid for three girls to go to college," Devine said. "I am not saying that to brag; these were just very smart women and it is great that they can get an education and start to manage their own careers."
In Alpaca Imports a video on a constant loop shows life at the factory. It features employees handcrafting blankets, rugs and coats made from alpaca fur, but the video also shows the men and women on their off time.
One video that makes Devine especially happy is a video of party that Devine and Jeffreys hosted in the mountains. Devine and Jeffreys' employees can be seen happily dancing and playing music.
Passion for people
"Welden and I are passionate about the people that work for us," Devine said. "We want them to succeed and have a good life. Peru is a country where people wake up in the morning wondering how they are going to eat and it is a great feeling to know the people who work for us have food on the table and can take their kids to better schools than what they would normally get."
Devine and Jeffreys will head back to Peru this week, where they will stay for about a month, and Devine said they are excited to see their employees again.
Jeffreys, who owns an alpaca shop in Atlanta, Georgia, is in Australia on vacation and was unavailable for comment.
Editor's Note: Business at Home is an occasional series that offers a glimpse into the personal lives of local business owners.
Contact reporter Max Lancaster at mlancaster @bouldercityreview.com or at 702-586-9401. Follow him on Twitter @MLancasterBCR.