Burnett-Ferraro wins BCHS frieze design contest
August 30, 2017 - 2:35 pm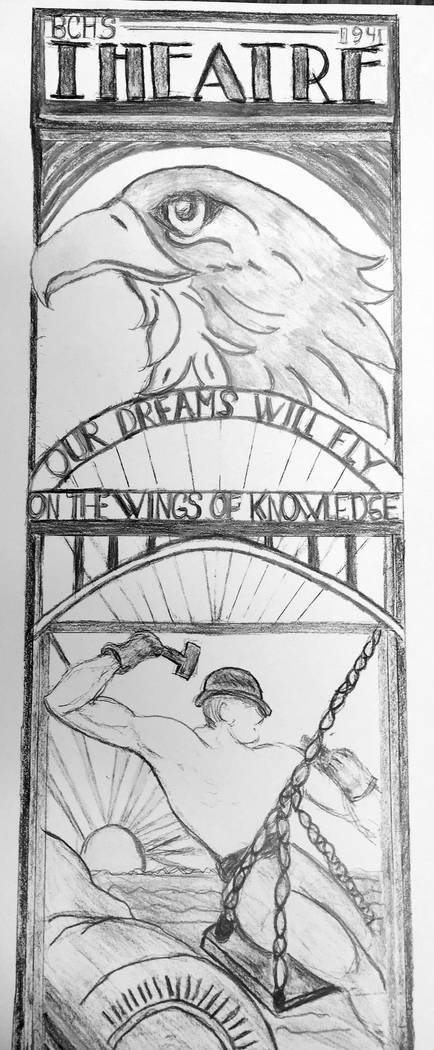 Artist and longtime Boulder City resident Connie Burnett-Ferraro expressed her love for the city in her winning design for a new art centerpiece at the high school.
The contest organized by Boulder City High School was to honor the school's history and mark its future by designing a cornerstone piece for its new theater.
Burnett-Ferraro's design incorporated all of the required elements for the contest — history of the school, construction of Hoover Dam, and the school's mascot, an eagle.
"I wanted to do an art deco eagle but wanted to keep it their mascot," she said.
Burnett-Ferraro worked on the piece with Gary Baldwin, who came up with the logo portion of the design.
"It was just spontaneous, and it just worked," she said of their collaboration. "I'm very honored because that's my love."
In her frieze, Ferraro also wanted to highlight the strength of the construction workers and the blood, sweat and tears they put into their work. She hoped that the design would take people back to the time when the workers were building the dam with their energy, strength and determination.
Boulder City High School Principal Amy Wagner said they received five entries, and the five-judge panel chose Burnett-Ferraro's design as the winner.
"The committee felt that this design incorporated community significance, historic school relevance and the school mascot utilizing the art deco style," she said.
The contest asked artists to create an art deco frieze, a broad horizontal or vertical band of sculpted or painted decoration. It was open to anyone in the community, including individuals and groups.
Wagner said the construction company is currently working on the frieze design and it will be installed later this year.
Burnett-Ferraro has been artist for a long time and enjoys doing portraits, being outside and painting, and creating murals.
"I love doing murals. I jumped at the change when I saw this," she said of the contest.
"My father was a painter, and I was always drawing," she added.
Contact reporter Celia Shortt Goodyear at cgoodyear@bouldercityreview.com or at 702-586-9401. Follow her on Twitter @csgoodyear.