Aviation-themed room wins hotel flip design contest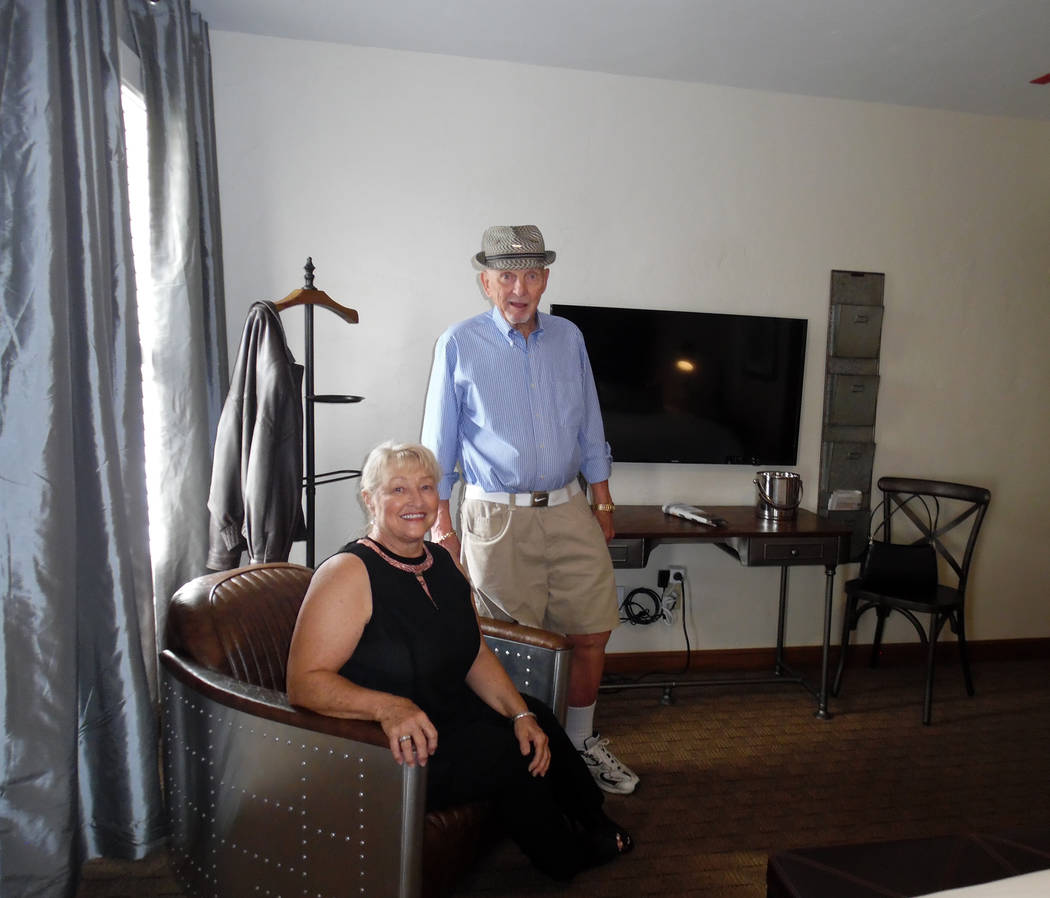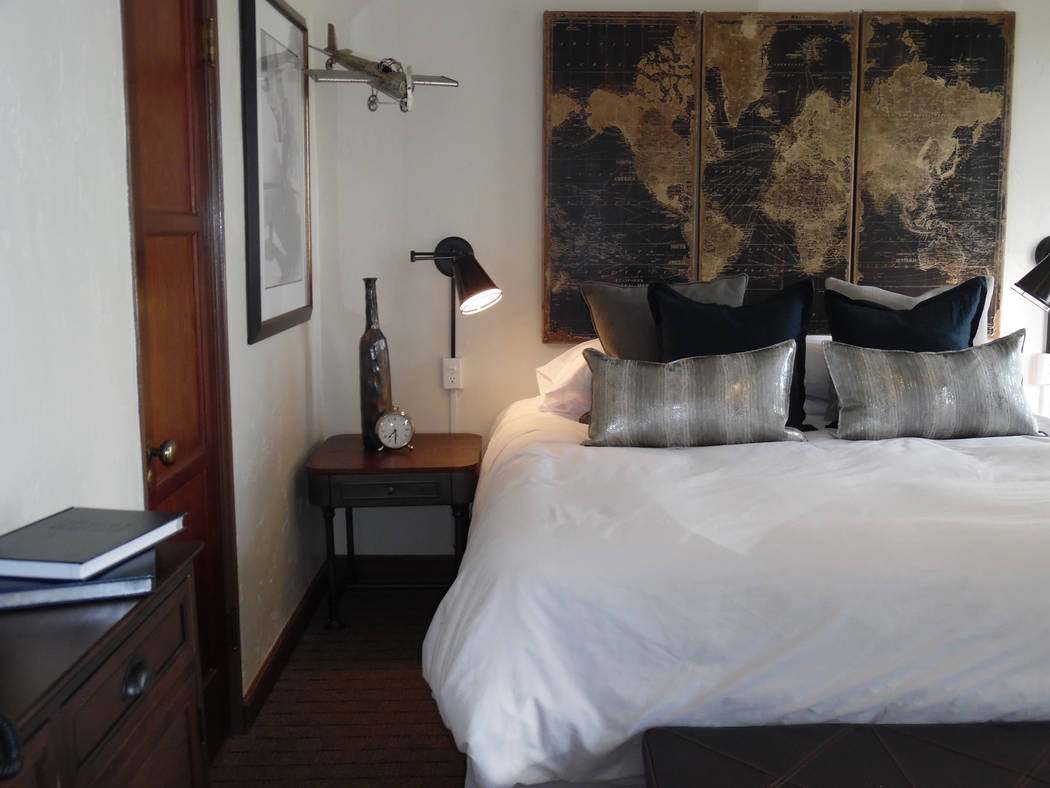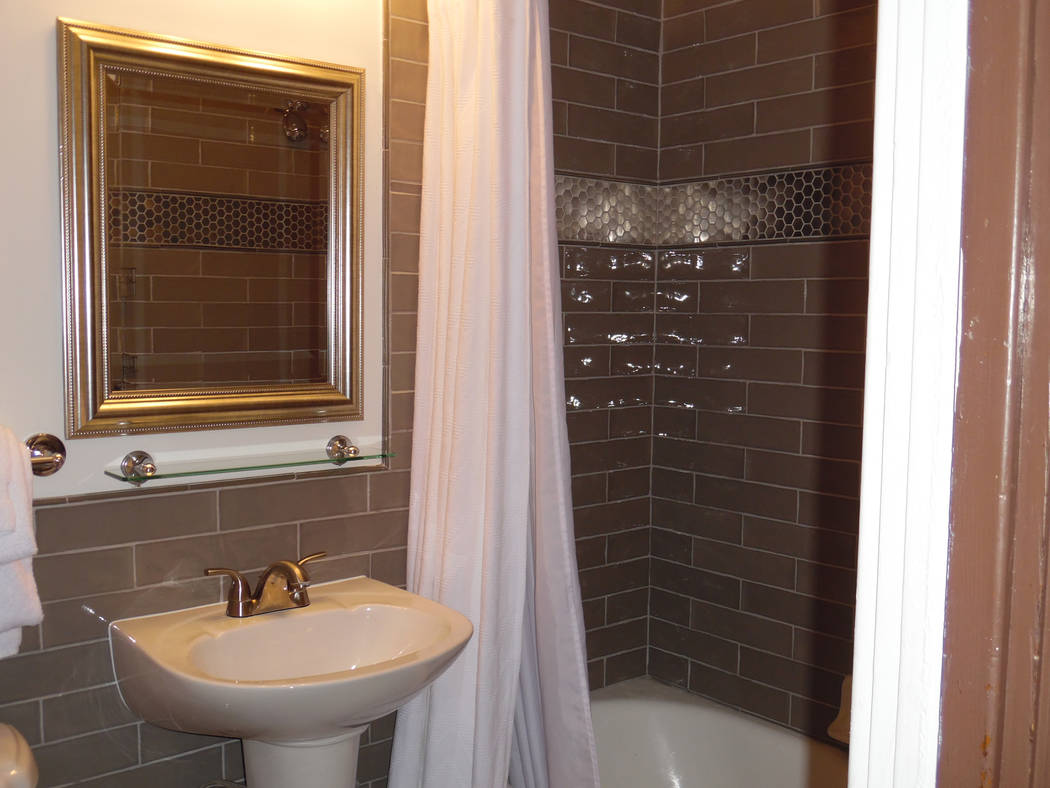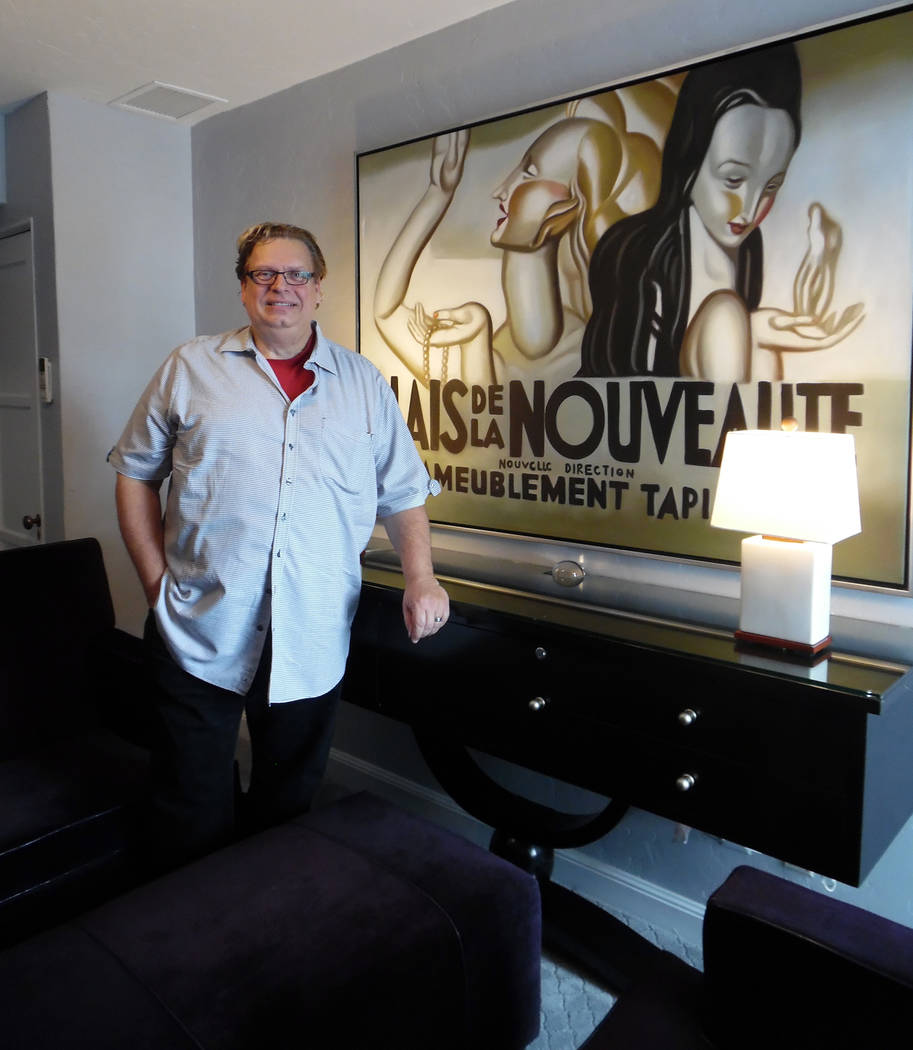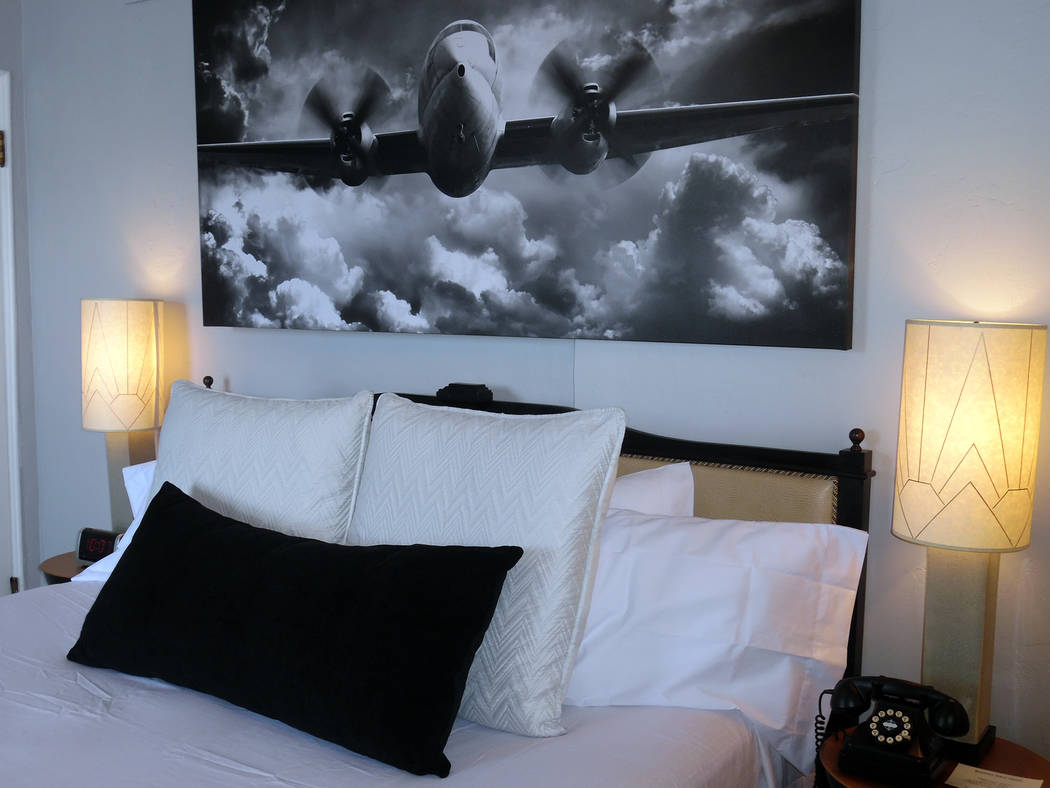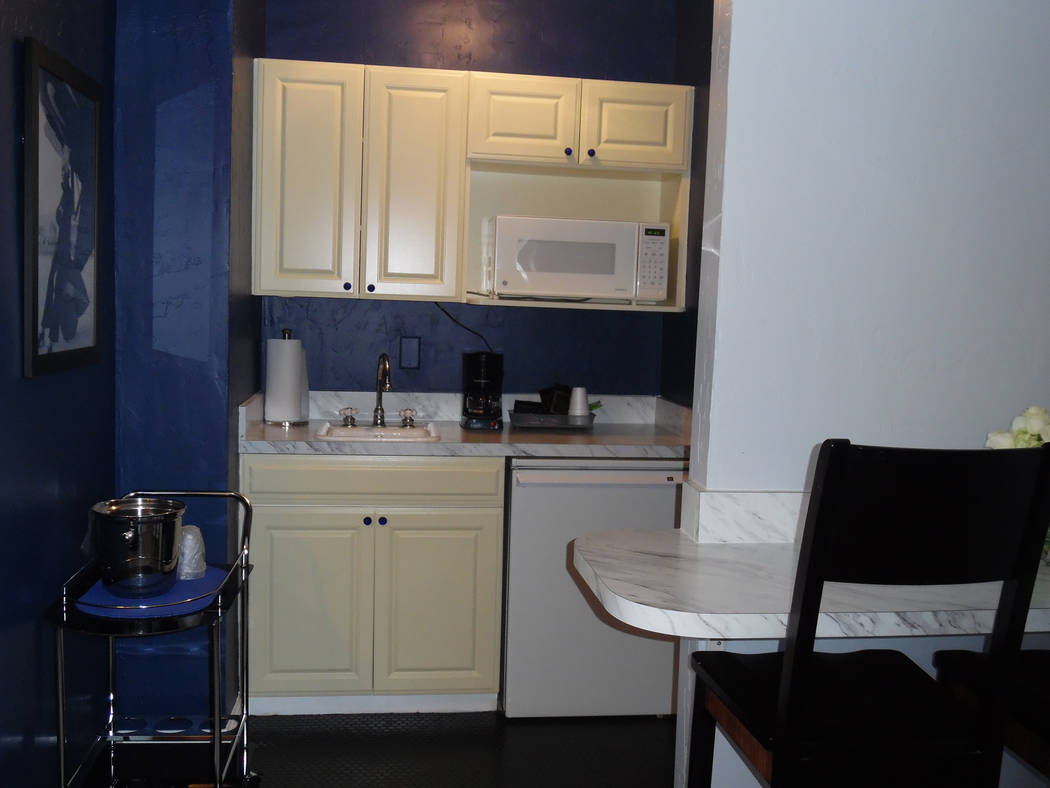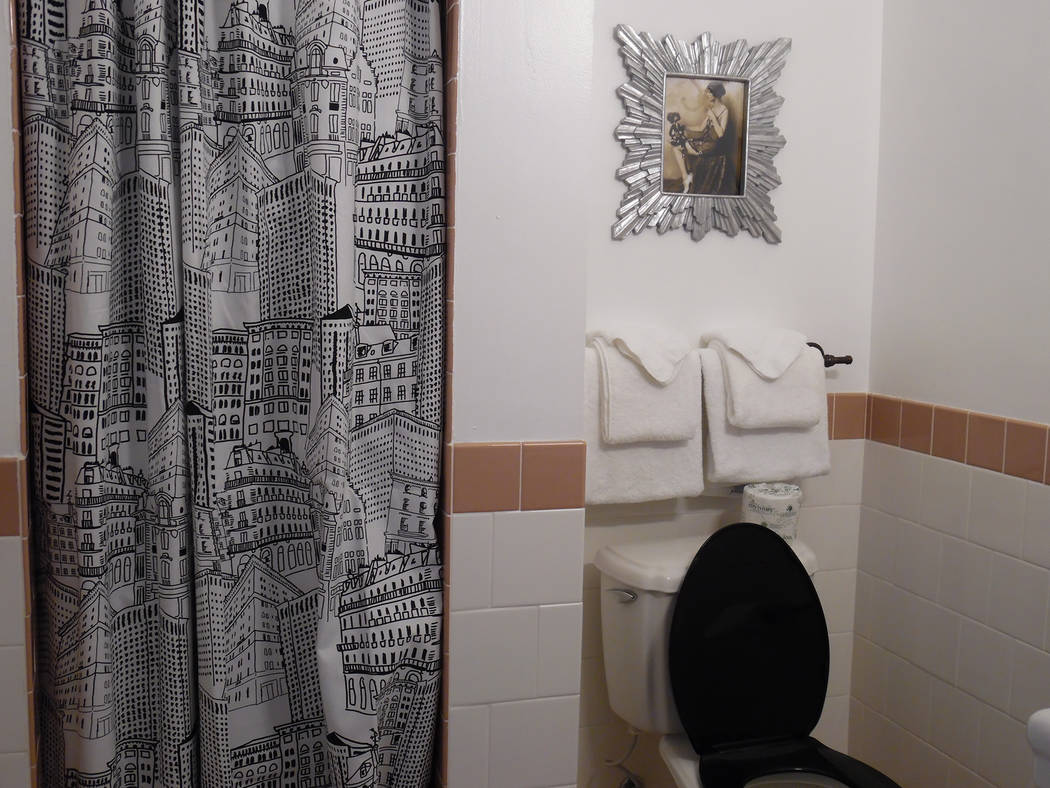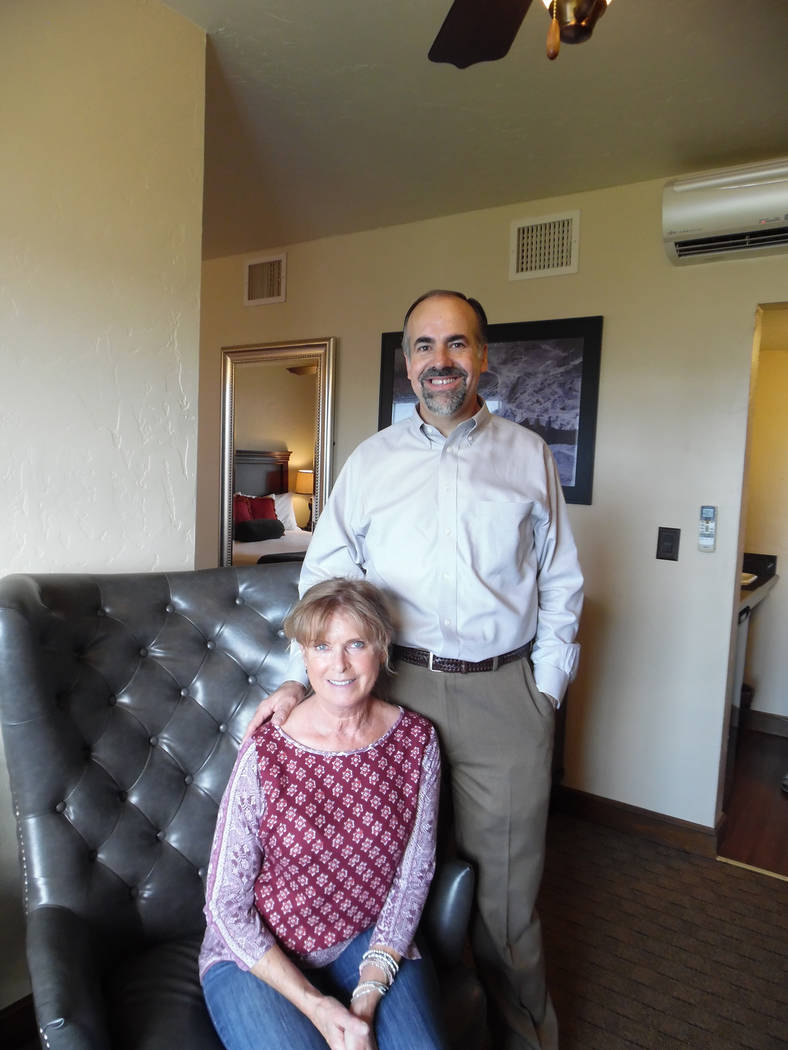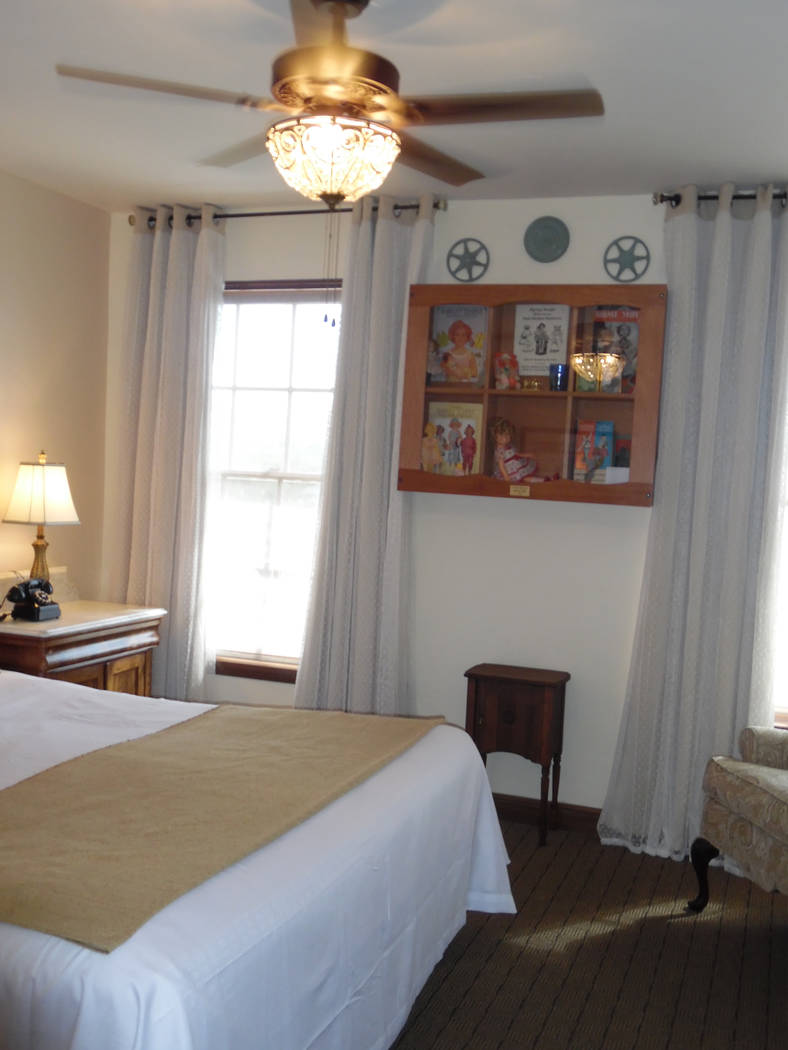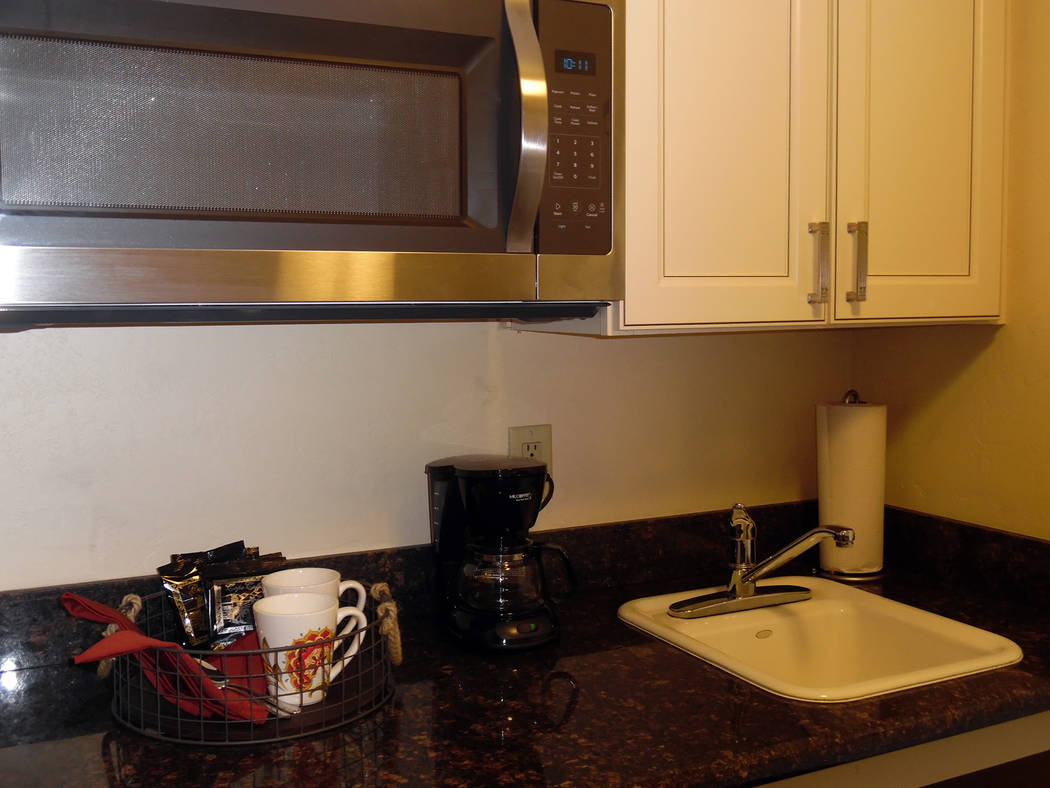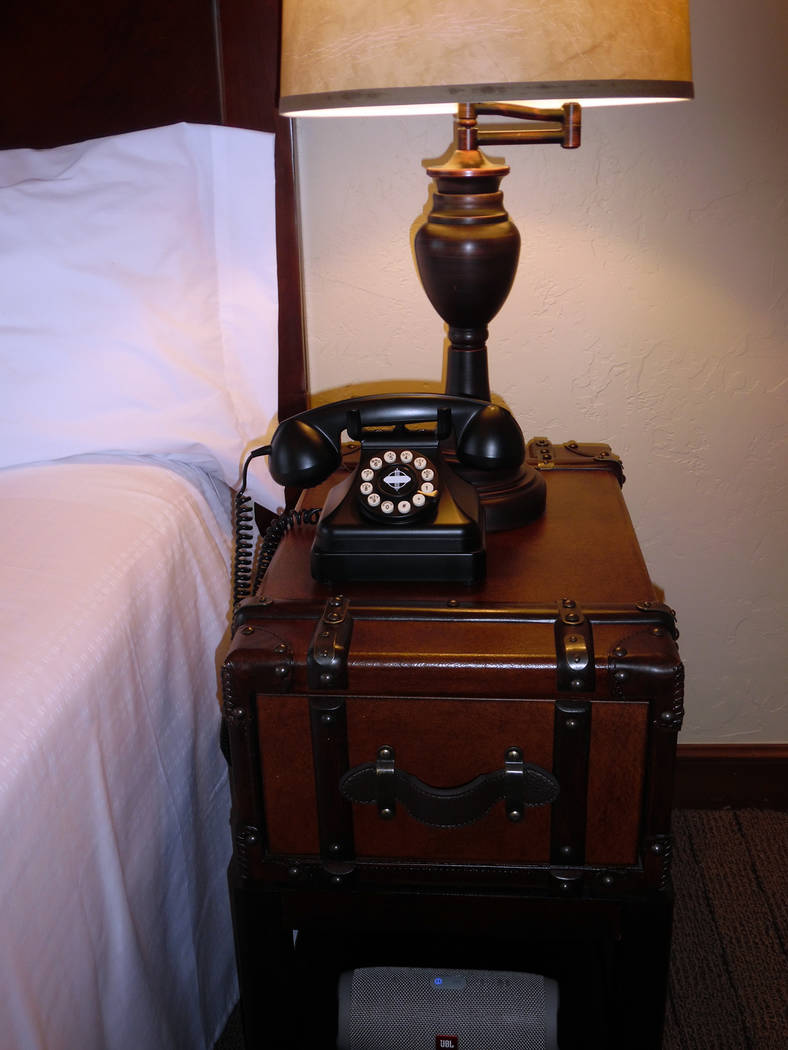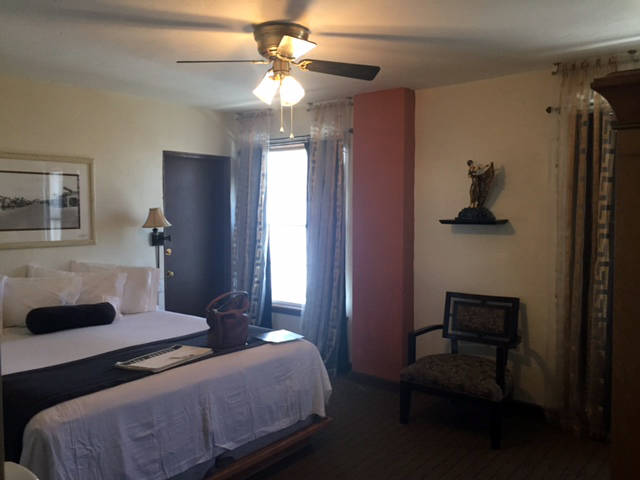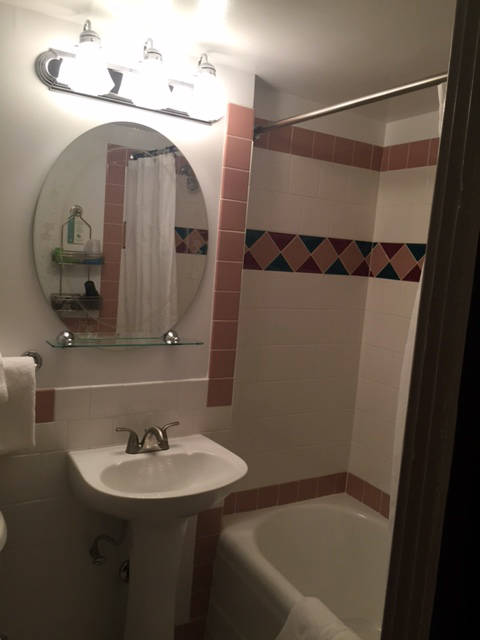 In a matter of days, six rooms at the Boulder Dam Hotel went from drab to fab as they were remodeled as part of The Great Hotel Flip room design contest.
The airplane room, a tribute to Howard Hughes and sponsor David Baker, a retired airline pilot, that was designed by Teresa Giroux won the contest.
Done in shades of brown, gray and silver with a pop of color provided by a painting of a male peacock, the room included a low, brown leather chair with an airplane wing wrapped around the exterior, a small model airplane hanging in a corner, a large map of the world serving as the headboard, a brown leather bench at the foot of the bed, silver drapery over white plantation shutters, a desk, coat tree and small suitcase accents.
The bathroom continued the gray and silver color scheme with gray subway tiles on the shower surround with a metallic silver tile inset.
Giroux said the bathroom tile was her most extravagant expense but felt it was important and made a great statement to complete the room's look, which has a calming and peaceful feel.
Giroux also was happy to learn that the ceiling fan she selected was actually a Delta model and paid tribute to the airline for which Baker flew.
Sophisticated design
"The aviation room was definitely captivating in that I felt the history of the room," said designer Michelle King of M Tile and Design of Boulder City, who served as one of the judges. "As a designer, it hit all my design points."
She said the room felt masculine and feminine at the same time, had great function and was exactly what she would look for if she was a guest at the hotel.
"It has character and history. It was tastefully done and very sophisticated."
Fellow judge and designer Lisa Teepen of Lifestyle Interiors agreed.
"In the end, as designers, we were all attracted to one room. It was really functional and had the things you would want in a hotel room."
Diane Brumberg, who recently retired from Interiors by Diane, helped judge the contest presented by the Boulder City Museum and Historic Association.
People's favorite
Jonathan Bollas' art deco-inspired tribute to Carole Lombard, sponsored by Bruce and Rose Woodbury, won the people's choice vote.
Bollas changed everything in the room, including the carpet, tile, countertops and paint. The room was painted a gray-lavender, with the kitchen area a deep blue-purple. The plush seating in the living room area was royal purple, and the furnishings were a mix of antiques from the art deco period and replicas.
"I used every bit of my budget."
The designer and antique dealer who works at Bella Marketplace said his biggest challenge was the bathroom, which had cracked walls that needed to be replastered.
Before Bollas started working on the room, it was done in yellows and browns and everything had a "smoked" feel, he said.
In addition to providing much-needed makeovers for the rooms, the contest served as a fundraiser as the entrants were required to invest as much as $3,000, which was matched by the museum association, to give each designer a maximum of $6,000 to spend.
Each designer had just four days to complete the work.
New visitors
"It was so wonderful to be able to do a design project with people who were not affiliated with the hotel before," Giroux said.
"Leslie (Woodbury, museum development director) has a tough job fundraising and brought in new people and ideas, all while creating a boutique hotel feel."
Priscilla and Bret Runion, who designed room 224, which is handicapped-accessible and was sponsored by Desert Sun Realty, said they put in all the features they look for when traveling, especially storage, USB ports for electronic devices and a full-length mirror.
They also focused on the room's kitchenette, installing granite countertops and upgraded cabinetry and hardware to make the room as beautiful as it is functional.
"More than anything else, this was lots of fun," they said, adding that those visiting the hotel rooms were expressing interest in the next contest.
Giroux said she was thrilled that the contest brought in so many people who had never been in the hotel.
Woodbury said the contest was definitely a labor of love for those involved and said they all put in a great amount of work and effort.
"The best thing was to have people feel they are a part of the museum and hotel," she said.
Additional designers and sponsors were: room 203, designed by Giroux, sponsored by Boulder Dam Credit Union; room 209, designed by Alice Brumage, sponsored by Brumage and friends; room 230, designed by Bridgette O'Neil of Bloom, sponsored by Jim and Karen Holland, Shawn and Cynthia Fleming and Bridget and Tim O'Neill.
Hali Bernstein Saylor is editor of the Boulder City Review. She can be reached at hsaylor@bouldercityreview.com or at 702-586-9523.