Aspiring host trying to grow YouTube show to TV, product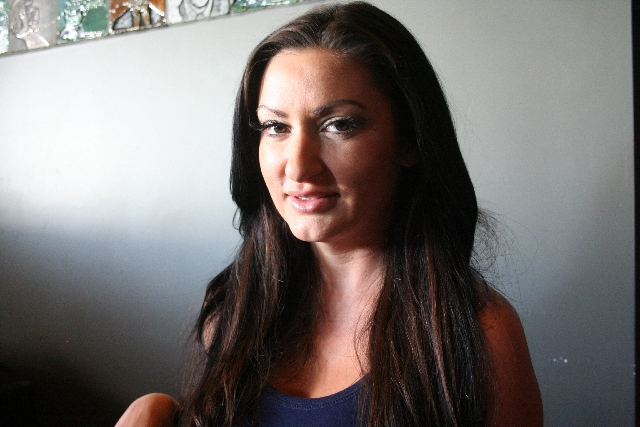 Local Heather Marianna is busy trying to grow her small Internet beauty show into a cable network brand.
Marianna, who moved to Boulder City two years ago, is the creator and host of "Beauty Kitchen," a growing YouTube show she is working to get featured on HGTV or The Food Network.
"Have it be cooking, but a cooking with beauty type show," she said. "Have it be a half-an-hour show where today I focus on the skin, today I'm going to focus cellulite … and just give tips. That would be my ultimate goal."
"Beauty Kitchen" is a series of do-it-yourself tutorial videos for all-natural beauty care, focusing on using everyday items found in the kitchen.
She teaches her viewers how to create natural, cost-friendly face and body products with ingredients they can find in their own refrigerators.
In a nearly two-minute video called "How to make your own acne strawberry mask," Marianna shows viewers how to make the face mask with strawberries and plain yogurt. She also has gathered all the videos and tips on her website, www.heathermarianna.tv.
Her YouTube channel has nearly 60 videos with nearly 3,200 subscribers and nearly 2 million video views. The show is being filmed in a Las Vegas studio she rents for $60 per hour.
Marianna isn't just some dreamy-eyed woman hoping to jump into a world she knows nothing about.
Armed with degrees in marketing, English and political science, she has some television experience, appearing in various network shows including the "CSI" franchise, "Revenge" and "The Client List."
She also has done TV hosting spots for Las Vegas Style TV and Playboy Golf.
On Jan. 15, she launched her Beauty Kitchen retail line on her website and in the Kardashian Khaos store at The Mirage. Marianna's beauty supply is currently expanding. "Beauty Kitchen" will be launching a new product line with a private celebrity hairstylist from New York, as well as with one of the members of the reality show "Real Housewives," she said.
Originally from Coronado, Calif., Marianna arrived in Las Vegas in 2011 as a vice president for a consulting firm.
When her job landed her in the Veer Towers on the Las Vegas Strip, her life took a turn. She developed a compulsive shopping addiction born from sheer boredom.
"I was traveling all around the world for my job four to six days a week," she said. "My going out and my socialization was going shopping."
Her addiction got so bad, she was featured on the Oxygen network's reality show "My Shopping Addiction."
Unhappy with corporate work and in an effort to terminate her shopping addiction, Marianna began searching for a new place to call home.
A house in Boulder City caught her attention not only for the gorgeous lake view, but for the familiar small-town feel she was raised in.
While Marianna said she never felt at home in the hustle and bustle of Las Vegas, she fell in love with the familiar small-town feel that Boulder City provided.
Settling into her new home, Marianna redirected her fuel for shopping into creating "Beauty Kitchen."
"I started 'Beauty Kitchen' and I loved doing that even more than going to the mall," Marianna said.
While focused on growing the "Beauty Kitchen" brand, this small-town girl hopes to bring light to "the hidden gem that is Boulder City" through her new hosting position on "Vegas Ultimate," a local show being developed by a Las Vegas production company.