October 4, 2017 - 3:25 pm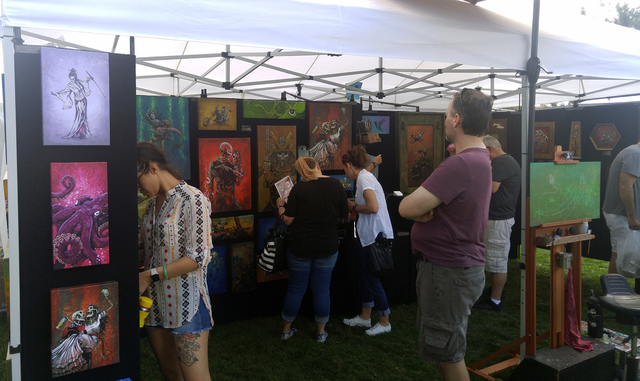 Boulder City Hospital's 55th annual Art in the Park fundraiser takes place this weekend and brings with it the chance for residents to have a good time, as well as raising money for the nonprofit organization.
The event will be held from 9 a.m. to 5 p.m. Saturday and Sunday, Oct. 7 and 8,. Art in the Park is the hospital's largest fundraiser of the year and takes place downtown in Wilbur, Bicentennial, North Escalante and South Escalante parks.
Event coordinator Wendy Adams described the fundraiser as a "cultural experience for the entire community," and she said that this year's fundraiser features more than 330 artists, showcasing fine art, fine crafts and traditional craft items.
Los Angeles-based sculptor Charles Sherman has participated in Art in the Park numerous times and showcases his sculptures and jewelry designs based on them.
"I'm a part of it because … it's one of the best shows in the Southwest. … It's also a charity event, so it's good for the hospital, and it's good for the people who visit," he said.
There will also be live musical entertainment both days, with a different artist each hour, as well as 18 food trucks and vendors and art classes for the children. Admission is free.
"Everyone is welcome!" Adams said.
Adams added that SOS Radio, a contemporary Christian music station in Las Vegas, has partnered with Operation Christmas Child and will be there, giving kids the opportunity to make a bracelet for themselves and one for a needy child.
Contact reporter Celia Shortt Goodyear at cgoodyear@bouldercityreview.com or at 702-586-9401. Follow her on Twitter @csgoodyear.
Schedule of events
Saturday, Oct. 7
9 a.m. — Welcome address and school band
10 a.m. — Noelle Chiodo
11 a.m. — Modern Mixtapes
noon — Jaelyn Denise
1 p.m. — Marleena Barber
2 p.m. — Alana McCarthy
3 p.m. — Tim Mendoza
4 p.m. — Single Brass Faction
Sunday, Oct. 8
10 a.m. — Mark and James Carson
11 a.m. — Jack Garner
noon — Stefnrock
1 p.m. — Justin Mather
2 p.m. — Marty Feick
3 p.m. — Paul Metaxes