A Boulder Taste: Amstutz blends art, communication skills as adeptly as herbs
September 16, 2015 - 2:27 pm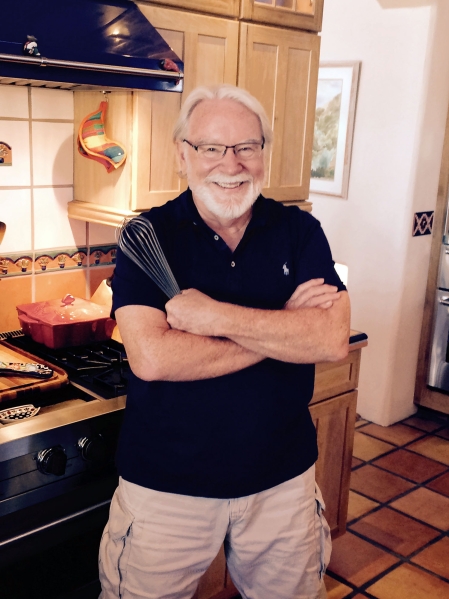 Jim Amstutz is a multitalented man. He wears many hats in the community, including a red one in the winter.
Stepping in for the late Wayne Putz, he has made that character his own and sometimes describes him as a "much loved, well-known visitor from the North."
Amstutz, originally from Santa Monica, Calif., moved to Boulder City in 1998. His parents had come to Boulder City more than 20 years before him and he fell in love with the city while visiting.
"We came out for two months and 18 months later we bought a house," Amstutz said.
"Born and raised in Santa Monica, I graduated from the Art Center College of Design and took my first job in Chicago and found out what weather was all about," Amstutz said. "Soon after I received a letter from the president of the United States … After my discharge from the U.S. Army I was faced with the choice of again joining the gray flannel suits in the Windy City or heading back to my roots in sunny Southern California."
He opted for the latter and opened his own design firm, Amstutz Design.
He was a creative "gun for hire" for some of the largest firms in the nation and created award-winning advertising.
"I got my first taste of Las Vegas while working for Excalibur hotel during their opening and first year," Amstutz said.
Many other clients from all types of industries are included in the firm's customer list.
"By 1998 Los Angeles had changed. Too many cars, too many people, too many wasted hours in traffic and not to mention massive earthquakes. My wife and I pulled up stakes and moved to clean, green, Boulder City, Nev.," he said.
During this time, Amstutz's late wife, Pam, had become ill and required a great deal of care. He said juggling the role of caregiver and entrepreneur was a daunting task.
Amstutz opened his latest firm, Amstutz Communications, in Boulder City in 2003 and has enjoyed many ventures with various businesses about town, including Scratch House Restaurant, Boulder City Hospital and Boulder City Chamber of Commerce.
"Along the way I met some incredible people and picked up a few cooking skills. One of my most memorable was a French-trained chef who worked at a resort in Canada. I learned a lot about food from him while I was dating his daughter," Amstutz said. "I learned a high appreciation for what it takes to get good food out to people."
Amstutz also is quite the gardener and has learned "to enjoy food and, because I grow it myself, I have a high regard for the end product."
Amstutz is the father of three: Charles, Jim and Nicole.
"I have three children, two sons and a daughter, six grandchildren and I recently became a great-grandfather for the first time."
Amstutz has recently opened another chapter in his life with Linda Faiss, widow of the late Bob Faiss. The two can be seen around town enjoying fine wines and good food.
"His tomatoes, peaches and basil were the things that won me over," she said.
Contact Andy Saylor at andyhali@msn.com.
Mom's Lemon Chicken
1 chicken (whole chicken cut into pieces or, what I like best, thighs and legs)
5 cloves of fresh minced garlic
Vegetable oil
½ cup fresh squeezed lemon juice
2 tablespoons finely chopped onion
1 teaspoon dried thyme
Pepper
Salt
Mince garlic and rub over chicken (don't be bashful).
Rub chicken with oil and place, skin side down, in a baking dish (it's best to find a dish that the chicken just fills).
Cover and place in a preheated 350-degree oven for 30 minutes.
While chicken cooks, juice the lemons, add minced onions, thyme, fresh ground pepper and a little salt. Mix and let sit.
When chicken has baked for 30 minutes, remove from oven and uncover.
Turn chicken skin side up. Pour lemon juice mixture over the chicken, return to oven and cook uncovered for an additional 30 minutes.
Serve hot or cold. It's great either way.
Garden Pesto Chicken
1 whole chicken
Several cloves of fresh garlic, finely minced
1 teaspoon of Dijon mustard
Fresh thyme, rosemary, parsley or whatever herbs you have in your garden (I don't measure, but don't skimp.)
Extra virgin olive oil
Freshly ground pepper
Salt to taste
½ lemon, cut into pieces
¼ brown onion, cut into pieces
Wood chips (optional)
Clean and dry chicken.
Mince, then mash, garlic with a pinch of salt using the side of your chef's knife. Place in a mortar and pestle (or a small food processor) with the mustard and herbs. Grind or pulse while adding olive oil until it resembles a nice pesto.
Mix one tablespoon of the mixture in several tablespoons of soft butter and set aside.
Using your fingers loosen the skin of the chicken and insert the "pesto" under the skin, rubbing to evenly distribute.
Add lemon and onion pieces into the cavity of the chicken with a few sprigs of rosemary and thyme. Truss the chicken then slather with the butter pesto mixture.
Bake or smoke at 350 degrees until done.
Easy Ice Cream, Berry Desert
Vanilla ice cream
Fresh berries
Chambord Liqueur
Scoop the ice cream into serving bowls, add berries then drizzle the Chambord over the top.
It doesn't get much easier or better than this!