12 valedictorians highlight academic achievements
Updated May 30, 2013 - 1:36 pm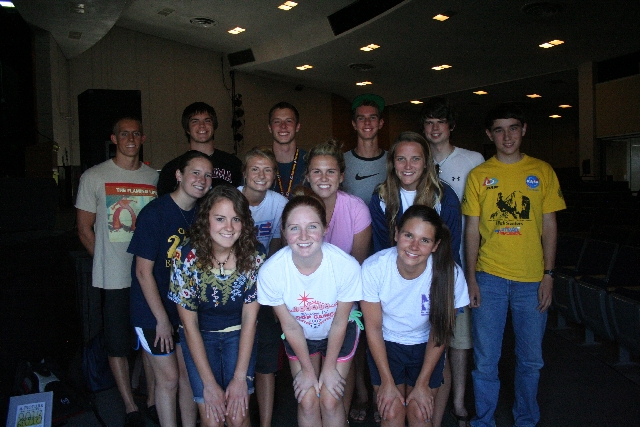 Twelve seniors of the class of 2013 will be graduating Wednesday as valedictorians. Ironically, it is the salutatorian, Patrick Vallely, who is a finalist for the National Merit Scholarship.
Patrick Vallely has worked incredibly hard to receive this scholarship and it takes much dedication throughout high school in order to receive the award, according to one of the high school counselors.
"Students become National Merit Scholars by initially placing in the top 3 percent of the preliminary SAT (National Merit Scholarship qualifying test) in October of their 11th-grade year," said Rebecca Balistere, the school counselor overseeing Vallely.
"Once the student is named National Merit Semifinalist they proceed to the next level through a lengthy scholarship application," she said. "The National Merit Board evaluates the application and determines whether or not the student moves on to be named finalist."
Although Vallely did the work in and out of the classroom, he said it wouldn't have been possible without Balistere's help.
"I owe a massive thank you to Mrs. Balistere, who wrote me a fantastic recommendation for my National Merit application," Vallely said.
He also singled out three teachers as having the biggest impact on him while at Boulder City.
"I also want to thank (Chris) Bires, my AP (advanced placement) physics teacher, for being both knowledgeable and enthusiastic and for giving me a solid foundation in the field of physics," Vallely said. "(Leslie) Ringen, who is simply awesome. Anyone who has had her knows this is true. And Dan Christy, who first inspired little sophomore me to actually get engaged with school and get excited about learning for the sake of knowing and arguing."
Vallely will enroll in the Honors College at the University of Oklahoma in the fall. The college offered him a scholarship package that led to his decision to attend the school where he plans to major in physics, and possibly take some premed requirements.
"I love the science of physics far more than can possibly be healthy, but I also enjoy the thought of having a career dedicated to helping people, so I want to keep both doors open as long as possible," explained Vallely, as he realized the two subjects are "a somewhat unusual pair."
Vallely was one of approximately 1.5 million juniors from nearly 22,000 high schools that began the application process in October 2011. He was named one of the 16,000 national semifinalists in the fall, a group that represented less than 1 percent of high school seniors.
In all, 58 seniors from Clark County rank among the top students nationwide who made the cut as semifinalists. The distinction attracts the attention of prestigious colleges while also paving the way for the students to be among the approximate 8,300 who receive $2,500 National Merit scholarships.
"National Merit Finalists are courted by numerous colleges across the country with scholarship packages that typically, though not always, offer a full-ride," Balistere said. "Some packages include study abroad programs, a laptop incentive and a stipend."
While Vallely will be honored as the school's lone salutatorian, the graduating valedictorian candidates are Kaleb Bailey, Danielle Cummings, Austin Donnelly, Jeremy Estes, Avalon Frantz, Brent Hickey, Eliza Jeppsen, Joseph Miller, Emilia Oscilowicz, Megan Purdy, Kirsten Rockenfeller and Jessica Tobler.
Students must begin high school with the mindset of achieving the goal of valedictorians, Balistere said. Each year, they must work steadily to keep their grades at all A's.
"All students who reach the capped GPA of 4.8 become valedictorian," Balistere said. "To earn a 4.8 a student must take 24 semesters of honors or above, and four semesters of AP and earn all A's."
Donnelly, who will attend Brigham Young University in Provo, Utah, and study computer science, said that the goal to become a valedictorian helped him engage more with the high school extracurricular activities.
"I was not entirely aware of the requirements necessary for becoming a valedictorian at first, but when I was, it did help to motivate me to become more involved in high school," Donnelly said. "I became more involved in the high school experience by joining the robotics team, the track team, and (National Honor Society).
"I thought I had the capability, so I just tried to get the most out of high school and to me that included becoming a valedictorian," he said.
Estes, who plans to attend the University of Chicago on a swimming scholarship, recognized that the goal of becoming a valedictorian adjusted his experience at Boulder City as well.
"It has required me to assume the position of a leader of my class, even if at times I did not want to be in that position," Estes said. "Instead of being the average high school teenager I have been forced to rise above the influence of many of the typical temptations and pressures many of today's teens fall subject to."
Cummings, who plans to study psychology at the University of the Pacific in Stockton, Calif., also agrees that it helped her become the best student she could be, and it altered her high school experience.
"I'd have to say it's been a more stressful experience always shooting for that A, but it's absolutely made me a better student and a master at budgeting time," she said.
The difficulty of becoming a valedictorian is staggering with students having to make their grades a top priority in order to receive the honor.
Hickey, who will attend the University of California at Santa Cruz to study computer engineering and philosophy, said "the most difficult aspect of becoming a valedictorian was justifying the effort. The task itself simply requires turning in work on time. Valedictorians display that extra bit of care that is necessary to power through the seemingly incessant busy-work … and dispel senioritis."
Frantz, who will attend the University of Houston's Honors Business College on an academic scholarship and play volleyball, said the expectations by her parents and teachers was what made becoming a valedictorian so difficult, yet made her a better student.
"They expected you to do well involving anything to do with academics," said Frantz, who was also one of six female finalists for Wendy's High School Heisman Award in December. "This added pressure, however, was probably more beneficial than anything for it motivated me to continue to push in classes."
Frantz also was honored May 20 as one of Southern Nevada's Top 10 Student-Athletes of the Year by the Nevada Interscholastic Activities Association.
Bailey and Rockenfeller say that becoming a valedictorian is a matter of knowing what you want, and never giving up on your goals.
"It honestly just takes determination," said Bailey, who wants to study psychology at Southern Utah University. "From day one I always wanted to be valedictorian and so I put forth the effort to achieve it."
Rockenfeller, who will enroll at the University of California, San Diego to study biomedical engineering, said "You can never stop pushing yourself. You have to focus on your goal and give 100 percent all the time."
Oscilowicz believes the process in which she endured to receive this honor will be applicable to her future career.
"I really think I'll keep my strong ethic that I developed getting my grades," said Oscilowicz, who was recently accepted to the University of British Columbia and plans to study international relations. "That work ethic will, of course, be applied to college but it will also help me acquire jobs and eventually get my career going."
As a whole, the class of 2013 has had an incredible senior year, recording nearly 30,000 hours of community service , according to the school. Most seniors will attend two- or four-year schools after graduation, and many will represent the United States through service in the armed forces. Others will be starting their church missions shortly after graduation.
"I'm so proud of this group of young people and look forward to reports back to Boulder City about their success," Balistere said.