Under control: Shelter supervisor puts animals' welfare first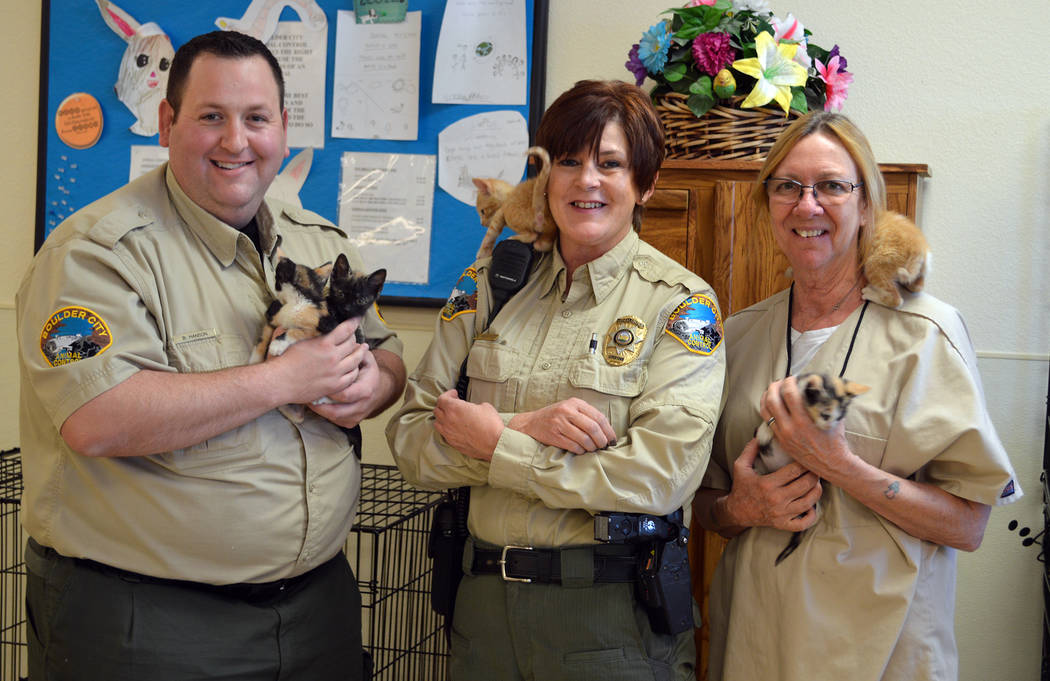 Several years after a scandal that left the former animal shelter supervisor charged with felony animal cruelty and the former police chief without a job, Boulder City Animal Control has changed its image.
"Our role is to help," said Ann Inabnitt, the current shelter supervisor. "My role has been to heal the community."
Inabnitt has been with the animal control department for five years. She took over the shelter, 810 Yucca St., in 2015 after former supervisor Mary Jo Frazier retired. Frazier was charged with two counts for felony animal cruelty and pleaded guilty to one. The case also involved former Boulder City Police Chief Bill Conger, who knew about Frazier killing shelter animals and chose to close the investigation.
Since that time, Inabnitt and the shelter staff have worked to undo the damage from Frazier's actions, including establishing a no-kill policy at the shelter.
"No kill means less than 10 percent. … In 2017, 733 animals came through the shelter," she said. "We lost 4.2 percent to euthanasia."
Inabnitt said the shelter only euthanizes sick or aggressive animals that have hurt or killed people. It does not kill for space.
The Boulder City Police Department is responsible for animal control, and Police Chief Tim Shea said he is pleased with the work of Inabnitt and her staff.
"Other regional shelters have a goal of getting their rate down to 18 percent," he said. "Our rate qualifies us as a no-kill shelter, a radical departure from the not too distant past. However, getting to this standard was/is extremely labor intensive and requires exceptional dedication and work from what is a bare-bones staff."
The shelter has two full-time employees, including Inabnitt, and two part-time ones, including one who is on medical leave.
"From the accounts I have read and from what I have been told occurred before I started here, to what I see and hear now, I believe the staff has exceeded all expectations and has taken our operation from an obvious civic embarrassment to an operation that exceeds expectations. … I could not be prouder of our employees and our volunteers for their dedication, hard work and the results," Shea said.
Inabnitt said Shea has been supportive of the shelter and has made sure the staff members have good equipment for their jobs.
"We feel supported," she said. "We feel heard."
Additionally, the community has stepped in and supported the shelter by donating supplies and working with Inabnitt and her staff to help all the animals in town.
Inabnitt said she is "incredibly humbled" by the love and support of the community.
"We need to continue to heal and repair the damage," she said. "We need to be good stewards."
One way Inabnitt wants to continue to help and be a good steward is through the shelter's free spay and neuter program.
According to Inabnitt, the program started in 2016, and so far approximately 400 animals have been spayed or neutered.
"Our goal is to reach animals that wouldn't see the inside of a vet's office," she said. "We want to help those at-risk animals, like feral cats."
Inabnitt said when feral cats come into the shelter, they are spayed or neutered and vaccinated and then sent back outside. One of their ears is also clipped so that she and her staff will recognize it if they come across it again.
"They're wild, just like rabbits or quail," she said. "Their life span is 18 months. The feral cat colony will be gone by then. If you stop the breed, you stop the problems."
Currently, an anonymous donor sustains the program.
"An animal shelter is not just a facility where strays are caged," Shea said. "It is a continually operating animal sanctuary where diverse animals must be humanely and properly housed, fed and cared for. This care includes medical care. It is also an adoption agency where hundreds of previously abandoned, lost and/or abused animals are adopted as pets into local families. The very nature of a shelter requires 24 hours, 7 days a week care."
Inabnitt and her staff also take care of animals that are abandoned or whose owners are incarcerated or deceased. Additionally they take care of adoptable animals, each of which is vaccinated and spayed or neutered before being sent out.
Contact reporter Celia Shortt Goodyear at cgoodyear@bouldercityreview.com or at 702-586-9401. Follow her on Twitter @csgoodyear.