Residents criticize project; chambers overflow as many express concern over developing I-11/U.S. 95 interchange
August 24, 2017 - 10:02 am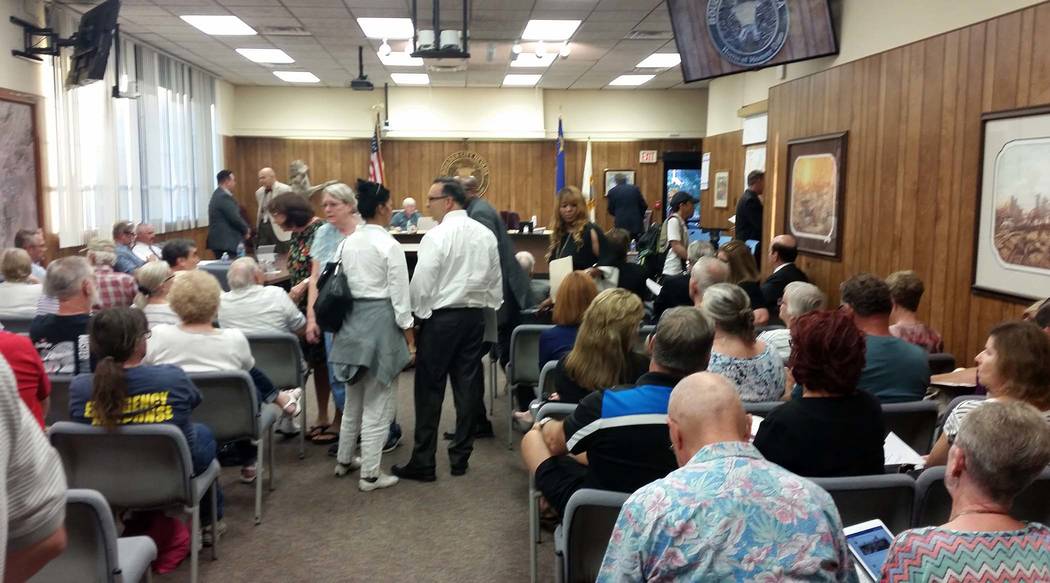 Residents packed City Hall on Tuesday night to show their disapproval of a project to develop the area around the Interstate 11 and U.S. Highway 95 interchange.
The Hoover Dam Gateway project presented by the GC Garcia Group is a preliminary master plan document for that area. The plan, which was commissioned by the city, offers different development ideas for the area, located 4.5 miles outside of downtown and almost 3 miles away from Adams Boulevard, the closest access point to existing city roads.
George Garcia of GC Garcia Group said his firm took into account what happened on Route 66 and looked at cities that thrived in that type of situation. He said the project's vision is to make it "Interstate 11's premier business centric master-planned place" that would increase future city revenues and enhance the quality of life for residents. It also took into account the city's "charm, culture and history."
Prevailing concerns from citizens, about 30 of whom spoke at the almost 4 hour long meeting, was that the timing of this project was not right and that it would hurt existing downtown merchants.
"I think we should first finish the construction," said resident Peggy Casper. "Let's see the impact. Second, let's implement the plans that were identified by the city and the chamber a few years back to help our businesses."
"I just think that the gateway project would compete with businesses in town," said Terry Stevens of the World Famous Coffee Cup downtown. "Especially with the boarded up building in town, you got McDonald's, Taco Bell, which I don't think they're going to renew their leases, so I just don't think it would be wise to move forward without seeing the impact of the interstate."
Stevens also expressed concern that when coupled with higher utility costs, the development could hurt businesses even more.
"There is nothing more important for the good of Boulder City (than) as a viable community with a healthy central business sector," said resident Chris Ford. "It is the heart of the community and our decision must take into account the health of our small businesses, the ones that are here right now."
She said it was important for citizens to be confident in the city's leadership and its motivation for the project.
Other concerns expressed by the residents included signage coming into Boulder City from Searchlight, the plan being a good one but not the right one for Boulder City, regionality being smothered, and a higher cost of public safety.
In the report provided to council, an estimated $123 million would need to be spent to provide utilities and other infrastructure for development in the area.
Garcia said that developers, not the city or its residents, would pay for the infrastructure. He suggested that the city find a partner to develop the master plan and install the necessary utilities and roadways.
If advanced, the next steps for the project would be to amend the city's master plan, create a special zoning area plan, establish design standards, develop Covenants, Conditions & Restrictions, and select a development partner.
Councilman Kiernan McManus said he believed the presentation did not show some of the negative things the city could experience through the cost of the development, including the length of time it would take to pay for the infrastructure and see any revenue.
He added that this project does not address the probability of a drop in the tourism because of I-11. "It's a major undertaking for a city of 15,000 people that does not appear to address what's here right now," he said.
Councilman Warren Harhay expressed the value of this report and said now is not a good time for the project.
"To undertake a project of this magnitude, cost and long-term implications at this time is both ludicrous and irrational," he said.
Councilwoman Peggy Leavitt said an initial thought for developing this area was to provide another source of revenue for the city, as she was concerned about how dependent it had become on solar leases revenue.
"I think it's important for residents to know that no project of this size would be done without extensive public outreach," she said.
She agreed that now is not the right time for it but was not apologizing for commissioning the study.
Councilman Rich Shuman said he was somewhere in between doing nothing with the interchange area and doing something.
"I think this blew up into something that we didn't expect it to blow into," he said.
He said his belief was that it was an idea with options from which one could pick and choose.
Mayor Rod Woodbury said he hadn't had a chance to delve into all the details of the project as they had just received it, but he believed it addressed many of the resident's concerns.
"This is not a master plan but it is the first step in what could be a master plan for this particular area," he said. "I think it would be a mistake to shut down the dialogue on this. That is what hurts the community more than anything, (it) is when you don't talk about it. If you just ignore the problems or ignore the opportunities, nothing good comes of it."
At the end of presentation, council did not take any action on the report.
Contact reporter Celia Shortt Goodyear at cgoodyear@bouldercityreview.com or at 702-586-9401.