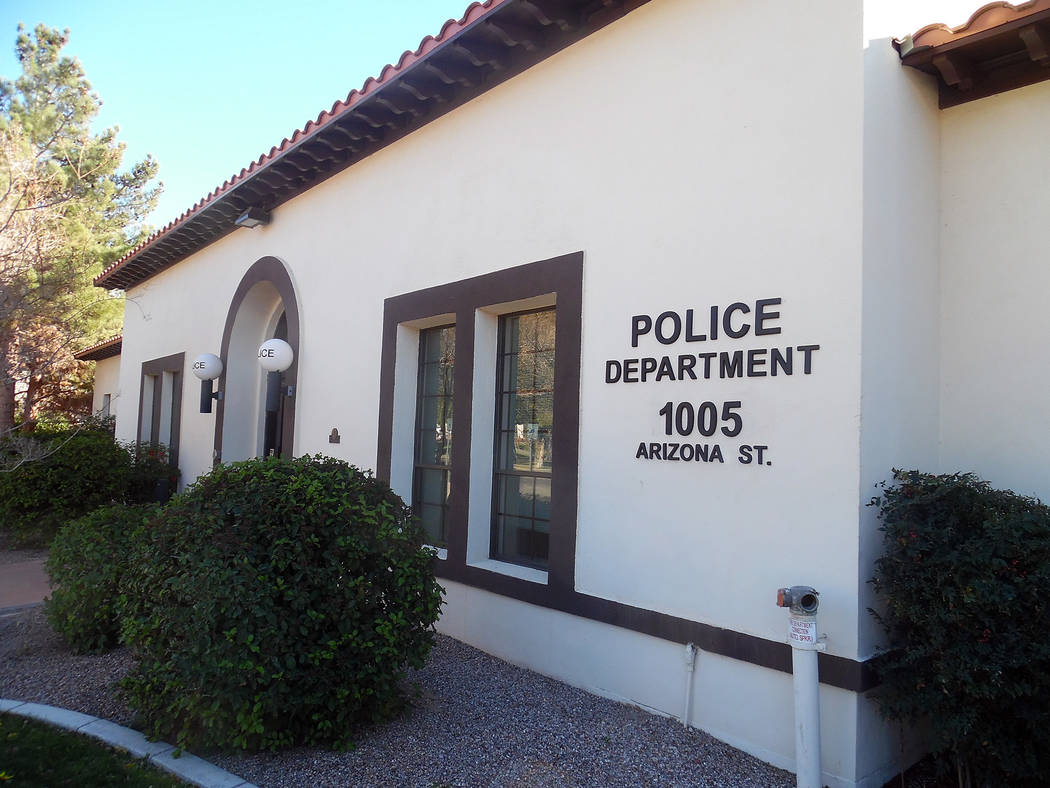 July 17, 12:26 a.m.
Screaming and fighting by several men and a woman behind the Boulder Dam Hotel were reported by several people. According to police, the confrontation happened when one woman was talking to the boyfriend of another. After the two starting fighting, another man struck the first woman, whose boyfriend heard the commotion and came to her defense. He was attacked by two unknown men. The first woman's foot was injured, possibly from stepping on some glass; Boulder City Fire Department personnel bandaged her foot, and then she and her boyfriend refused additional medical attention. They did not wish to press charges and were taken home by a friend.
July 18, 4:12 a.m.
Officers assisted a woman who complained about a rash all over her chest and being dizzy, possibly because of an allergic reaction to some type of insect or bug.
July 18, 4:42 p.m.
Police received a call about a man exposing himself outside a bathroom, but he was no longer on the premises.
July 18, 7:29 p.m.
A man was yelling and cussing at employees of Burger King and refused to leave.
July 19, 8 a.m.
A woman called about bees that were in her yard, coming from a wall or drainage hole, that attacked her dog. She said the dog is fine because it's a fast runner, but she is concerned about the bees' aggressive nature.
July 19, 10:33 a.m.
A call came in about a vehicle chasing a bighorn sheep into the roadway.
July 19, 12:52 p.m.
A man said he found a counterfeit $100 bill in his front yard and brought it into the police lobby to give to an officer.
July 19, 3:28 p.m.
A property manager reported that a tenant dumped his barbecue out of a second-floor stairway and almost caused a fire, leaving towels smoldering.
July 19, 4:30 p.m.
A caller said a man wearing dark shorts and dark socks pulled all the way up was acting as if he had a sword and was trying to "slay" cars as they passed by. The caller said the man kept getting further into traffic. The man attempted to slay his Lincoln, but he escaped unscathed.
July 19, 7:11 p.m.
A woman reported hearing a gunshot inside an apartment and people yelling. Officers determined it was a sliding glass door being shut really hard.
July 20, 1:54 a.m.
Police received a report about a person screaming outside. The man said he was screaming because his leg hurt, but he didn't need medical attention.
July 20, 2:47 p.m.
Officers were flagged down by a man in an electric wheelchair on Nevada Way near Wyoming Street who was stuck in the flower bed. They helped get him get out of the flower bed.
July 20, 9: 20 p.m.
A woman called to say that her son told her there was supposed to be a fight in a park between Boulder City and Las Vegas youths. A second call about the fight also came in. Upon arrival officers saw between 35 and 40 people getting into cars and driving away. No weapons were seen. One victim was on scene, and his mother was taking him to the hospital. No one wanted to press charges.
July 21, 5:55 a.m.
Police spotted a black Mustang going over 60 mph in a 35 mph zone. The driver was heading toward Arizona and sped up to more than 100 mph when he saw police. Arizona authorities were notified.
July 21, 10:39 a.m.
A power line was down and hanging over a tree about 6 feet off the ground. Officers stood by until city crews arrived on scene.
July 21, 11:16 p.m.
Police receive a report of an intoxicated man shooting a rifle and fighting with a woman. The caller has video of the man shooting the gun. The man was taken into custody for shooting a gun within city limits. A rifle, two pellet guns and two 20-gauge shotguns were taken to the police department for safekeeping.
July 22, 2:30 a.m.
A woman called about two men who jumped a fence and were swimming in the pool, which closed at 10 p.m. The men said they are residents and didn't know the pool closed.
July 22, 9:28 p.m.
Officers received a call about a car running outside a neighbor's house for more than an hour. It was two youths talking in front of grandma's house.
July 23, 7:41 a.m.
The crew working on Interstate 11 reported that bicyclists were repeatedly trying to ride on the roadway.
July 23, 8:15 p.m.
A woman said another woman took her car the day before while she was sleeping. The woman also took her purse and $1,000.