Local couple front rising rock band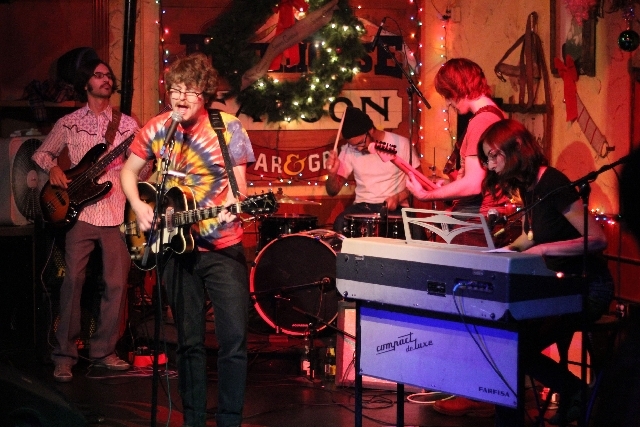 Members of the local band Same Sex Mary are riding high after releasing their album "Sex Cells" in March.
The band, fronted by Boulder City residents James Howard Adams and Tsvetelina Stefanova, have played at local restaurants such as The Dillinger Food and Drinkery, Vinny's Pizzeria and The Boulder Dam Brewing Company. They have also played at venues in Las Vegas such as the Hard Rock Cafe, the Palms, the Griffin and some downtown venues.
The bluesy, rock 'n' roll band will be performing at the 15th annual Wurstfest on Sept. 28, and is slated to play a coveted slot at the inaugural Life Is Beautiful festival in downtown Las Vegas on Oct. 26-27.
The lineup will feature 63 bands such as The Killers, Beck, Imagine Dragons and Kings of Leon. The two-day festival is expected to attract thousands of locals and tourists.
"They will be shutting about 15 blocks down from Fremont to Sixth or Seventh," bass player Jason Aragon said. "They're also fabricating stages on outside lots."
Same Sex Mary achieved its position in the festival lineup by playing at a showcase at the Hard Rock pool. The showcase was used as an opportunity for local bands to try out for the festival. "A little bit after the showcase they called us and said that we were in," Stefanova said.
The time and location of their set for the Life Is Beautiful festival has yet to be announced.
"They are keeping kind of 'hush-hush' about everything right now," the 27-year-old Adams said.
The band is winning over critics, and was named in July "Best Indie-Scene Mainstay" by a Las Vegas alternative weekly magazine.
The band was created by Adams and Stefanov in 2010. The couple have been together for more than eight years, playing in different bands, including Dude City, a group fronted by Boulder City Review reporter Jack Johnson.
"Tsvet and I have been dating for a while and we were both musicians," Adams said. "We would sit at home and practice our instruments. Finally we just decided we should just make a band."
High school sweethearts Adams and Stefanova graduated from the Las Vegas Academy. Adams attended both elementary and middle school in Boulder City, and attended Las Vegas Academy for music.
While attending the academy, Adams remained a local resident. He played the cello in the Garrett Junior High orchestra under the instruction of Adam Schultheis. Later Adams graduated from the College of Southern Nevada. Adams plays the guitar, sings, and writes for the band. He currently works at the Boulder City Animal Hospital.
Stefanova moved from Bulgaria to the Las Vegas Valley in 1996. She majored in piano, guitar and photography at the Las Vegas Academy where she met Adams. She attended Northern Arizona University in Flagstaff, where she graduated in 2009 with a biology major and chemistry minor. Stefanova, 26, plays keys, blind contours, and sings for Same Sex Mary, and is a server at The Dillinger. She also books many of the touring bands that play at the Arizona Street restaurant.
After Stefanova had graduated from the university, the couple moved from Flagstaff to Boulder City in late 2009 where Same Sex Mary was established.
"It basically came together in Boulder City. She moved out here, and we started the band," Adams said.
Once Stefanova and Adams began to record their work, they asked the drummer of Dude City, Michael McGuinness, to help with recording their songs.
"We were going to be recording the album so we asked our drummer from Dude City to try out and fill out the album," Stefanova said.
Since recording, McGuinness has remained the drummer for Same Sex Mary.
Stefanova and Adams stumbled upon Tyler Huddleston, lead guitar, last year at First Friday, an art festival that occurs on the first Friday of every month in downtown Las Vegas.
"One time we were walking at First Friday downtown and we saw Tyler and his friend performing on the street and we thought it sounded really good," Stefanova said. "We were having a show in Boulder City the next night, so out of the blue we were like, 'Hey, we don't have an opening band, do you guys want to come up and play?' So they did."
Aragon, bass, has always been a fan of Same Sex Mary.
"Jason we knew from being in every other band that we liked," Adams said. "He would come to a lot of our shows. Our original bass player bailed on us two weeks before we were supposed to be recording. So I called up Jason, and said 'Jason, you know the songs … come down to Tucson we are going to record an album."
"Sex Cells" was recorded over a week in Tucson, Ariz., the same town where Dude City recorded its 2012 release "Leavin' "
The band says they do not fall under any specific genre. "We kind of cover the spectrum," Adams said. "We try not to pigeonhole ourselves. More lately, we've been having a garage rock, a little bit of psychedelic, but we don't say 'no, that doesn't sound like us.' We just do it … go with the flow."
Same Sex Mary hopes to go on its first tour sometime in October before the Life Is Beautiful festival. It has played shows in Southern California, Utah and Arizona since releasing the album, but hopes to go beyond those states.
"We have three goals," Adams said. "Get a van, go on tour and get into a studio. Step one's out of the way, we just have to tour, get all the material down, and find where we want to go with the new album."
The band does not expect instant fame at the end of the festival, but does hope the appearance adds to its resume.
"More than anything, the festival will be credentials to us," Adams said. "I don't think there's going to be a guy sitting there with his phone saying 'Give me Charlie! We've got the next big thing!' That'd be great, but that's probably not how it's going to go."
No matter what happens with this band, or any other musical venture, "I will always call this place my home," Adams said. "It's not that the town shaped the album, though; the album was shaped more by my life experiences."
Go to the band's website at www.samesexmary.com to download the album.