Council to discuss firing city clerk
February 5, 2021 - 3:53 pm
Updated February 10, 2021 - 3:43 pm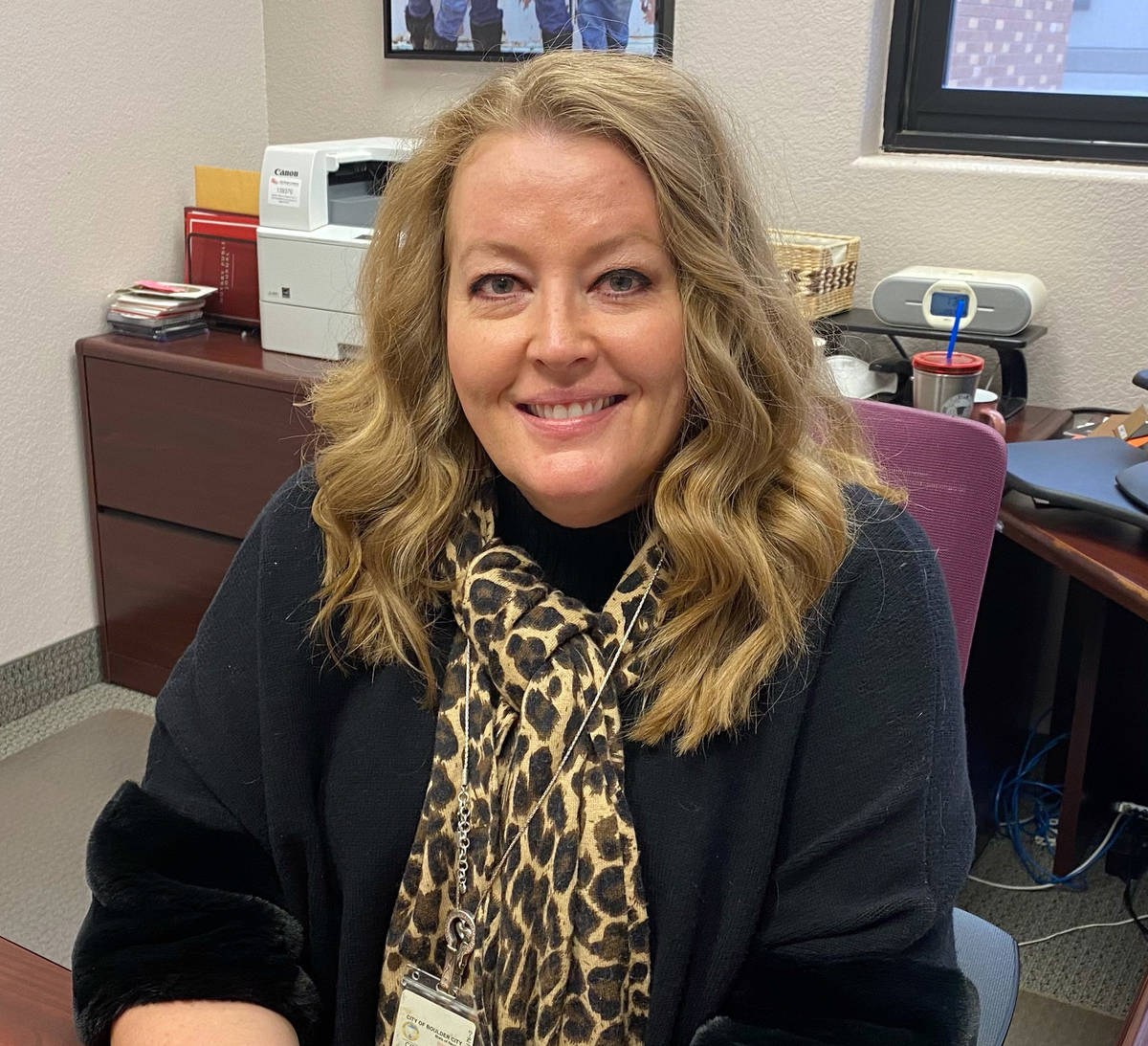 The mayor has called for a hearing to discuss firing City Clerk Lorene Krumm and she said it is because she participated in an investigation of his alleged actions at City Hall.
Recently, Mayor Kiernan McManus asked for a discussion at the Feb. 23 City Council meeting to consider Krumm's "character, alleged misconduct, professional competence or physical or mental health" in accordance with NRS 241. He also requested items to discuss terminating her employment contract and implementing a severance package.
"The most recent proposed action to terminate my contract is retaliation for claims of a hostile work environment. … I look forward to the council meeting on the 23rd where I have the opportunity to clear the air," she said. "Boulder City's residents have a right to expect City Hall employees be allowed to do their jobs without distraction and duress, but sadly that is not the case currently."
Krumm said she is a part of the hostile workplace investigation, but she did not single out McManus. The investigation is ongoing.
She also said she wasn't surprised about the notice to terminate her contract, but she was taken aback by its timing.
"What is surprising is that the mayor would have so little regard for those he is elected to lead as to do so during a pandemic, a city election and a crucial legislative session," she said. "This is a unique moment that requires a competent, experienced staff."
The primary for the 2021 Boulder City municipal election takes place April 6 and the general election June 15. There are two City Council seats up for election, and 13 candidates running for them. There is also one ballot question about whether the city should institute a utility franchise fee and three proposed ones about financing the renovation or replacement of the city pool.
In the charter
When asked for a comment about the Feb. 23 agenda item, McManus said the city charter gives the council the responsibility to supervise the city's officers.
"The City Charter, Nevada state law and the employment contracts for these officers allow the City Council to evaluate the employment performance of these officers, including the city clerk," he wrote in the emailed statement. "In addition, the City Council, after evaluating the performance of an officer, may make a determination to terminate the contract. These matters may only be discussed in an open meeting in accordance with Nevada law."
Krumm was hired as deputy city clerk in November 2005. She was appointed acting city clerk June 9, 2009, and became the city clerk April 13, 2010.
She said in her time with the city she has "received excellent evaluations, without exception."
"We moved here to raise our children, and eventually retire," she said. "Every day I walk into City Hall, I am grateful to serve the people. It is never lost on me the importance of serving in a professional manner that instills trust and respects everyone."
Third to be fired
If the resolutions are approved, Krumm will be the third city officer fired in approximately four months.
On Oct. 13, council fired City Attorney Steve Morris and City Manager Al Noyola.
In early August, prior to their termination, Morris and Noyola filed a case against the city, McManus and Councilwoman Tracy Folda in Nevada's Eighth District Court stating they did not receive proper notice about the council's intention to discuss their employment. They also said the meeting was in retaliation because they substantiated allegations against McManus, who has been accused by city employees of "religious discrimination, harassment, bullying and creating a hostile work environment."
Later, they amended their complaint, alleging their employment contracts were violated because they have yet to receive the severance outlined in them and that they were fired within the six-month safe harbor period before or after a municipal election.
In a declaration filed Aug. 31 for the case, Krumm said McManus had exhibited "threatening and intimidating behavior" toward her as a result of her doing her job. Krumm said she advised McManus it was too late to add an item about alleged open meeting law violations to a City Council agenda, according to the council's adopted rules of procedure.
She also cited the open meeting law manual, telling him responses to the allegations could be given after the investigation was complete.
"The mayor continued to harass me by attempting to blame me for his inability to place an item on the agenda in violation of the council's own rules," she wrote.
Several residents submitted comments at the Feb. 9 City Council meeting to support Krumm's service and others said they agreed with terminating her contract.
Former Mayor Roger Tobler said he did not support letting her go and that it was moving away from what is best for the city. He also referred to it as "a scam to remove her" from her job.
Feb. 23 draft agenda by Boulder City Review on Scribd
Lorene Krumm declaration by Boulder City Review on Scribd
Contact reporter Celia Shortt Goodyear at cgoodyear@bouldercityreview.com or at 702-586-9401. Follow her on Twitter @csgoodyear.