City plans changes to various fees to recoup costs
November 2, 2016 - 1:46 pm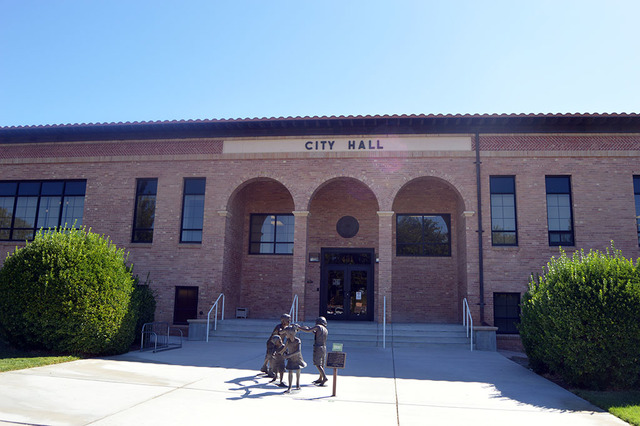 The Boulder City Public Works Department is proposing a number of changes to utility fees regarding water, sewer, electric and the Boulder City Municipal Cemetery.
The fees were proposed at a public workshop Oct. 26, which residents did not attend.
The proposed fees mostly affect business owners and home builders. For example, the city wants to lower the fee for basic installation and connection of electric services, meaning that development companies as well as residents building their own homes will see a decrease in fees that range from $2,500 to $7,500 depending on the size of the building project.
However, subsidies currently given for connection fees will be discontinued since the city is lowering the price.
Developers in Boulder City will have to deal with a higher fee regarding traffic studies for new building projects. The developer will now be on the hook for the city's cost to hire a consultant as well as an extra 10 percent fee.
Currently, the city has a flat fee for traffic studies ranging from $700 to $5,000 dollars depending on the time needed for the study.
Public Works Director Scott Hansen said the proposed fees are necessary for the city to break even on costs.
"We just want to change some of the fees so we can break even," Hansen said. "We are not trying to make money off these proposals, which is why we raised the cost of some fees and lowered the cost of some other fees."
Changes also are proposed for the Boulder City Municipal Cemetery. Buying a plot of land is now $3,600 for residents and nonresidents; however, burials will now be free if the deceased's last known address was in Boulder City. Nonresidents will have to pay $700 for a burial and $600 for cremation.
Hansen said changes in costs for the cemetery were necessary because it was losing too much money.
"We had to make some changes to our cemetery fees because we were losing $47,000 a year,"
Hansen said. "We scratched the burial fees for our residents but made the cost of the lot the same for everyone because residents have been selling their lots to nonresidents at a cheaper cost."
The fees would go into effect Jan. 1, pending City Council approval Dec.13. Members of the public can address their concerns or approval of the proposed rates during the council meeting.
Contact reporter Max Lancaster at mlancaster@bouldercityreview.com or at 702-586-9401. Follow him on Twitter @MLancasterBCR.