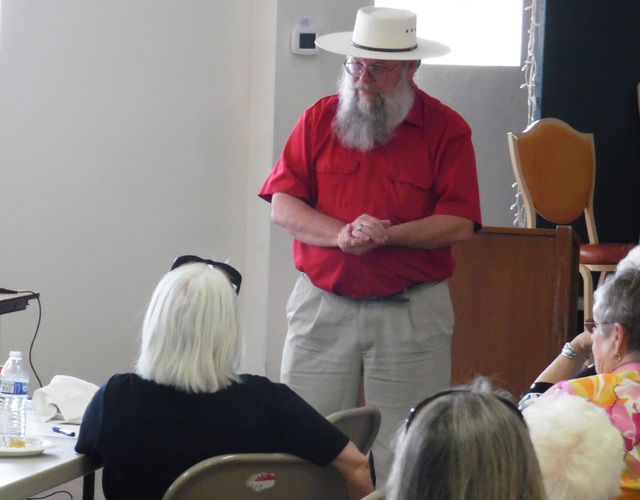 Boulder City is known as the city that built Hoover Dam and, unlike most of Southern Nevada, the community holds tight to its history and takes pride in preserving the remnants of those early days.
In honor of National Preservation Month, the Boulder City Historic Preservation Committee and the Boulder City History &Arts Foundation hosted a Restoration Workshop on Saturday morning, offering community members the chance to learn tips and techniques for keeping the past alive.
Attendees could attend a variety of lectures and learn about wall finishing, historical gardening, hardwood restoration and more.
One of the more popular speakers was Barbara Morris, who spoke about the first homes in Boulder City and, specifically, highlighting the first home that was built without the government playing a part as it had with the city's design and initial construction phase.
Russ and Holly McNaught moved to Boulder City about a year ago and said they love the community's uncommon attachment to its past.
The McNaughts said they own a home in Pioche that dates to the 1930s and they would love to take care of it and restore it the way so many buildings here have been. They agreed the workshops were helpful, especially for do-it-yourselfers, offering tips about period-authentic decor and tricks for taking care of the tile and wall repairs.
In addition to the half dozen workshops and informational exhibits, the event featured guest speaker Mark Hall-Patton, administrator of the Clark County Museum and something of a local celebrity as a recurring guest on the television program "Pawn Stars," where he is known as the "Beard of Knowledge."
"We don't always respect history, but knowing about your history really makes you a part of your community, teaches people to value their community," Hall-Patton said. "Getting politicians to hold ceremonies to honor history is easy, but paying the bills is much harder. Maintenance isn't sexy, so it's only when people really care that we see preservation efforts succeed."
The workshop attracted about 50 people and was deemed a success by organizers.
"We don't really have a budget, so we couldn't have done any of this without the generosity of our volunteers, our guest speakers and the local businesses who donated lunch and refreshments," said Steve Daron, chairman of the preservation committee. The workshop wrapped up with a tour of the Old Water Filtration Plant, which is also the focus of a beautification project.
As part of the project, the preservation committee and the history and arts foundation are co-sponsoring an art contest, with the winners being offered the chance to paint their art on a panel that will cover one the building's old windows.
For more information on the water treatment plant art contest, contact rayturner@aol.com or call 702-461-6842.
Contact reporter Hunter Terry at hterry@ bouldercityreview.com or call 702-586-6711. Follow him on Twitter @HunterBCReview