Woodburys honored at hospital gala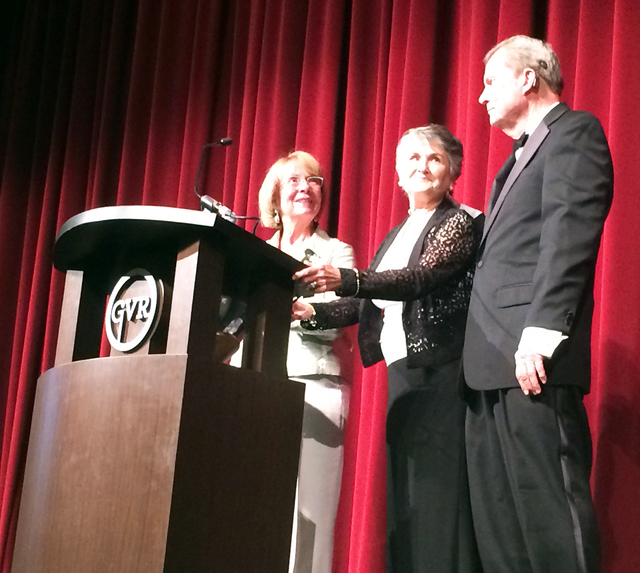 Rose and Bruce Woodbury were honored Friday night at the Heart of the Community Gala to benefit Boulder City Hospital.
Organizers said the fundraiser for the nonprofit hospital was a "huge success."
"It was magical in every sense of the word," said Christine Milburn, gala co-chairwoman and secretary of the hospital's board of trustees.
About 450 people attended the festivities at Green Valley Ranch.
"I thank everyone for coming and being so generous. I warms my heart," said Lorie McKinely, gala chairwoman and member of the hospital foundation's board of trustees.
After a video tribute of the Woodburys' life was shown, one of their granddaughters sang "Fly Me to the Moon."
Linda Faiss, who received last year's Heart of the Community Award along with her late husband, Bob Faiss, presented the award to the Woodburys.
"Boulder City has been our home for the past 37 years, and our family knows first-hand how important the hospital is," Bruce Woodbury said, noting that they have had babies born there and his life was saved there.
He also praised his wife for her devotion to their family and the community.
"We think of her as Wonder Woman. She gives wise counsel to family, friends and strangers," he said.
"The true honoree tonight is Rose Stewart Woodbury."
Boulder City Mayor Roger Tobler called the Woodburys "jewels of Boulder City." Then he, along with incoming mayor Rod Woodbury, the honoree's son, proclaimed May 8 as Bruce and Rose Woodbury Day.
"I'm grateful to have you as parents," Rod Woodbury said before wishing his parents an early Mother's and Father's Day.
In addition to honoring the Woodburys, the gala included silent and live auctions and a special fundraiser to help purchase a van for the hospital's long-term care program.
According to Milburn, 93 items were sold in the silent auction, while the live auction featured 13 items including an adventure combat experience, vacations to Jamaica, Mexico and New Orleans, a private tour of Sempra U.S. Gas &Energy's Copper Mountain 3 facility and a puppy.
While exact figures still are being calculated, the silent auction raised $34,700.
Thomas Maher, the hospital's executive director, thanked everyone for the support and said the donations help put the hospital on the right path to deliver "the highest quality of health care."
New this year was a special party for event sponsors held in the Presidential Suite immediately after the gala.
"The after-party, my brain child, worked out well," Milburn said. "It was a perfect party to thank our sponsors."
The party included musical entertainment by Gregg Arthur, a native of Sydney, Australia, who has recorded eight albums and travels worldwide to perform.
He was accompanied on a grand piano by Charlie Shaffer, who has written orchestral arrangements for numerous television shows and has accompanied artists such as Debbie Reynolds, Dean Martin and Robert Goulet.
Milburn said the after-event celebration was so well received one of the sponsors already has agreed to participate again next year.
Hali Bernstein Saylor is editor of the Boulder City Review. She can be reached at hsaylor@bouldercityreview.com or at 702-586-9523. Follow @HalisComment on Twitter.