Women's legacies recognized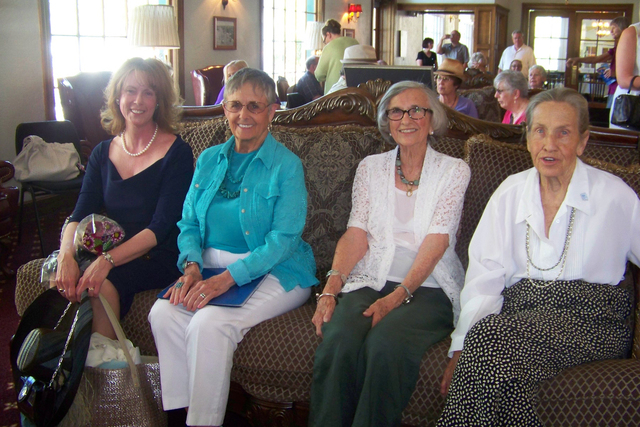 Five Boulder City women were honored Saturday in the third of a series of events titled "Nevada Women's Legacy — 150 Years of Excellency," organized by Women of Diversity. Each was bestowed with this recognition for their contributions to the history of the state in this the 150th year of Nevada's statehood.
Sharon J. Heher was recognized as an artist and historic preservationist. Mimi Rodden was recognized for her historic preservation efforts. Laura Kelly Smith was recognized for her community service. Sara Denton was recognized as a community activist and Joan Kirshner Tinker was recognized for her work with the Nevada Cultural Affairs Department.
Marlene Adrian, president of Women of Diversity Productions, told the dozens gathered at the Boulder Dam Hotel that she has realized the fact that women are not only underrepresented in history, but "women are not appreciated." There is a need for not only the "Nevada Women's Legacy" project but for the Women of Diversity, whose mission is "to give visibility to women and create a woman-appreciated future."
The women honored at the Saturday event in Boulder City, as well as the others who will be chosen for this project through July, have been recommended by fellow Nevadans. These women, according to Adrian, will be included in a Nevada Women's Legacy book to be published in October. Exhibits in several Las Vegas sites also will be assembled to further recognize these women and publicize the diversity of women in the state and their accomplishments during the celebration of Nevada's 150 years of statehood.
The focal point of the afternoon event was a presentation given by each of the honorees.
Heher, the youngest, is an artist and was the owner of Fire &Water Gallery in Boulder City for a number of years. The gallery was a showcase for Southern Nevada artists. Heher also was the founder of the Days of May in Boulder City and worked with numerous Boulder City organizations on the restoration of Hotel Plaza.
She is a native Nevadan who has been involved in the homebuilding industry and historic preservation and served as the president of the Southern Nevada Home Builders Women's Council. During her remarks Heher said, "Preservation is dear to my heart. Preservation at its best is artistry in motion. My joy is bringing truth to the individual and the artist."
Rodden, recognized as a "preserver of history," is a native Nevadan whose family settled in the Elko area in 1863. She has worked with people of all ages on numerous historic and preservation projects and the "sense of family" she has developed "ties to Nevada."
Rodden said she is known for tackling difficult tasks, no matter how long it may take.
"Don't let the history slip away," Rodden said.
She was appointed in 1984 to the President's Advisory Council on Historic Preservation where she served for five years, serves as a foundation member of the Tonopah Historic Mining Park and in 2000 published "Boulder City Nevada, Images of America."
Smith is the daughter of Tom and Erma Godbey, who built the first private home in Boulder City in 1932. Both her parents were active participants in the American Legion, Boulder City Post 31, and were instrumental in establishing the Boulder City Cemetery by lobbying the various government officials to donate property.
Smith gave the audience a history lesson not generally read in school texts. She spoke of the jobs at Hoover Dam being designated as "veterans preference jobs," and the fact that "every student who had a veteran in their family" and attended the government-built Boulder City grade school would generate 50 cents each day, per student, for the school "so it was important that we kids have a wonderful attendance record." She was proud of the fact that through her eight years in Boulder City School, she missed only three days when the family had scarlet fever.
Her advice to everyone was for those in Boulder City who had relatives living here during the early days to share those historic vignettes with others and with libraries because "that's where you are going to find the real history of our community."
Denton, recognized as a community activist, said she was "always taught that if you see something that needs fixing, something you need help with, go and do it." She was born in Kentucky but "transplanted to Nevada" when she married the late Ralph Denton.
She said she was pleased to have been a part of the preservation and problem solving for the Boulder Dam Hotel and the Boulder City/Hoover Dam Museum and felt that for new families coming to Boulder City to be "a true citizen of Boulder City," they need to "help the museum, help the hospital and help the schools. That's my passion."
Tinker was unable to attend the event but sent recorded remarks. She said she was proud of the "growth and development work" she did with the state's library system and the fact that the Nevada State Library is a reality. She was most proud of how libraries "have grown so rapidly in the last 20 or 30 years."
Tinker advised the audience that any young woman, or anyone who wants to have a successful life and career to "follow your heart and your passion. If you see something is wrong, stand up … and live by those passions."
To see photos and videos in the Nevada Women's Legacy project, go to the Nevada Women's Virtual Center at http://www.nevadawomensvirtualcenter.org.