Weekend holiday celebrations kick off festive season
November 28, 2018 - 4:01 pm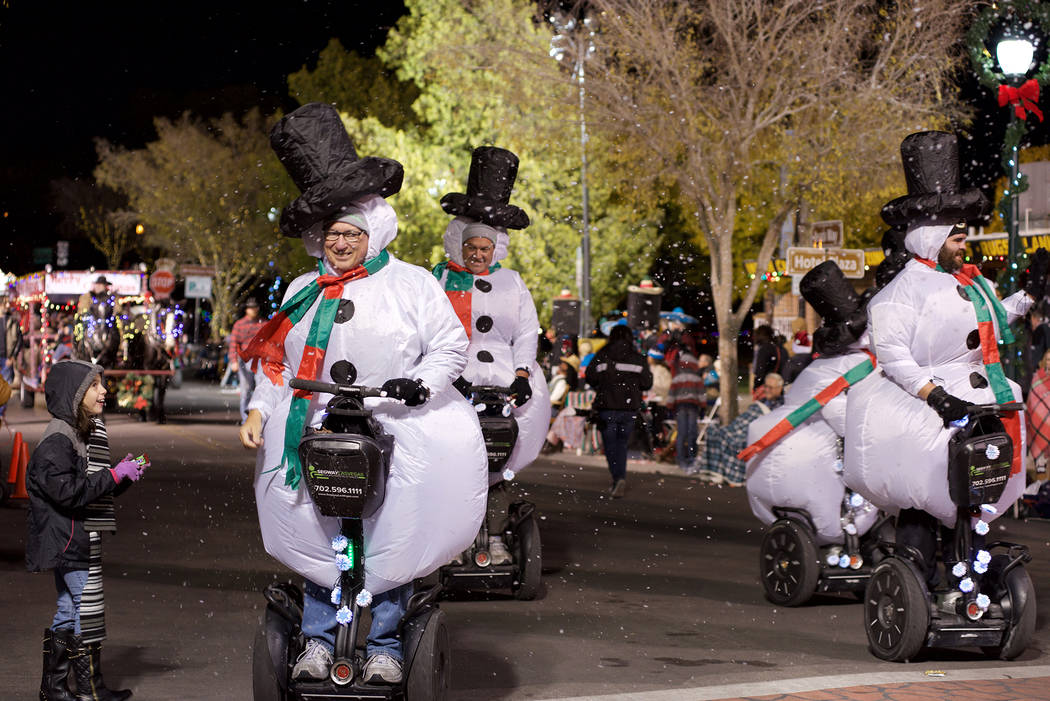 Boulder City's holiday season officially begins today.
Starting off the celebration are several local holiday season staples.
The Luminaria and Los Posadas is at 6 p.m. today, Nov. 29, in the old gym at the Boulder City Parks and Recreation Center, 900 Arizona St. This free annual event is put on by Boulder City United Methodist Church and celebrates the birth of Jesus Christ with a processional. It is open to all and will feature performances by three school choirs. There also will be hot chocolate for those who attend.
The Fifth Street Christmas lights will be lit at 5 p.m. Friday, Nov. 30,. For the past 15 years, Dale Ryan and Dyanah Musgrave have transformed their home at 1525 Fifth St. into a winter wonderland with a ski lift, merry-go-round, Ferris wheel, trains, snowmen and other holiday accents.
The Boulder City Christmas tree at Frank Crowe Park, 537 Cherry St., will be lit at 6 p.m. Friday, Nov. 30. Locals will provide entertainment before the arrival of Jingle Cat and Santa to light the tree. Hot cocoa will be served.
The 44th annual Doodlebug Craft Bazaar is from 9 a.m. to 4 p.m. Saturday, Dec. 1, at the Boulder City Parks and Recreation Center, 900 Arizona St. This free event is presented by the Boulder City Community Club and features more than 140 artisans who will show and sell their handmade wares. Refreshments will be sold, and there will be a raffle. Proceeds from the event are used by the club throughout the year to support community organizations and events.
Santa's Picture Party is also Saturday, Dec. 1, and will take place inside the old gym at the recreation center, 900 Arizona St. It features free pictures with Santa and Mrs. Claus and Jingle Cat provided by 28 Sunflowers. There will also be swag bags given out, courtesy of the Boulder City Chamber of Commerce. The handpainted backdrop is courtesy of the Boulder City Art Guild.
Santa's Electric Night Parade starts in the historic downtown area of Boulder City at 4:30 p.m. Saturday, Dec. 1. It's free and features floats with Christmas lights, bands, marching groups and more. It starts on Nevada Way near Wilbur Square Park and will travel through the downtown area to Fifth Street.
For a different type of parade, head over to Lake Mead Marina for the 42nd annual Christmas Parade of Lights. Hosted by Las Vegas Boat Harbor &Lake Mead Marina and Marine Center of Las Vegas &Dry Dock Boat Sales, the event will feature a parade of boats on the water of Lake Mead. It starts at 6:30 p.m. Saturday, Dec. 1, from the marina. Spectators can watch for free.
This year's holiday festivities also include several new events. The first is a pancake breakfast with Santa on Saturday, Dec. 1, at the Boulder Dam Brewing Co., 453 Nevada Way.
This inaugural event will feature a free breakfast with pancakes, bacon, coffee and juice. There also will be a photo booth where people can take pictures with Santa Claus. According to organizer Marcela Fastow, donations will be accepted, and all proceeds will go to the benevolent fund at Christian Center Church. Fastow said the fund is used to help the entire community.
Another new event is the community snowball fight at Wilbur Square Park, 999 Colorado St., from 1-3 p.m. Saturday, Dec. 1. Hosted by the Boulder City Family Mortuary, this is a fundraiser for the Boulder City Little League. The snowballs are actually stress balls; participants can get two for $2. People can preregister at the Boulder City Family Mortuary, 833 Nevada Way, Suite 1.
Organizer Tyson Smith said he had the idea for the snowball fight when he was getting ready for the Christmas parade and saw that other communities held one. He said he thought it would be a fun thing to do.
Contact reporter Celia Shortt Goodyear at cgoodyear@bouldercityreview.com or at 702-586-9401. Follow her on Twitter @csgoodyear.