Walkers celebrate 60th anniversary with reception
August 26, 2015 - 4:00 pm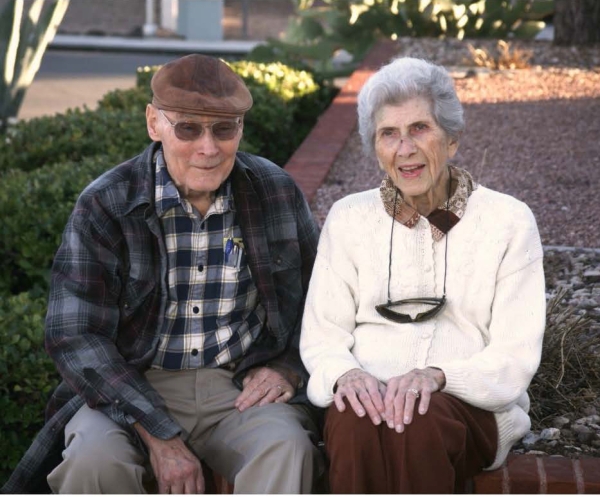 A good sense of humor, consideration of each other's feelings and the ability to work together on anything is what Don and Barbara Walker of Boulder City credit for their long and happy marriage.
The two will mark their 60th anniversary Friday, with a variety of celebrations with family and friends Saturday.
"We feel very blessed to be able to spend this many years together," Barbara said on a recent afternoon. "Sixty years, I don't know where the time went."
"Our marriage vows were 'Till death do you part.' Barbara and I took that seriously. We didn't get married with our fingers crossed," Don added.
The Walkers are inviting friends and area residents to join them during a reception Saturday afternoon to celebrate. The festivities are scheduled from 2:30-4:30 p.m. in the library and commons area at The Homestead of Boulder City, 1401 Medical Park Drive.
The Walkers have lived in Boulder City for 21 years, where he was active with Emergency Aid of Boulder City and the Country Store at Grace Community Church. Barbara also has been active with church activities, having served as a deacon and pianist for the choir.
Don and Barbara met at the University of Idaho where they were both attending summer classes, although they had known about each other through their participation in the school's band. It was a square dance at the university where there "became more acquainted" and started their courtship, Don said.
After marrying, they moved to the Walker family farm in Payette, Idaho, where they stayed a few years before returning to the university so Don could get a degree in agriculture. While there, Barbara obtained her master's in music education.
After a few more years on the farm, it became apparent that it wasn't large enough to support three families (Don and Barbara, his parents and his brother, Norman, and his wife.)
Don obtained a job with the Bureau of Reclamation and they moved to Salem, Ore., where he worked as an agriculture economist and then a study coordinator. Barbara taught piano and raised their two daughters, Susan and Karen.
Susan lives in Atco, N.J., with her husband Steven Marrano. Karen and her husband, Ken Watanabe, live in Windsor, Colo.; they have one son.
The Walkers were in Salem for about 10 years before moving to Spokane, Wash., and Washington, D.C., where Don worked as a water contract and repayment specialist for the bureau.
According to Don, it was while riding in a carpool with his co-workers that he first learned about Boulder City. His co-workers had grown up in the West and were eager to return.
Boulder City seemed like a good place for the Walkers, and they moved West.
"It's the longest (we stayed) in any one place," Barbara said.
The two said they have enjoyed the community. In addition to their work with Emergency Aid and the church, they have volunteered with Lend A Hand.
"We had our ups and downs like most people do, but we worked through them," Barbara said.
Don agreed. He recalled a time before he and Barbara married when he was talking with a friend about what they wanted in their wives. While the friend said he wanted to dominant his wife, Don said the idea "struck me kind of funny. My answer to him was 'I'd rather be a partner.' "
That's exactly what the two said they have done all their lives: build and maintain a strong partnership.
Hali Bernstein Saylor is editor of the Boulder City Review. She can be reached at hsaylor@bouldercityreview.com or at 702-586-9523. Follow @HalisComment on Twitter.