Visitors 'see' beauty of city's art
February 13, 2014 - 4:54 am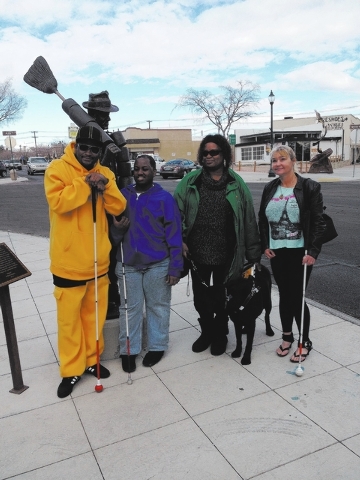 It was a day just like many others in downtown Boulder City. Walking the streets were visitors who were admiring the pieces of art that dot the streetscapes.
They oohed and aahed and speculated on the meaning behind many of the artworks. But what made these visitors extraordinary is the fact that they cannot see.
The outing to Boulder City to view the art was part of the state Employment, Training and Rehabilitation Department's Bureau of Services to the Blind and Visually Impaired program.
In the group from Las Vegas were Keenedward Evans, Angela Pilkay, Aarius White and Veatrice McLucas, who was accompanied by her guide dog, Lucas. Only Evans had visited Boulder City before.
They also were joined by agency employees Cynthia Simpson, who lives in Boulder City, and Larry Coffey, an orientation and mobility instructor.
Evans said it was interesting to "see" the differences among the types of materials used on the sculptures, including bronze and stone, and feel the textures.
Pilkay said it was fun to try and identify what some of the artworks were based on how they appeared, while others were described to them by their sighted companions.
"I really liked the Humpty Dumpty," she said.
Evans, however, said he preferred the statue of Billie Holliday. He called her stance glamorous.
In addition to the opportunity to view the art, the visit included lunch at Boulder Dam Hotel and the chance to socialize with others.
"We like to do 'normal' stuff," McLucas said.
Being blind can be very isolating, Evans added.
The quartet had never met each other before the outing to Boulder City.
Evans said the trip provided them with the opportunity to network and share their stories.
"If we band together, we can solve problems" and learn from each other, he said.
All four had sight earlier in their lives.