Veterans' service honored with wreaths
December 21, 2016 - 1:58 pm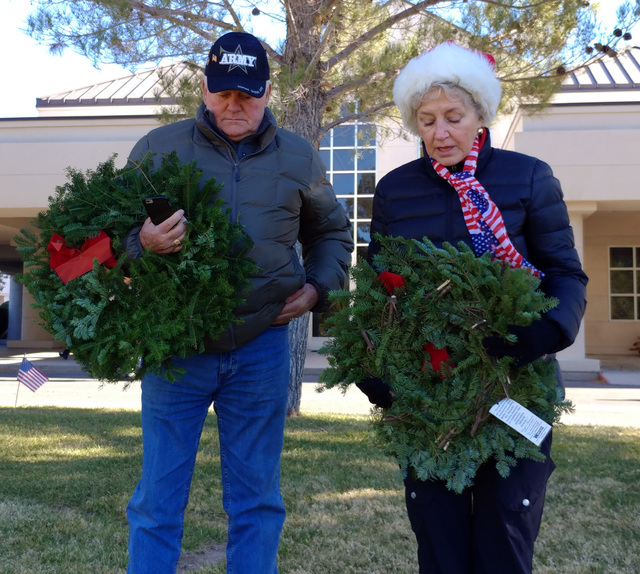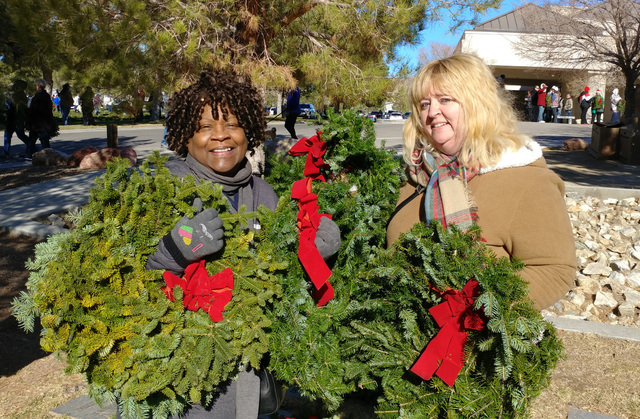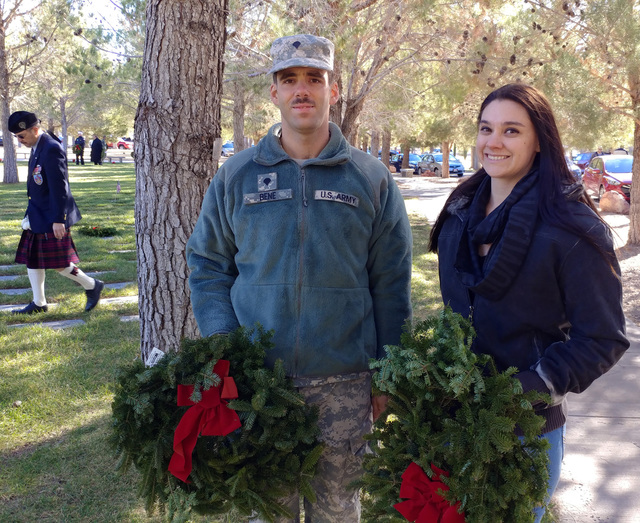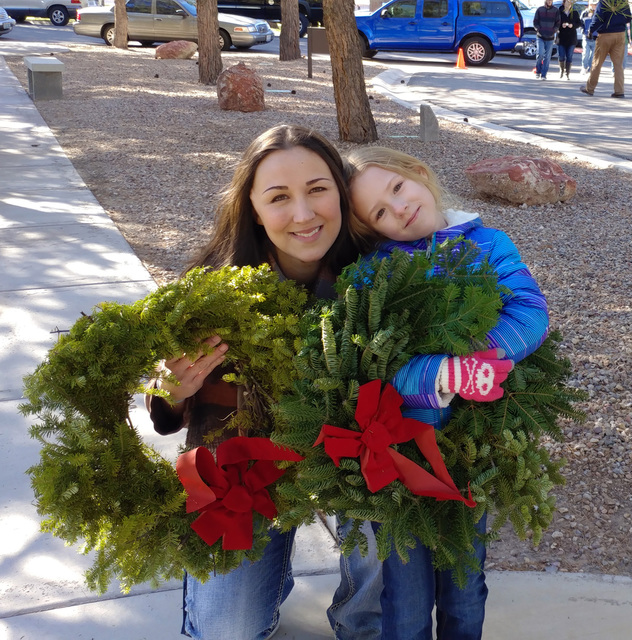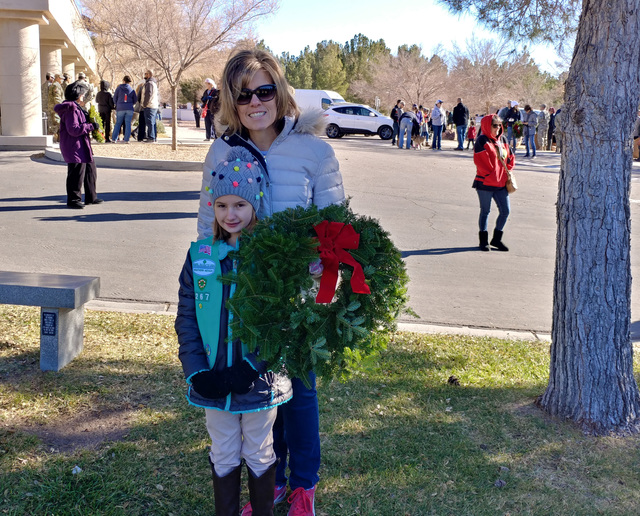 The Southern Nevada Veterans Memorial Cemetery was an uplifting place to be Saturday, as hundreds of residents from Boulder City and beyond gathered to pay their respects and honor the men and women who have been laid to rest there.
This particular event is not a day for mourning, but a day for remembering those who have served and celebrating their lives, said guest speaker U.S. Air Force Col. Paul Murray.
"We join people all across America in cemeteries just like this to take part in the Wreaths Across America campaign," Murray said. "To remember, honor and learn about the values of freedom that these heroes fought to protect."
This is the 10th year the event has been held in Boulder City, and according to Chris Naylor, the cemetery's superintendent who has been around for the past seven, this year's event was the busiest yet.
"The first year that I was a part of this we had about 100 attendees and about 400 wreaths," Naylor said. "This year, we had around 600 people in attendance and there were nearly 3,500 wreaths donated. Our goal is to one day place one wreath for each of the 26,000 graves we have here. But it's amazing to see the response and how much it has grown."
Over the past 10 years, many organizations have partnered with Wreaths Across America, including schools, businesses and large institutions donating money and volunteering time to decorate the graves and remember those who fought for our country.
Although the cemetery and the Wreaths Across America nonprofit host and organize the event, according to Naylor, it couldn't be done without the organizations that sponsor the wreaths annually. This year in Boulder City there were nearly 20, including Pride in Purity, the Boulder City Republican Women and Grace Community Church.
In addition, more than three dozen military and veterans groups participated with this year's program. U.S. Army Spc. Balazs Bene was at the event with the 355th Chemical Company, stationed in Sloan, Nevada.
"We're here helping people and organizations to lay wreaths and pay respect to soldiers that don't have anyone around to do so," Bene said. "I'm here to pay respect to Staff Sgt. Coby Glenn Schwabb, from the U.S. Army, who otherwise would not be attended today."
According to Bene, it's important to remember the sacrifices the soldiers have made, even if they're not someone you may have known in person.
Wreaths Across America began in 1992 when Morrill Worcester donated his company's surplus of 5,000 wreaths to be placed at Arlington National Cemetery in Washington, D.C. Though the tradition continued quietly at first, more than a decade later, in 2007, volunteers formed a nonprofit and their mission expanded to a nationwide effort.
Contact reporter Hunter Terry at hterry@ bouldercityreview.com or call 702-586-6711. Follow him on Twitter @HunterBCReview.