Veteran drawn to charm of Boulder City
September 9, 2015 - 4:19 pm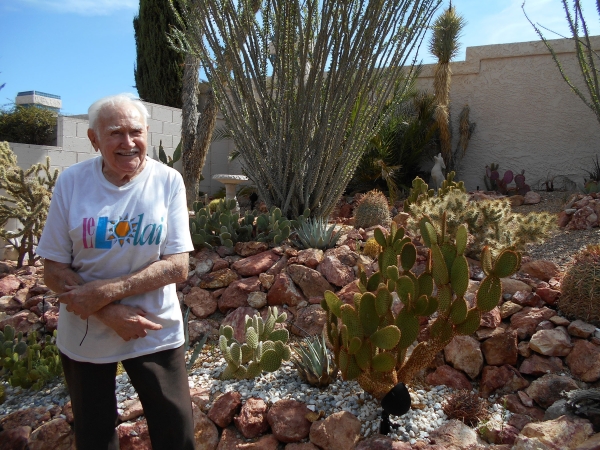 Longtime Boulder City resident Robert Scaringi is a member of a dying breed of World War II veterans who have a wealth of memories that will live on forever.
It was in 1942 that Scaringi, who was raised in Scarborough, N.Y., enlisted in the U.S. Army Air Corps to provide help to his country, which had been at war since 1939. Not interested in joining the Army, Scaringi was already studying aeronautical engineering at Curtiss-Wright Technical Institute in Glendale, Calif.
"I was certain I was going to be drafted and I really wanted to go into the Air Corps instead," he said.
Two years after entering the service, Scaringi became a navigator on C-54 cargo planes and B-29 bombers. His first mission came after three months of training.
"I left Liverpool and went over the English Channel behind German lines," said the Italian-born Scaringi. "We dropped paratroopers behind the lines in France and then went back to get more paratroopers in our C-54s.
With the anniversary of the end of the war Sept. 2, every year becomes even more important for the remaining veterans.
"The Germans were very tough and we knew we were in for a battle. We found that (Adolph) Hitler had many planes hidden underground. They were all jets that were never released."
Now 90 (he will turn 91 Nov. 26), Scaringi said Hitler's military was superior.
"All we had at the time were props," Scaringi said. "We're just lucky that the Germans never took the jets out of the ground; or it would have been a totally different outcome.
"Nobody will ever know why Hitler never unleashed his jets. That's truly the untold story. It would have been a different war, that's for sure."
Scaringi got out of Europe in 1944; he was discharged and, choosing not to re-enlist, landed in San Antonio, where he received his official discharge.
In his early 20s, Scaringi went to work for a U.S.-based helicopter building company in Stratford, Conn.
Some 30 years later, Scaringi took a motor home from New York and drove West. From Kingman, Ariz., to Las Vegas, it was all desert. However, upon arriving in Boulder City, Scaringi and his now ex-wife, Helga, found an all new world.
"I called Boulder City an oasis in the desert," Scaringi said. "It was just a small town that was all green.
"I have always liked the idea that there is no gaming in Boulder City and there was no liquor until about the time that we moved here."
Scaringi said Boulder City offers the same quality now that it did when he arrived.
"Boulder City is only 20 square miles," he said. "We have the most land of any city and our growth control has served a big purpose. In addition, there is no crime in Boulder City.
"It's an entirely different world than Las Vegas. Boulder City is owned by the people. The people here own their own police department, fire department and water district utilities. The schools are the only element that we share with Las Vegas."
The first thing Scaringi did after moving to town in 1972 was open a Little Caesars pizza on Arizona Street. He sold it eight months later when the work became too much for he and his former wife. He then bought the Boulder Theatre, which he later sold to entertainer Desi Arnaz Jr.
More than 10 years ago, Scaringi built a desert garden behind his home.
"I travel and I don't have to worry about watering it," Scaringi said.
Scaringi said he still loves to walk and absorb the beauty of Boulder City although he has bad knees.
"The whole town has great charm," he said. "The scenery here is beautiful."
Scaringi said he has been asked to run for office several times, but has chosen to decline because he's been so busy. However, one particular former politician stands out to him as a person who has really helped Boulder City — former mayor Bob Ferraro.
"Bob was responsible for the controlled growth we now have in Boulder City and he took some criticism for his stand," Scaringi said. "He should be saluted for helping make Boulder City what it is today."
Ferraro has great respect for Scaringi. "He is a wonderful man," said Ferraro, who was mayor of Boulder City for six terms from 1979 to 2005 after moving from Lovelock, Texas, in 1970. "It's people like him who are the real deal. Their stories are priceless."
Ferraro said Scaringi used to speak with him about the city.
"We used to talk, on occasion, about Boulder City, and he always had a comment and a suggestion," Ferraro said. "But he wasn't upset with me if I didn't follow the suggestion."
Bruce Woodbury, who served as a Clark County commissioner from 1981-2009, lives in Boulder City and credits Scaringi for his contributions to the country and city.
"He's a wonderful man and should be regarded as a hero," Woodbury said. "We're very fortunate to have him as an outstanding resident of Boulder City."
Scaringi is one person who believes the new highway bypassing Boulder City won't hurt the city.
"In fact, it will make Boulder City more attractive because it will attract people who sincerely want to visit the town," he said. "As it is now, much of the traffic goes through too quickly without taking much time to visit what we have here."