Turners celebrate 60 years together
December 14, 2016 - 2:57 pm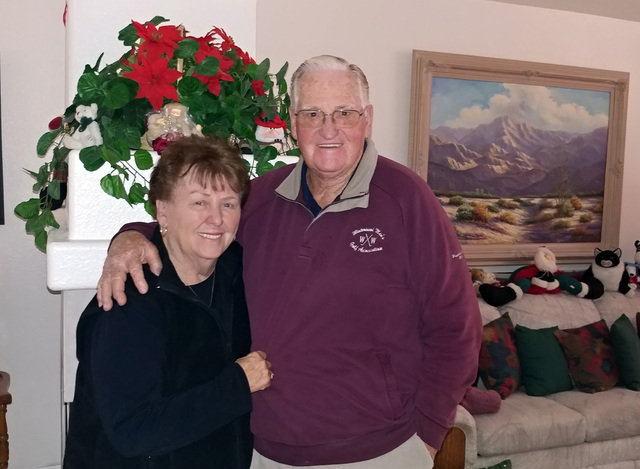 For Jim and Gerry Turner, who celebrated their 60th anniversary on Thanksgiving Day, the spark between them was undeniable since their first meeting when they were high school students in Perris, California.
Though Gerry remembers Jim from when his high school class visited her school while she was in the eighth grade, they didn't officially meet until a few years later at an American Legion dance just two days before he was to ship out with the Air Force for a tour of duty in Korea.
The day after that first meeting, they went on their first date and the next day Jim was gone. But the flame had been lit and the two corresponded the whole time he was overseas and when he returned they were soon engaged.
Before long they were again separated, with Jim stationed in Washington, D.C., for his final six months. They were married within a month of his return.
They had four children, sons Roby and Toby, and daughters Juli and Cali. Jim worked as an air traffic controller in Los Angeles and Orange counties before moving the family to Las Vegas and back again. Gerry worked in doctor's offices. They officially retired and moved to the paradise they had set their eyes on, Boulder City, in 1988.
"We both grew up in pretty small towns," Jim said. "Ever since living in Las Vegas for a while in the '70s, we knew that this was where we wanted to be, and we did it."
Reflecting on their six decades together, after celebrating with their children and eight grandkids in Santa Barbara, California, the Turners don't recall many hard times, attesting that it's been a happy life and they know the secret to making it last.
"It's starts out with just love initially," Jim said. "But after a while it takes common interests and enjoying doing things together. But really, it's like I always say, the secret is simple: It's me. No, I'm kidding. It's all about her."
Contact reporter Hunter Terry at hterry@ bouldercityreview.com or call 702-586-6711. Follow him on Twitter @HunterBCReview